European warning on jabs' link to heart ailments
Share - WeChat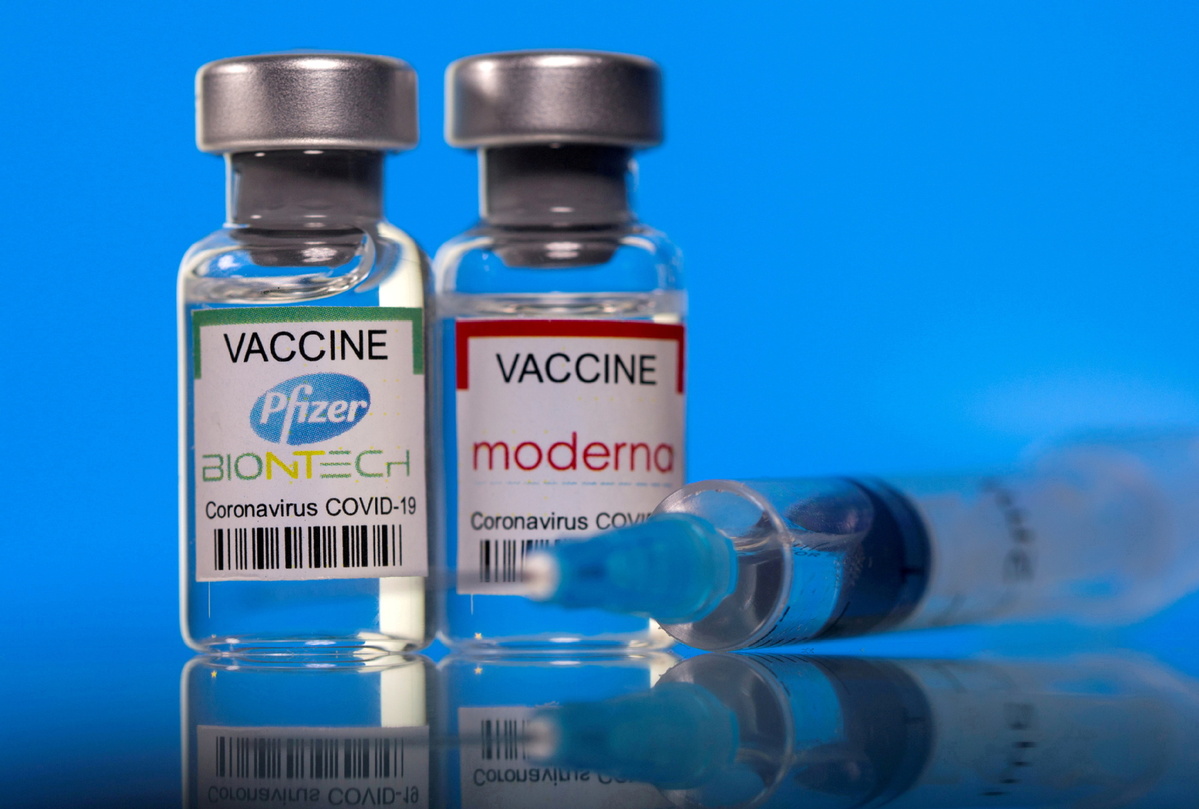 Two mRNA vaccines made by Pfizer/BioNTech and Moderna may be linked to rare heart inflammation cases, the European Medicine Agency says.
The agency's safety committee has concluded that myocarditis and pericarditis can occur in very rare cases following vaccination with the COVID-19 vaccine Comirnaty made by Pfizer/BioNTech and Spikevax made by Moderna, it said on Friday.
Myocarditis and pericarditis are inflammatory conditions of the heart. Symptoms can vary but often include breathlessness, a forceful heartbeat that may be irregular and chest pain.
The expert committee, known by its full name as the Pharmacovigilance Risk Assessment Committee, is now recommending listing myocarditis and pericarditis as new side effects in the production information for these vaccines, together with a warning to raise awareness among healthcare professionals and those taking these vaccines, the agency said.
The conclusion came after an in-depth review of 145 cases of myocarditis in the European Economic Area among people who received Comirnaty and 19 cases among people who received Spikevax. The area includes European Union member states and Iceland, Liechtenstein and Norway.
The assessment committee also reviewed reports of 138 cases of pericarditis following the use of Comirnaty and 19 cases following the use of Spikevax. By May 31 about 177 million doses of Comirnaty and 20 million doses of Spikevax had been given in the area.
The assessment committee also looked into cases received globally.
The expert committee concluded that the cases primarily occurred within 14 days after vaccination, more often after the second dose and in younger adult men.
In five cases that occurred in the European Economic Area, people died. They were either of advanced age or had concomitant diseases.
Comirnaty was the first COVID-19 vaccine the area approved. On May 28 it also won authorization in the area for use for individuals 12-15 years of age.
The two vaccines are among the four COVID-19 vaccines that have been granted area approval. The other two are made by AstraZeneca and Johnson& Johnson.
The European Commission President Ursula von der Leyen declared on Saturday that the EU has received enough vaccine doses to fully inoculate 70 percent of its adult population.
About 500 million vaccine doses were expected to be distributed to the 27 members by Sunday.
"The EU has kept its word. …Our vaccination campaign has accelerated tremendously since the beginning of the year. Our joint approach is a success."
However, she warned that "COVID-19 is not yet defeated".