Londoners can win ticket to Wembley with vaccination
Share - WeChat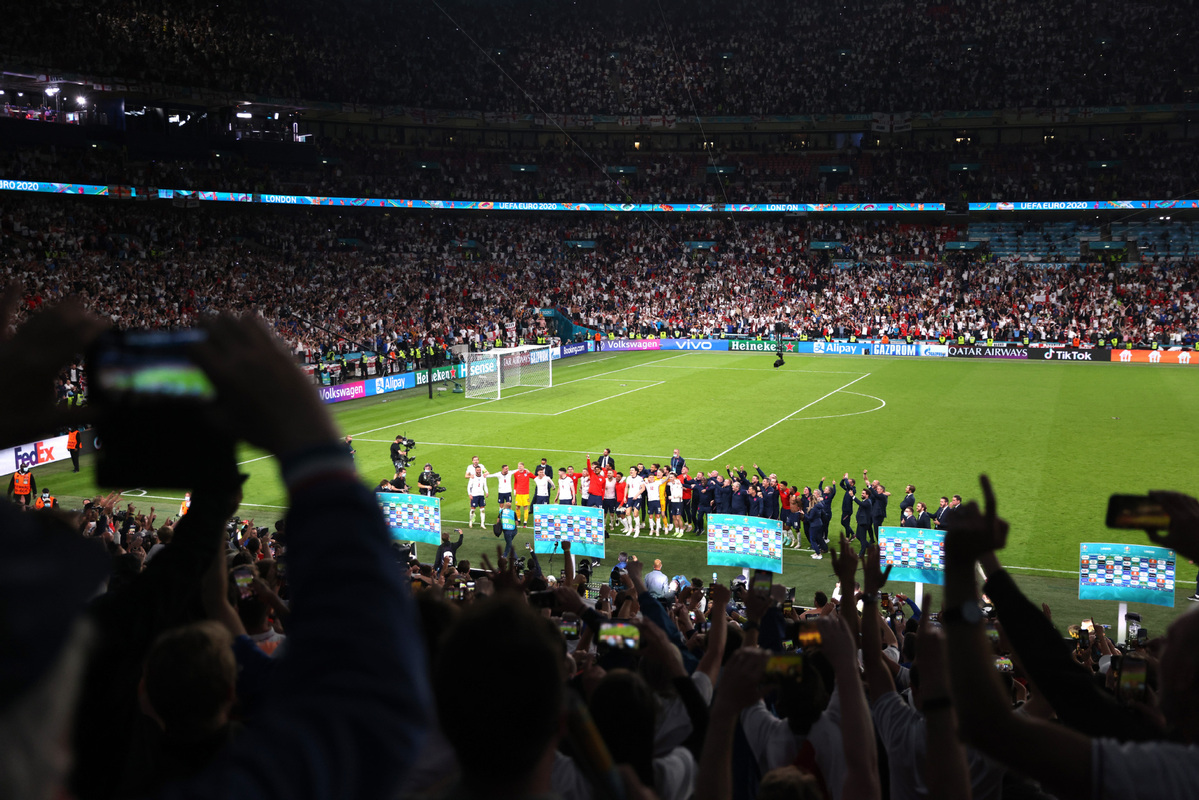 Queues at COVID-19 vaccine centers in London might be particularly long this week, as a shot now comes with the chance to watch England take on Italy at Wembley Stadium in the UEFA Euro 2020 final on Sunday.
In a prize draw for the newly vaccinated, the London Mayor's Office is offering one ticket to the live final, as well as 100 tickets to watch the match at the Euro Fan Zone at Trafalgar Square in the city center.
In a statement, the mayor's office said the move is "part of a big push to get Londoners vaccinated and help the city reopen as safely as possible".
London is not the first to use such tactics to incentivize vaccination. Companies and regional authorities worldwide are dangling a growing list of weird and wonderful prizes to coax people toward vaccine centers.
Moscow Mayor Sergei Sobyanin has set up a prize draw that gives away five cars every week to people who get their first shot, and last week a man won 1 million Canadian dollars ($790,000) in a so-called vaccine lottery set up by the Alberta provincial government.
Australian airline Qantas is giving away a year's worth of unlimited travel to a family of four, and real estate developers in Hong Kong have offered up a number of prizes to support the vaccine drive, including one apartment valued at $1.4 million.
A vaccine station located at a bar in Tel Aviv, Israel offers a "get a shot, take a shot" promotion involving a free drink, and discounts at restaurants and free groceries have been reported in India, Russia and Dubai. In the United States, prizes include vacations, cruises, gift cards, Super Bowl tickets, and even guns and marijuana, which is now legal in some states.
Four people have won $250,000 in Washington state after getting vaccinated, with a final $1 million grand prize still to come. The state's Governor Jay Inslee called the scheme an investment to keep residents safe.
"Good luck in the lottery," Inslee said to the media. "This is the most important one you'll ever be in."
Ohio was the first US state to start a vaccine lottery, which includes cash prizes and university scholarships, and California's vaccine lottery fund is thought to be the nation's largest, valued at over $116 million.
In France, where vaccine skepticism is high, MPs are considering setting up a national vaccine lottery to encourage citizens to get the jab, according to French news outlet The Connexion.
But some are questioning if vaccination should be promoted in this way.
"Encourage vaccination? Yes. Make it a lottery? No," French MP Fiona Lazaar said on Twitter. "Health is neither a game nor a consumer good."