Shanghai destination attracts thousands
Share - WeChat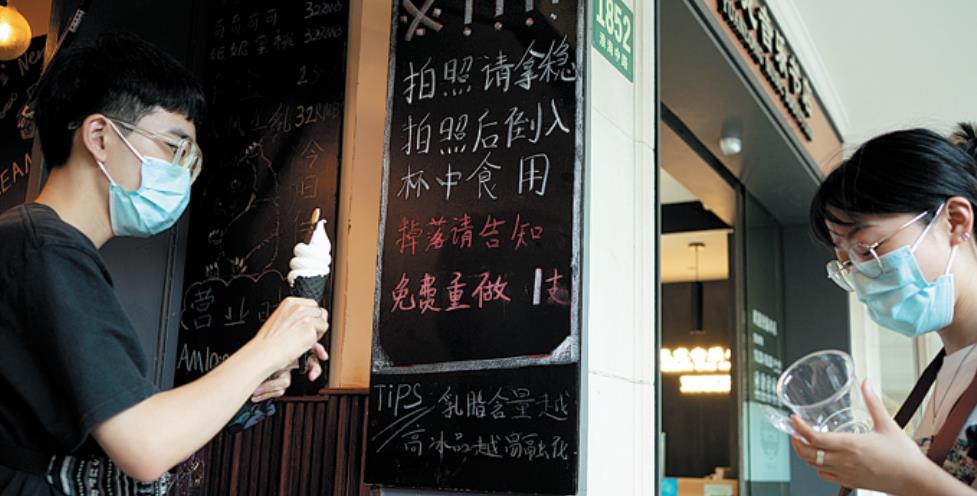 Artists' invitation
Wukang Road is not the only attractive neighborhood in the city, with several interesting destinations now drawing crowds of young people.
Columbia Circle, a compound in Changning district that used to be home to US expatriates, is now a multifunctional complex with offices, stores, a bookshop, restaurants and cafes.
At the fourth Shanghai Urban Space Art Season, which starts on Sept 25, artists will be invited to design public works that meet people's daily needs, according to Jin Lei, deputy director of the Municipal Bureau of Culture and Tourism. The bureau has also encouraged districts to turn areas in schools, shopping malls, parks, subway stations and other neighborhood sites into exhibition halls for art shows.
Suzhou Creek is another example of an attractive area. Long pedestrian paths along the banks of the waterway were completed by the end of last year, giving residents more space for leisure activities.
At a recent meeting, the city's urban planner said it understood that the charm of a metropolis is not only based on hardware facilities but also an "inner spirit and attraction" or its "soft power".
According to the plenary meeting of the Shanghai Municipal Committee of the Communist Party of China on June 22, the city led the nation in conducting research to improve its soft power, with the aim of enhancing Shanghai's value in all respects to build a better society in the new era.
According to Li Qiang, Shanghai's Party chief, many aspects of hard power in the city meet top-level requirements among major destinations worldwide, including development of its economy, finance, trade, transportation and scientific innovation. However, there is still room for Shanghai to improve its soft power.
"In our view, urban soft power is mainly about an intangible strength guided and formed by value, culture and systems," Li said.
The meeting decided that Shanghai would develop more original cultural products and protect its historic culture, while also striving to create a comfortable environment for living, working, studying and travel.
Xiong Yuezhi, a renowned social sciences expert, endorsed the city's efforts in an interview with local newspaper Jiefang Daily.
"It is not enough for a metropolis to boast of its hard power-a city's soft power, which includes living environment, quality of life, administration and culture, is extremely important," Xiong said.
"Shanghai has done much exploration of its urban soft power construction and has implemented some good practices, but they are relatively fragmented," he added.
"The city now has a comprehensive plan which will unify good experiences and practices. This is an important upgrade of the urban development concept."