Visa curbs, virus challenge Chinese students in the US
Share - WeChat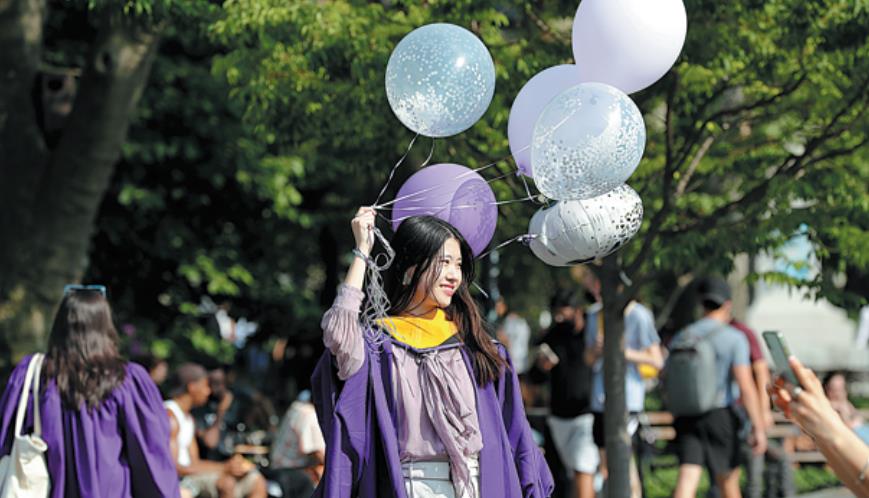 Enrollment drop
Before the pandemic emerged, US higher education enrollment for domestic and international students had been declining.
With disruptions caused by COVID-19, enrollment fell to new lows in the spring, according to the National Student Clearinghouse Research Center. Overall spring enrollment dropped to 16.9 million from 17.5 million, marking a one-year fall of 3.5 percent, seven times worse than the decline a year earlier.
For two decades, US colleges and universities saw applications from international students rise annually, until the 2016-17 academic year.
China is the largest source of such students in the US. There were more than 372,000 Chinese students in the country during the 2019-20 academic year, one-third of the 1 million-plus international students in the country, according to the 2020 Open Doors report released by the Department of State's Bureau of Educational and Cultural Affairs and the Institute of International Education.
While the volume of international applicants to US higher education institutions increased this year, there was an 18 percent drop in applications from China last year, according to data in January from Common App, an undergraduate college admission application.
Krysty Shen, a graduate student at San Francisco State University, said anti-China rhetoric and racism were seen as important factors that deterred Chinese international students from going to the US. For her ethnic studies project, Shen interviewed Chinese students on how they spent the past year.
"I'm seeing this trend of Chinese international students choosing other places instead of the US, or recommending other places instead of the US," she said.
"One of the questions I asked my interviewees is if they would recommend others to come to the US for school. Their response was still 'yes', because a lot of American universities are at the top, but they also said people should understand that America is not as great as it's depicted, and they should have more of an understanding about the racism and history in the US," she said.
Brendan O'Brien, director of the International Students and Scholars Office at Iowa State University, told local newspaper the Iowa City Press-Citizen the factors contributing to a decline in international enrollment may include a perception that the US is now less welcoming to international students.
Suzy Liu, having lived in the US for seven years, including four years at the University of Colorado, said she felt Chinese students were increasingly unwelcome in the country.
The Trump administration intensified a crackdown on Chinese students and scholars by imposing visa restrictions in certain areas, cancelling visas for students with ties to the Chinese military, and tightening H-1B visas for highly skilled workers.
"One of the motivations in obtaining a US degree is the prospect of finding a job in that country, but I see an increasingly unfavorable attitude toward Chinese students and immigrants," Liu said.
In July last year, the Trump administration announced that international students at US educational institutions had to leave or would be prohibited from entering the country if their schools moved to online-only teaching in response to the pandemic.
In contrast, Canada and the UK opened their doors to Chinese students and even accelerated visa applications for them, Liu said. "In our WeChat group, many students said they were considering transferring to UK or Canadian universities, and some parents were hesitant about sending their children to the US," she added.
US public research universities stand to be affected the most by a decline in international student flows, as they have become increasingly dependent on tuition revenue from these students.
Since the Great Recession in the US more than a decade ago, different states have made significant cuts to higher education spending. Colleges and universities responded to the cuts by increasing tuition and began recruiting and admitting more high-paying international students.
For example, the University of California enrolled 15,046 international students in autumn 2010, and the number rocketed to 43,738 in autumn last year, including 25,600 from China. The 2020-21 tuition and other fees for in-state students at the university are $14,100 and those for international students are $43,900.
US higher education has been transformed by a marked rise in international enrollment since 2005, largely driven by students from China. Enrollment from China rose by 400 percent from 2005 to 2018, generating much needed revenue for universities often to the advantage of domestic students, a study by the Center for Global Development found.
Analysis by NAFSA found that international students across the US brought in $40.5 billion to colleges and universities in the 2018-19 academic year and nearly $39 billion in the 2019-20 year.
At the University of Iowa and Iowa State University, international student enrollment fell by nearly 25 percent in autumn last year, costing an estimated $11.5 million in tuition revenue for the two institutions. Citing financial losses due to the pandemic and "frozen state support", Iowa's Board of Regents is proposing tuition rises for the state's public universities in the coming academic year. Other US universities are also proposing budget cuts.