Visitors flock to historic site
Share - WeChat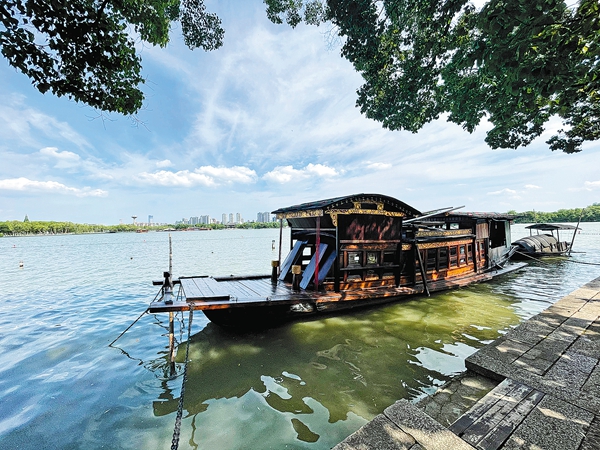 Red tourism, coupled with natural scenery and an enchanting lake sees crowds surge to Jiaxing, Yang Feiyue reports.
Its breathtaking natural scenery, urban landscape and profound red tourism resources are the main draws for travelers to Jiaxing in East China's Zhejiang province.
Nanhu Lake scenic spot, which sits in the southeast of the city, is among the highlights of any visit.
Its eastern and western ends form a resemblance to tw
o mandarin ducks with their necks intertwined.
Since the Song Dynasty (960-1279), it has been one of the three best-known lakes in the Yangtze River region, together with Xuanwu Lake in Nanjing, Jiangsu province, and West Lake in Hangzhou, capital city of Zhejiang.
Public enthusiasm toward local tourism has been fueled further this year by the 100th anniversary of the founding of the Communist Party of China.
The Nanhu Revolutionary Memorial Hall in Jiaxing has been packed with travelers looking to enjoy a new exhibition that opened to the public on June 5.
The exhibition showcases the history of the CPC in four phases, from its establishment under tumultuous social conditions to its vast array of achievements.
"It was a very small Party then," says Li Yun, deputy curator of the memorial hall.