No quick end seen to tensions in Gaza Strip
Share - WeChat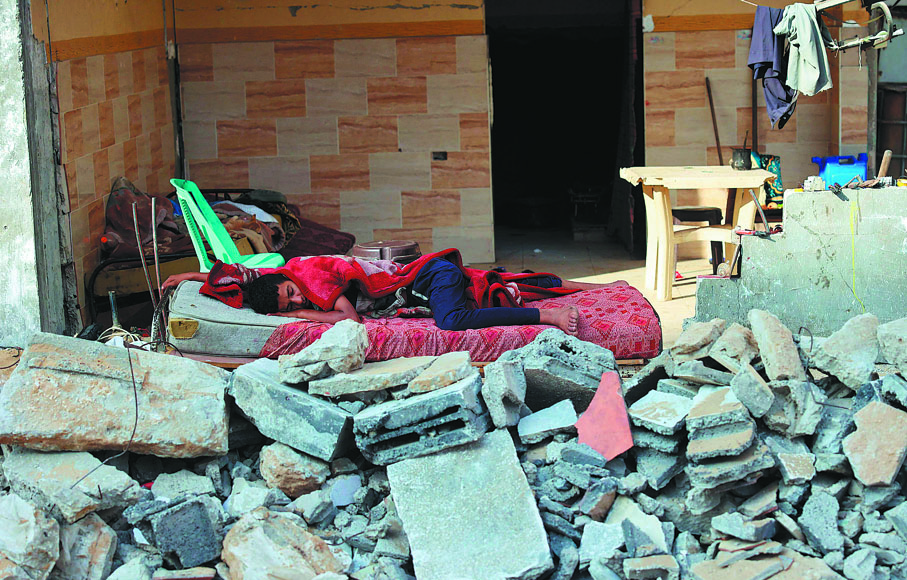 As new Israeli coalition comes to power, ties with Palestine 'hard to get any better'
The Gaza Strip came under renewed Israeli military attacks late last week, and analysts say it is possible that the standoff between Israel and Palestine could become even more tense with a new Israeli government taking office.
Israeli fighter jets on Saturday night carried out airstrikes on the Gaza Strip in response to incendiary balloons launched at southern Israel, according to Palestinian security sources.
The sources said that Israeli war jets fired two missiles at a military training post south of Gaza City that belongs to al-Qassam Brigades, the armed wing of the Palestinian Islamic Resistance Movement, or Hamas.
Several missiles also targeted various Hamas military posts in northern and western Gaza. No injuries were reported while there was severe damage at the Hamas military posts and facilities.
An Egypt-brokered cease-fire declaration took effect on May 21, ending 11 days of deadly fighting between Israel and Hamas. However, skirmishes continued despite the agreement.
On Saturday, Palestinian activists fired several incendiary balloons from the Gaza Strip at southern Israel, causing fires and damage.
Palestinians said the balloons aimed to pressure Israel to ease restrictions on the coastal enclave that were tightened during the fighting in May.
Israel has vowed to respond to even minor attacks, and Israel's army chief ordered forces to be ready "for a variety of scenarios including a resumption of hostilities", following an exchange of fire on June 18 just several days after Israel's new prime minister, Naftali Bennett, was sworn in.
Bennett, 49, who has succeeded Benjamin Netanyahu, used to be tough on Israel-Palestine issues, such as clearly and strongly opposing the establishment of a Palestinian state.
After the new government came to power, the situation between the two sides was "hard to get any better", said Shu Meng, a researcher at the Middle East Studies Institute of Shanghai International Studies University.
"Conflicts will continue to appear every two to three years, and skirmishes every two to three months," Shu said.
'Unstable, fragmented'
The reason lies in the form of the new government, a diverse coalition of eight parties with representatives from many parts of the political spectrum.
"The governing coalition is unstable and fragmented, based on opposition to Netanyahu, containing multiple factions in both ideology and policy positions," Shu said. "The interests of those parties within the ruling coalition are inconsistent, and many are hard to reconcile."
Wang Shuming, a researcher at the Shanghai Academy of Social Sciences, said the difficulties in forming the cabinet "have shown the sharp and complex contradictions" of the governing factions.
"Strong hostility from the right-wing opposition could be a gunpowder keg that may trigger serious political conflicts and crises at any time."
Whether the new government can effectively handle such differences may determine how long it governs, he said.
With such a diverse range of opinions inside the government, Shu said that members of the coalition are likely to go all out to avert disagreements to guarantee their political survival.
With a shaky coalition, it might be best for the government to continue to follow Netanyahu's path, such as exaggerating security issues, creating external enemies and taking measures to worsen the external environment to promote internal cohesion and support.
"For some time to come, Bennett's government will continue to follow such policy inertia in the post-Netanyahu era," said Shu, adding that it will continue holding "hard-line and expansionary policies" on Israeli-Palestinian issues.
Palestine on Thursday complained that Israel's collecting Palestinian taxes and customs duty have limited the government's scope for investment.
"Israel keeps its control over the borders, crossing points, and areas under Israeli military occupation in the West Bank," said Palestinian Finance Minister Shukri Bishara in the West Bank city of Ramallah.
Xinhua contributed to this story.