Potential of the new era
Share - WeChat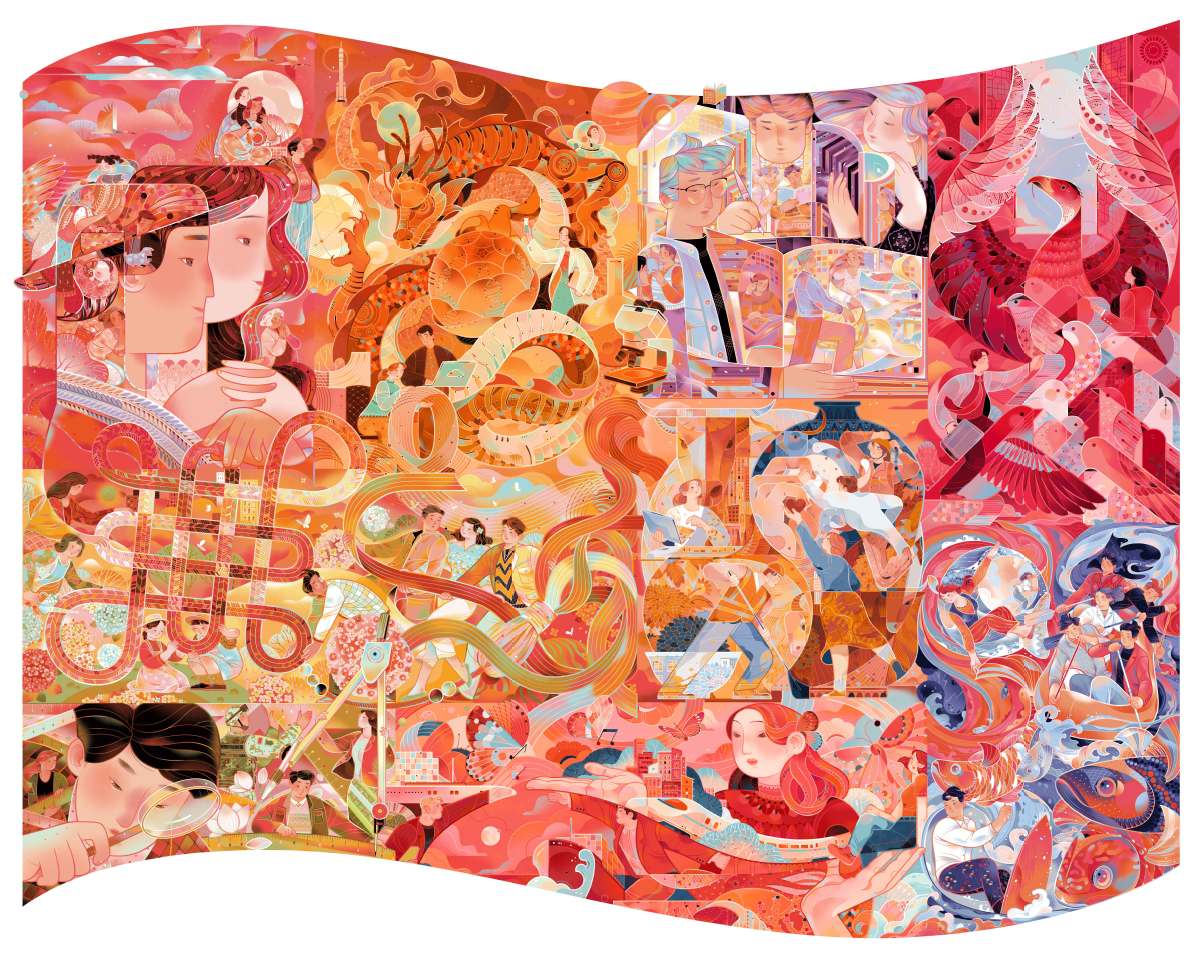 Centenary marks milestones in good governance, national rejuvenation and high-quality growth
China is experiencing a new era like never before in the modern age as it is on the brink of achieving major national goals and offering the rest of the world a guiding philosophy for international cooperation, according to experts. The 100th anniversary of the Communist Party of China on July 1 is set to be the springboard for China to complete its journey of national rejuvenation over the next few decades. This journey was mapped out by Xi Jinping, general secretary of the CPC Central Committee, in his report to the 19th CPC National Congress in October 2017 when he outlined Xi Jinping Thought on Socialism with Chinese Characteristics for a New Era.
The speech, which was three and a half hours, signaled that China was moving on from economic catch-up in the 40 years since the reform and opening-up in the late-1970s to a new phase in which it would take a more central role on the world stage.
Martin Jacques, an author and academic, believed at the time the report was a turning point in world history and was a profound defense of China's system of governance.
He insists that nearly four years later China looks as robust as ever in its new era and has demonstrated the resilience of its system.
"The unexpected challenge was COVID-19. It was a test of governance whereas China's challenges were previously otherwise seen in economic terms," he says.
"China though has passed the test with flying colors. As a result the last two years have been a key moment and has marked a phase when an increasing number of countries look to China as a global leader."
The Chinese government prioritized improving the country's governance before the pandemic, seeing it as crucial for the success of the new era.
This involved not only continuing to crack down on corruption but also making sure the system was less top down and listened more to people delivering services to the public on the front line. It was also deemed important for the government to be early adopters of new technology.
Ma Liang, professor of public policy at the National Academy of Development and Strategy at Renmin University of China in Beijing, says that good governance has been important for the Party in its first 100 years, nearly 72 of which it has formed the government, but he argues it will be increasingly the case in the new era.
"The Party has demonstrated its capacity to govern China but as we move further into the new era it will face new challenges. It will have to construct a governance system which will be able to deal with a more complex, uncertain and turbulent world," he says.
Key goals
Two of the key goals for China's new era have been met this year with the elimination of extreme poverty and becoming a "moderately prosperous society in all respects".
The next key stage in China's development is in 2035, when it becomes a global technological leader and reverses some of its environmental degradations by becoming "Beautiful China" (a classical reference used by General Secretary Xi Jinping in his 2017 report) once more.
By 2049 in time for the 100th anniversary of the People's Republic of China, Xi's aim is for China to become a "great modern socialist country".
Economic development will clearly play an important role in the next stage of China's growth trajectory.
Xi himself said in a speech to the CPC Central Committee in November it was "completely possible to double the size of the Chinese economy by 2035".
A number of outside commentators have been more bullish. The Centre for Economics and Business Research, a London-based consultancy, has forecast that China's economy will become bigger than that of the US by 2028, five years earlier than it had previously predicted.
China is facing a much tougher external economic environment, however, with continued trade tensions with the US, ongoing COVID-19 pandemic and increasing concerns about escalating global debt, which could slow global growth.
China has so far responded with its dual-circulation development paradigm, which is the centerpiece of its 14th Five-Year Plan (2021-25).
This is designed to unleash the potential of its domestic market, which will have 600 million middle-income consumers by the middle of this decade, according to McKinsey & Co, the management consultancy.
Under the new strategy, domestic consumption will be prioritized while China will continue to welcome international trade and investment.
Stephen Roach, a US economist and senior fellow at Yale University's Jackson Institute for Global Affairs, said dual-circulation will prove to be a "daunting" challenge because it will involve a major rebalancing of its economy.
He added that if it does succeed, there will be "ample opportunity for China to continue to play a powerful role as the world's major growth engine".
Roach said the focus of China's new era will be on the quality, rather than the quantity, of its growth.
"A successful growth experience will be increasingly assessed in terms of quality-such as by lower greenhouse emissions, health outcomes, financial stability, and, of course, income and wealth equality," he said.
Technology strengths
One factor that is going to determine whether China does deliver high-quality growth is technology.
It is already a world leader in 5G mobile communications and has built significant strengths in online payment, facial recognition, autonomous cars, robotics, drones, new energy vehicles and high-speed railway.
China spent 2.44 trillion yuan ($379 billion) on research and development in 2020, according to the country's National Bureau of Statistics. Data vary on whether this is now more than the US but the rate of growth in China's spending has been significantly higher than that of the US in recent years.
China is also producing significantly higher numbers of graduates in the STEM subjects. Some 40 percent, or 1.6 million, of China's 4 million graduates were in science, technology, engineering or mathematics, according to the World Economic Forum in 2020. This was nearly five times more than the 331,000 STEM graduates in the US.
Edward Tse, an expert on Chinese technology companies and CEO of Gao Feng Advisory, a management consultancy, said the West has yet to acknowledge that what is happening in Shenzhen is the emergence of a new Silicon Valley.
"While the Silicon Valley is strong in many dimensions too, Shenzhen now offers perhaps an even more complete ecosystem support to tech startups," he said.
What is evident in the new era is that Chinese scientists no longer see going abroad as the way to further their career but increasingly regard the major opportunities as being at home. Those graduating from US universities often want to do startups in Hangzhou, Shanghai and Beijing as well as Shenzhen.
"Those wanting to return to China have certainly increased in recent years. Shenzhen, in particular, has developed a real vibrant ecosystem of research and development organizations, universities, labs, suppliers, manufacturers and service providers. The local government also plays a critical role in providing funding, incubation and business networking to startups, often in collaboration with private investors."
Simon MacKinnon, chairman of Shanghai-based Xeros Technology Group China, which provides water-saving technology for the laundry sector, said the new era has already brought with it far-reaching industrial and environmental policies.
"These combined with the speed of innovation in China, the experience gained by Chinese entrepreneurs and the strengths of the education system, all point to a new era of rapid technology development ahead," he said.
One of the most exciting projects of China's new era is almost certainly the multi-trillion dollar Belt and Road Initiative. Parag Khanna, an international relations expert and author of The Future is Asian has described it as the "most coordinated infrastructure investment plan in human history" and believes its timing is just right.
"All countries need to make major investments in overhauling, modernizing and improving infrastructure, both in the West and Asia," he said.
"Belt and Road is about building connections and there can be no more uniting philosophy than Xi's' community with a shared future for mankind'."
To many this underscores how China and other countries should work together.
Bukola Ogunsina, a leading African journalist who is a senior executive with the Leadership Newspaper Group in Nigeria, is one who witnessed Xi's 2017 report, which gave birth to the new era, from within the Great Hall of the People.
"The Chinese president is not appealing to our differences but to what connects and makes us relatable, to our very humanity," she said. "We are all humans and would want what all humans want, something better in this changing world."