5G technologies to play key role in hitting carbon targets
Share - WeChat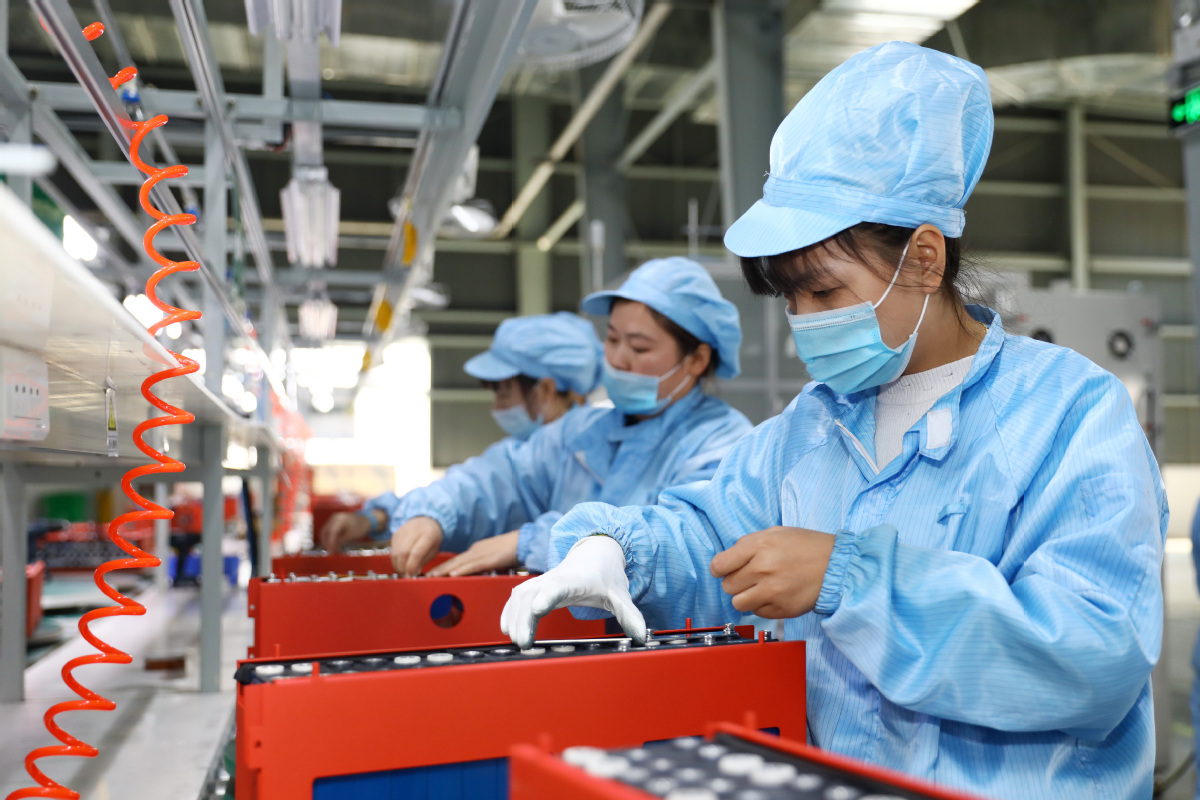 Superfast solution to make batteries smarter, benefiting more industries
Superfast 5G technologies are expected to play a key role in making China's energy sector smarter and greener, which will give strong impetus to the country's efforts to hit its carbon peak and carbon neutrality targets.
"5G technologies can be applied to power battery packs to form smart batteries that are able to manage electricity and heat in an intelligent way," said Wu Feng, an academician at the Chinese Academy of Engineering.
"With such smart management, the battery's total life span will be greatly increased to further support large-scale energy storage, especially for clean energy," Wu said in Beijing on Tuesday at a symposium on 5G and carbon neutrality ahead of the World 5G Convention, which will be held in the capital in August.
Wu said the combination of 5G and smart batteries will also give a boost to a slew of industries across the country, including new energy vehicles, renewable energy and smart grids.
"As the superfast 5G technologies are able to offer safer and faster internet of things connection, they will also play a leading role in improving the transmission rate and efficiency of the entire energy network," he added.
Gao Kunlun, deputy director of the Global Energy Interconnection Research Institute, said the energy sector now accounts for 89 percent of the country's carbon dioxide emissions, with half related to energy and fossil energy power generation.
"For China, to build the next generation power system powered by wind and solar, the current power system still faces great challenges in stability, especially under extreme weather conditions," he said.
"With 5G, we can control the power system in a more timely and accurate way to minimize uncertainties. Alongside the original power grid optical fiber and wired output, the country can realize the control and operation of a new power system that will be more carbon neutral."
China is committed to peaking its carbon emissions by 2030 and attaining carbon neutrality by 2060. The country will also work toward an economic system that prioritizes green, low-carbon and circular growth.
"5G also plays an irreplaceable role in unmanned mining transportation," said Zheng Di, vice-president of Beijing Tage IDriver Technology Co, a provider of unmanned mining transportation solutions. "The fuel consumption of a traditional mining truck is big, but the unmanned vehicles can greatly reduce that consumption through the control of speed, throttle and braking for the best fuel efficiency."
"Without 5G, transportation can only be regarded as 'automatic' but not 'intelligent'. Only with the high bandwidth and low latency of 5G can we collect massive amounts of data in real time and continue to do intelligent learning to finally save energy."
With many people skeptical about the energy consumption of 5G itself, Zhang Nan, an operator service and software executive at tech company Huawei Technologies Co, said it is pushing forward with the use of the smallest possible sites, computer rooms and data centers for 5G as it scrambles to use less equipment to support 5G operations.
Zhang said minimalized sites for 5G are on trial at 2,000 locations in places including Dongguan, Guangdong province. They can each save 20,000 yuan ($3,100) in electricity costs a year.
Ding Haiyu, head of wireless and terminals at the China Mobile Research Institute, said China Mobile can reduce the energy consumption of a single 5G station by 25 percent by using higher-level GPUs and devices fabricated from new materials.