Primed for new growth
Share - WeChat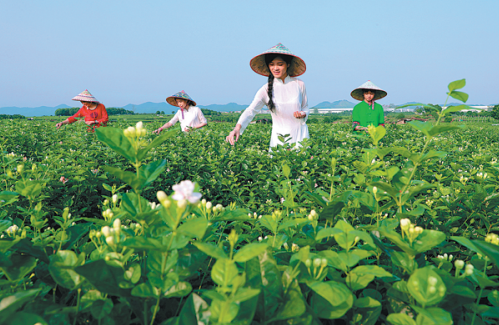 Chinese jasmine tea hubs set to take center stage at home and abroad
Editor's note: Implementation of the China-EU Geographical Indications Agreement is expected to expand the reach of quality products from both sides. This series looks at goods poised to tap into East-West markets.
Liang Jinying brushed her hands over the rows of waist-high shrubs, deftly plucking soft white buds from the top of plants under the blazing midday sun.
"They have to be growing at the exact size-not too small and hard, nor opened and in bloom. I can feel them, just nice, between my fingers. It's about being at the right place and time," said Liang, 60, a jasmine bud picker in Hengxian county of South China's Guangxi Zhuang autonomous region.
The county, which boasts a warm climate and ideal business networks and investment support, produces more than half of the jasmine flowers consumed worldwide. The jasmine is mostly used to scent Chinese teas, which are processed near its planting sites because the flowers must be freshly pressed and infused into dried tea leaves, prompting many in the industry to laud Hengxian as the "jasmine tea capital of the world".