Seat of learning: EVs to feature popular apps
Share - WeChat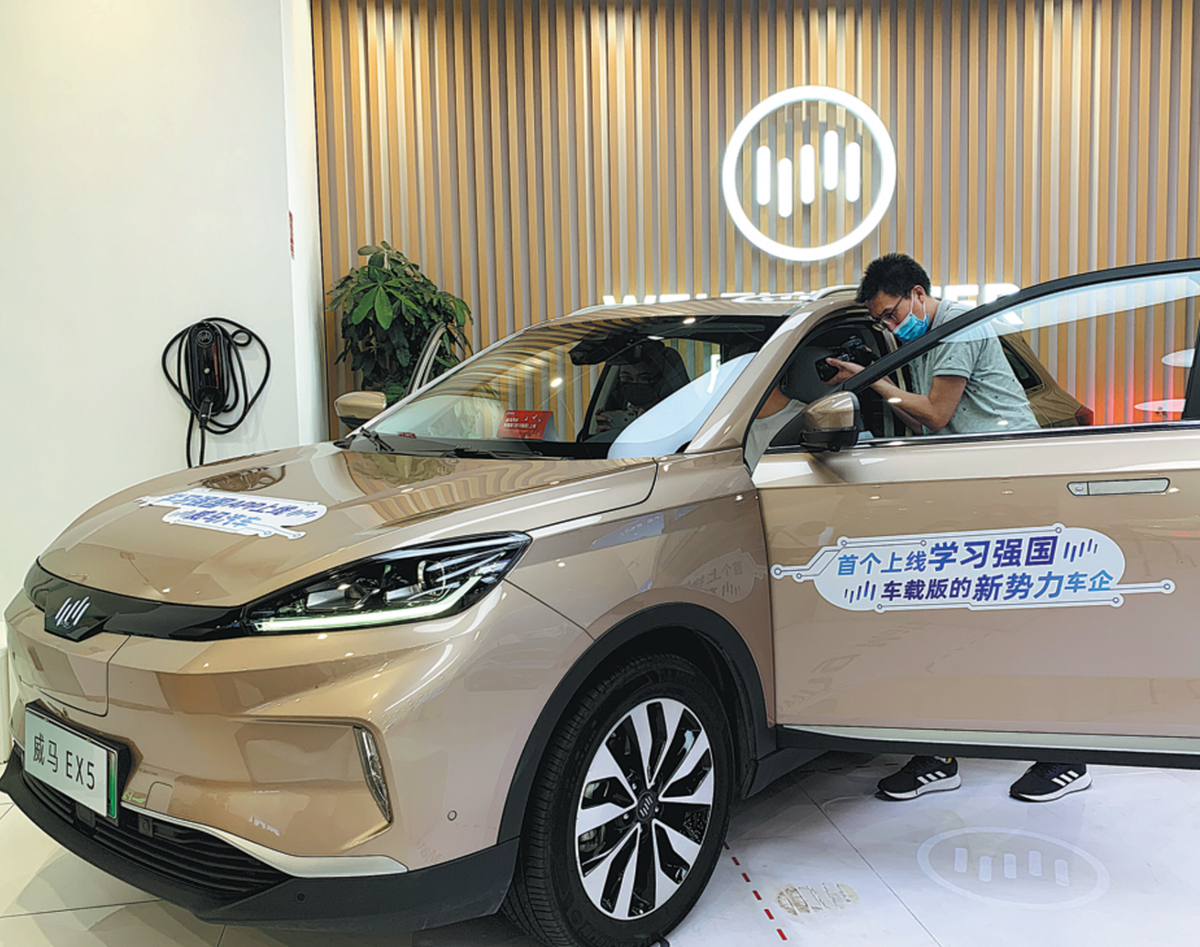 WM EX5 among the first intelligent new energy cars to include inbuilt Xuexi Qiangguo
Jin Jingqiang, a visual designer at Zhejiang Satellite TV, rose to fame overnight earlier this month by ranking first nationwide with his 41,500 points on Xuexi Qiangguo, a widely used app.
The Xuexi Qiangguo app is known for its rich materials, which cover topics including current affairs, history, tourism and lifestyle.
Chinese new energy vehicle startup WM Motor is poised to help further fuel people's enthusiasm for the app.
It is launching an inbuilt version of Xuexi Qiangguo app to "allow users to learn everywhere and learn at all times", according to the startup.
As WM becomes the first NEV startup to carry Xuexi Qiangguo onboard, its EX5 model is among the first intelligent electric vehicles to be equipped with the inbuilt version of the app across China.
To safeguard driver and passenger safety, when the vehicle is on move, the texts and videos will switch to audio automatically and continue playing. The intelligent system onboard will remind drivers to ensure safe driving.
By logging in to the Xuexi Qiangguo account-which is used on a computer, mobile phone and television-in a WM EX5, the user can synchronize his points accumulated on the app.
The launch of inbuilt Xuexi Qiangguo is expected to further enrich WM's smart cabin. It features intelligent lifestyle, intelligent safety monitoring and intelligent ecology achieved through cooperation with giants from other sectors.
As of now, via a WM vehicle, drivers can remotely control multiple intelligent home appliances from both tech company Xiaomi and home appliance maker Gree. They include air filters, air conditioners and floor-mopping robots.
The camera in WM cars can capture the driver's facial features and body language in real time to detect whether they are in a state of fatigue and give an alarm in due course.
With the rapid popularization of internet technologies, consumer demand for the upgrading of vehicle-inbuilt intelligent functions is becoming higher, according to WM.
Up to now, more than 1,000 vehicle-inbuilt functions have been added and optimized by the automaker. An over-the-air update happens every three months on average.
As more new energy vehicle makers step up efforts to improve the intelligent functions of their products, smart cabins are getting more attention. They are expected to be a new arena for competition in the NEV sector.
Wang Jun, head of Huawei's smart vehicle business unit, said vehicles will become driverless between 2025-30. What will change them further will be smart onboard functions.
"Vehicle cabins will become smart spaces. As for what people can do there, there are boundless possibilities," Wang said.
He Xiaopeng, chairman and CEO of China's leading startup Xpeng Motors, shares a similar opinion.
In five to 15 years, vehicles will be much more than transport tools, just as the primary function of today's smartphones is not making calls, he said.
"We have noticed that many of our customers will stay in their vehicles for quite a while after their vehicles are parked," He said.
He said the sector of smart electric vehicles is picking up speed in China's big cities. Their sales are expected to soar rapidly when high-level autonomous features are available.
He estimated that smart vehicles will see explosive growth after 2023, and 50 percent of new cars sold in China's first-tier cities will have smart features in 2025. In the first quarter this year, new cars with smart features numbered less than 10 percent of total car sales.
The figure is expected to reach 90 percent in 2028 in first-tier cities and to exceed 60 percent nationwide, he said.