Autonomous vehicles hit fast lane in China
Share - WeChat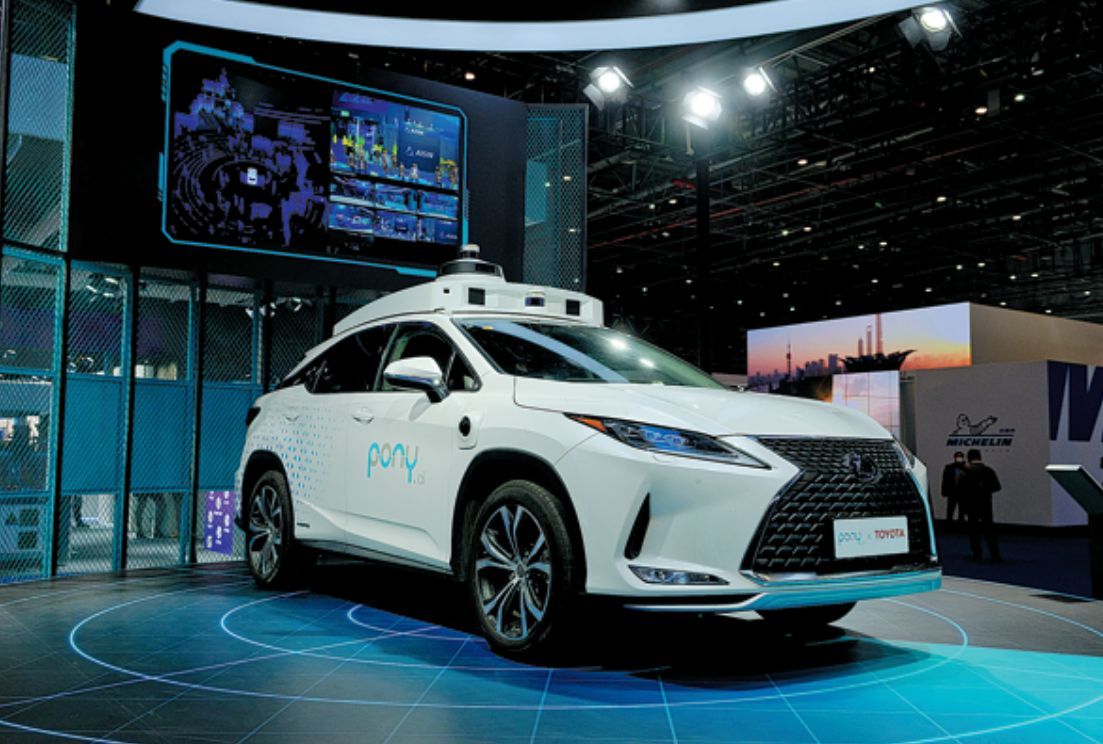 Autonomous vehicles are accelerating their integration into everyday life in China as investors pour billions of dollars into the promising sector and technology companies and carmakers alike pool their resources.
Driverless vehicles from Baidu's Apollo and Pony.ai are ready to be hailed in designated areas of Beijing and Guangzhou, capital of Guangdong province.
Didi and Momenta are running autonomous vehicles with safety personnel sitting behind the steering wheels in some parts of Shanghai and Suzhou, Jiangsu province. SAIC will join the startups later this year with robotaxi fleets in Suzhou and Shenzhen, Guangdong province.
Baidu has been authorized to charge its passengers for the driverless rides, while others are offering the rides free of charge.
Pony and WeRide are playing their role in curbing COVID-19 in Guangzhou by delivering essential goods to residents in locked-down communities using self-driving vehicles.
Both Huawei and China's largest carmaker SAIC released video clips of their autonomous vehicles maneuvering themselves through busy traffic in downtown Shanghai.
Li Jun, CEO of SAIC subsidiary Z-One, said Thursday that its autonomous driving system is almost capable of Level 3, or hands-off, functions. Level 4 functions, which allow vehicles to steer themselves in most circumstances, will be available beginning in 2023.
The development and testing of autonomous driving functions are costly. Deep-pocketed SAIC plans to budget 300 billion yuan ($46.49 billion) for smart vehicle functions including autonomous driving by 2025.
Startups are not worried about their finances as investors are optimistic about the sector. It's believed to be the key holder to the vast potential of future transport market.
Chinese self-driving startup WeRide has raised more than $600 million over the last five months. Founded in 2017, it has accumulated over 5 million kilometers in total test mileage.
The latest fundraising round, which included investors Nissan and the State-run China Structural Reform Fund, raised the company's valuation to $3.3 billion.
"With the continued support of Nissan, we will accelerate the commercial use of our driverless robotaxis in China," company CEO Tony Han said in a statement.
WeRide began operating self-driving robotaxis in Guangzhou, where the company is based, in late 2019. It completed roughly 150,000 trips for over 60,000 customers in its first year of service, according to the company.
Technology companies' partnership with carmakers are cutting the costs of autonomous vehicles.
Earlier this month, Apollo launched a driverless vehicle with BAIC Group's Arcfox brand in Beijing.
The model, called Apollo Moon, costs less than 500,000 yuan, around one-third of the average price of Level 4 autonomous vehicles. It has a designed life of over 20,000 hours, which means it can be in service for five years.
Apollo said slashed costs will be a major factor in helping speed up robotaxis' commercial operations in China.
The company said it will build a robotaxi fleet of 3,000 vehicles in two years, with a great chunk of them being the Apollo Moons. It expects its total users to reach 3 million in 30 cities by 2023.
Apollo is already conducting trial operations of its robotaxi service in some designated areas in cities including Beijing and Cangzhou, Hebei province. It has obtained 244 test permits and finished tests totaling 12 million km.
Chinese technology giant Huawei has set a target to offer solutions that enable passenger vehicles to be driverless from 2025.It expects growth to soar rapidly in the five years after that.
Analysts say as companies make breakthroughs in the technology, the government should draft policies as soon as possible to stimulate its development while ruling out risks involved.
China has not allowed autonomous vehicles to hit the streets without an advance application, and permits will be issued only for their tests instead of daily use. The tests must be conducted in designated areas.
In March, local authorities in Shenzhen, Guangdong province, revealed a legal draft for public feedback that proposed to permit both conditional and fully autonomous vehicles on its roads for trial business operations.