Enchangting story of a princess set to captivate audiences
Share - WeChat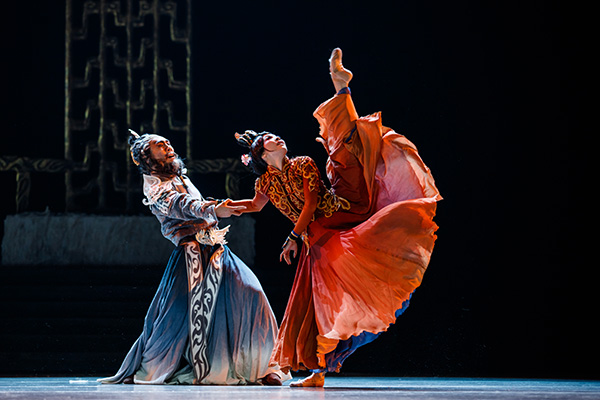 The story of Wang Zhaojun, a beautiful princess from the Han Dynasty (206 BC-AD 220), is well-known in the country.
As a symbol of bridging cultures, the princess married the chief of the Xiongnu people, a powerful nomadic tribal group in northern China in conflict with the Han Dynasty at that time. Her marriage, ordered by the Han emperor, brought peace to her country.
Wang's story has been adapted into various art forms. In 2016, the China National Opera& Dance Drama Theater turned Wang's story into a dance drama, titled Princess Zhaojun, which featured the company's star dancer-choreographer Tang Shiyi in the lead role.
Since then, the dance drama has been staged nationwide and internationally, and made its New York debut in 2019. From July 9-11, the dance drama will return to the capital.
"I can still recall vividly when we went to North China's Inner Mongolia autonomous region to collect material for the dance drama. There are stories, paintings, sculptures and cultural relics showing the story of Wang Zhaojun. She is a woman who made a great sacrifice for her country and she also had romance with the man she married yet never met. All those details helped us to portray the role," says Tang.
Born in Yongzhou, Hunan province, Tang, 30, started learning traditional Chinese dance at the age of 6 before receiving a scholarship to study at the affiliated middle school of the Beijing Dance Academy. She graduated from the academy in 2010 and now is the principal dancer of the China National Opera & Dance Drama Theater. She has won many top national awards, including two at the Tao Li Cup, the top honor for young Chinese professional dancers. In 2011, she made her choreographic debut with a dance drama, The Flowing Dance From Tang Poetry, which combined three classic Chinese poems from the Tang Dynasty (618-907)-Spring, River, Flower, Moon, Night by poet Zhang Ruoxu; Song of Everlasting Sorrow by poet Bai Juyi; and Sword Dance by poet Du Fu.
Most Popular