Argentina-China cooperation in COVID-19 fight and beyond
Share - WeChat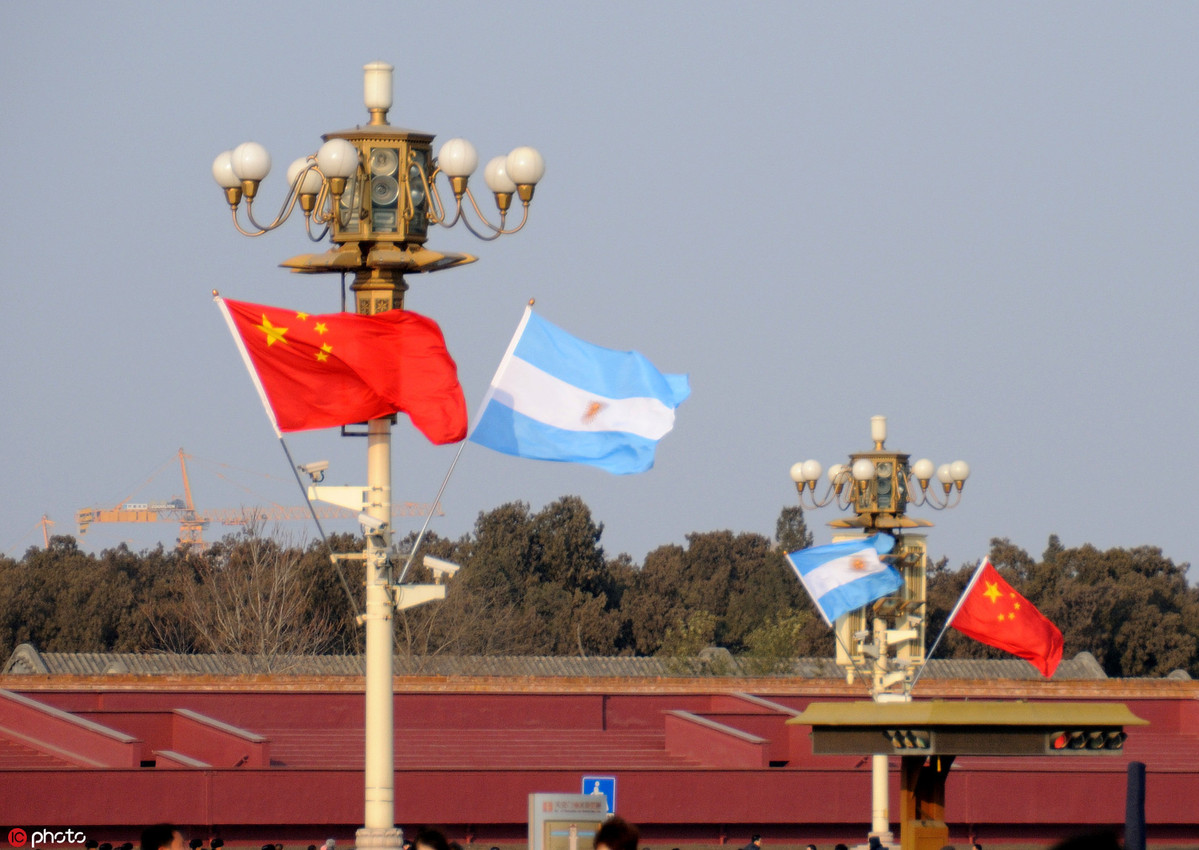 When explaining Argentina-China relations, I cannot put aside the important role played by the cooperation between both countries during the current pandemic. Every country has been struggling during this past year. In particular, those nations from the global south have suffered the greatest losses, and China has become key in helping them overcome this tough period.
Having said that, I must acknowledge cooperation with China has been a crucial element in what we call "medical cooperation", which I may divide into three different cooperation stages.
The first stage took place in early-to-mid-2020. As one may recall, during those times, it was difficult to purchase surgical masks, ventilators, surgical gloves or protection suits. This global supply chain bottleneck -- similar to the current one regarding vaccines -- could only be overcome by China´s productive capacity. China was then, for my country, the key for acquiring medical supplies that were strategic for making our health system ready, and allowed us to avoid its sudden collapse.
It was then that the cooperation with China was boosted. We organized 35 flights from Shanghai, and seven more from Guangzhou, plus five vessels, carrying a total of nearly 1,500 tons of medical supplies, both from purchases and donations. And I would like to emphasize my special thanks for that cooperation, since my country has received several donations of face masks and respirators during this period.
There is another aspect I would like to emphasize, which is the sub-national mechanism that exists within Chinese administrative regions. Chinese provinces handled this pandemic stage with great responsibility and donated medical supplies to other countries' provinces in need.
Then comes a second stage of cooperation, which we could better place in 2021 and revolves around the vaccine supply. Thanks to the Argentina-China Integral Strategic Cooperation relationship – established in 2014 -- and the fact that our pharmaceutical industry has special development in the region, there were Chinese pharmaceutical companies, like Sinopharm, already related to Argentina's local companies. Those established relations served as a platform to test two different Chinese vaccines in phase 3 trials: Sinopharm and CanSino.
Argentina´s government then concluded a purchase agreement with Sinopharm, having provided us with 6 million vaccination doses already. Further deliveries of doses are expected in the coming months.
Once again, China has become key in this second stage regarding our national vaccination plan, and has proven its global responsibility by providing vaccines to developing countries or to countries with access difficulty. In the case of Argentina, there was a direct relationship between both presidents. Alberto Fernandez, our president, wrote a letter to Xi Jinping in February 2020, being one of the very first world leaders who showed solidarity toward the Wuhan situation. Then, our president´s strategy of prioritizing life as a public policy – the same adopted by President Xi Jinping - brought them closer together, making cooperation exceed the point of purchasing medical supplies and supplying vaccines. In addition, there was deep cooperation between both health ministries and between other agencies related to the pandemic as well.
The third stage of the cooperation started a couple of months into 2021 and it is precisely because of established relations between Argentine labs and Sinopharm. An agreement to locally produce vaccines together is under discussion nowadays. The Argentine lab involved is called Sinergium Biotech, and it has state-of-the-art technology not only for Argentina but also for Latin America as a whole. Developments of these discussions would, and probably will, be bonded in a joint venture agreement between private companies, although the Argentine state fully backs local production of the COVID vaccine. Currently the same strategy is being carried out with Sputnik V – developed in Russia - that was another key supplier to my country as well. I would like to point out that Argentina has decided to adopt a multiple-player strategy and the Argentine government initiated negotiations with all countries and labs that could provide vaccines, but it was in the first stage that most of the aid came both from Russia and China.
Our president agrees with Xi Jinping´s views on the fact that one country cannot rely solely on their own vaccination plan to avoid the impact of this pandemic, but that we need to develop a global vaccination plan. If vaccinations don't reach the entire world, as we currently can see, new mutations will arise carrying even more dangerous and lethal power.
If we don't become a more caring world which establishes a global vaccination plan, no one will be safe. That is, from my point of view, what I believe to be the path we are following, and the one China is leading. It is in this direction that I found as a very positive development some recent world leader´s statements regarding the possibility of patent releases: This is an essential goal we need to achieve in the fight against COVID.
All areas, not just the pandemic, are open for cooperation, due to high-level relations between Argentina and China, as emphasized in the Integral Strategic Cooperation Agreement,. Themes vary so greatly and the political will is so strong that it's very easy to continue opening new cooperation channels on a regular basis.
Open cooperation fronts vary from education, to currency swaps, passing through content shares on National Opera Houses, football player exchanges, and defense cooperation, among many others, not only at the national level but also at a sub-national one as well. As China´s provinces could well be countries on their own due size and population, we also promote sub-national cooperation ties between Argentina's and China's provinces, having already established several sister cities and provinces among them.
One of the cooperation areas which I am personally fascinated in is science and technology, particularly space exploration. In 2012 the National Commission on Space Affairs (CONAE in Spanish) and China Satellite Launch and Control Bureau (CLTC) signed a cooperation agreement to establish a space base for deep space research in the southern province of Neuquén, which allows exploration of the universe by means of sharing a unique technology. This location is key as it is used for communications with spaceships, like the exploration missions to the moon, Mars and Milky Way. The level of scientific relations established with CONAE has allowed the Chinese bureau to share lunar samples, proving that bilateral cooperation isn't only limited to the antenna setup.
The aerospace industry is an interesting development path in relations with China. An example of this coming from the private sector is Satellogic, an Argentine satellite production company whose aim is to collect information for the agricultural industry.
Currently, Argentina has four consulates established in China and a fifth representative office will soon be opened in Chengdu, Sichuan province. Driven by China's "go west" policy, and due to its strategic geographical location in the heart of the Belt and Road Initiative, this region has been growing exponentially. Additionally, Chengdu is the third city in China with two international airports. Presence in the region will enable us to deepen cooperation in such areas as tourism and culture, as well as to strengthen business ties.
On the political perspective, on the occasion of the 100-year anniversary of the founding of the Communist Party of China, President Xi Jinping has formally invited President Fernández in his role of head of the Justicialista Party to participate in this celebration. He has agreed to receive this honor.
Although I can broadly continue explaining fruitful areas of cooperation, I hope I was able to make it clear to every reader the high-level significance my country allocates to cooperation with China during the pandemic and the importance to further cooperate in order to continue providing better opportunities to our people. Keeping in mind the wide complementarity between the Argentine and Chinese economies, it is clear why my government has decided to join the Belt and Road Initiative.
Sabino Vaca Narvaja is Argentine Ambassador to China.
The opinions expressed here are those of the writer and do not represent the views of China Daily and China Daily website.
If you have a specific expertise and would like to contribute to China Daily, please contact us at opinion@chinadaily.com.cn , and comment@chinadaily.com.cn
Most Viewed in 24 Hours
China Views