Orthodontists smiling wide at surging market
Share - WeChat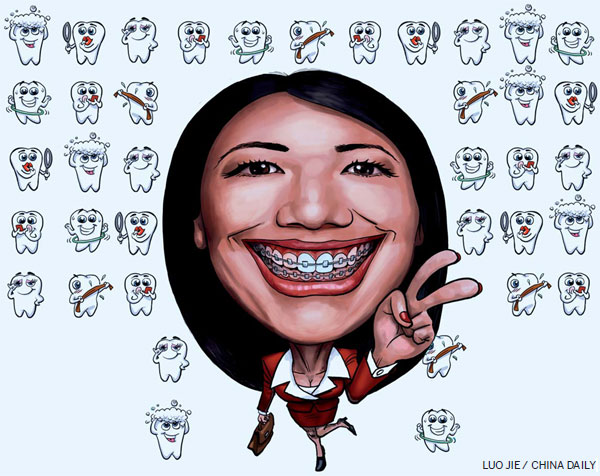 China's orthodontics market has been developing rapidly, and players are stepping up efforts to grab market share as people become increasingly concerned about their personal appearance and teeth.
Microcloud AI & Robotics Group, a digital dental solutions provider based in Jiangsu province, announced a financing round worth more than 100 million yuan ($15.5 million) this month. Liu Peng, the company's founder, said the financing will be used for product development, service upgrades and promotion of its invisible braces. This latest round of financing comes less than three months after a previous round worth 100 million yuan.
On June 16, Shanghai-based Angelalign was listed on the Hong Kong Stock Exchange, becoming the first listed orthodontics company in China. On the first day of trading, its share price soared 183 percent at one point to hit HK$490($63.10) a share. It closed that day at HK$401, up nearly 132 percent from its initial public offering.
"Tremendous potential on the demand side lies in China's invisible orthodontics market. The already existing demand has not yet been met, and new demand is rapidly emerging," said Dun Yuting, a healthcare analyst at online technology media platform 36Kr.
Data from Shanghai-based market research firm China Insights Consultancy showed that between 2015 and 2020, visits to orthodontists in China surged from 1.6 million a year to 3.1 million, with a compound annual growth rate of 13.4 percent. The figure is expected to reach 9.5 million by 2030.
According to Angelalign's prospectus, among the 3.1 million orthodontist visits, only 11 percent used invisible oral appliances, while among the 4.5 million cases in the United States, the ratio was 33.1 percent, demonstrating the development potential of invisible orthodontics.
Between 2015 and 2020, China's invisible orthodontics market expanded from $200 million to $1.5 billion, with a compound annual growth rate of 44.4 percent. The subcategory accounted for 19 percent of China's orthodontics sector last year, up 12.1 percentage points from 2015, and the ratio is expected to reach 40.3 percent by 2030, CIC said.
"Patients' orthodontic demand growth in an era where 'face value' matters makes invisible oral appliances a gold mine in the orthodontics sector," Dun said.
The world's first invisible oral appliances appeared in 1998, when US-based Align Technology Inc developed Invisalign, and the brand quickly dominated the market. In 2001, Invisalign was listed on Nasdaq, and the company is currently valued at $47.4 billion.
Meanwhile, in 2003, scholars from China's Tsinghua University and Capital Medical University working on invisible orthodontics technology were facing financial troubles. Li Huamin, founder and CEO of Angelalign, saw a business opportunity, bought the technology from the universities and established the company.
However, the domestic invisible orthodontics market was virtually nonexistent. Between 2003 and 2015, Angelalign spent large sums of money on research and development as well as marketing, and suffered huge losses. It wasn't until 2015 that the company began making a profit.
According to a report from Southwest Securities, there were more than 40 invisible orthodontics brands in the Chinese market by April this year, with most established between 2018 and 2020.
Industry insiders said the overall penetration rate of the domestic invisible orthodontics market is relatively low, and players should step up efforts to tap market potential.
Wen Zhihong, a partner with Beijing-based Hejun Consulting Group, said: "There are mainly two target groups in the sector-graduate students who are newbies, and children aged between 6 and 12 who are at the golden age of teeth straightening. Companies should tap into these groups."
He said companies should also combine online marketing with offline services to lower operating costs.
"Some listed foreign companies have successful examples of having patients send their data themselves and then oral appliances are mailed directly to patients," he said.
Wen also said that companies should have diversified pricing strategies, as China's orthodontics market is large and consumers' ability and willingness to pay varies.
Industry experts said the overall oral health awareness of Chinese consumers is weak. Even if symptoms such as toothaches and bleeding gums occur, instead of going to an orthodontist, they just buy some herbal toothpaste or painkillers. To further explore the sector, industry players should continue to educate the market, they said.