NYC votes in mayoral primaries
Share - WeChat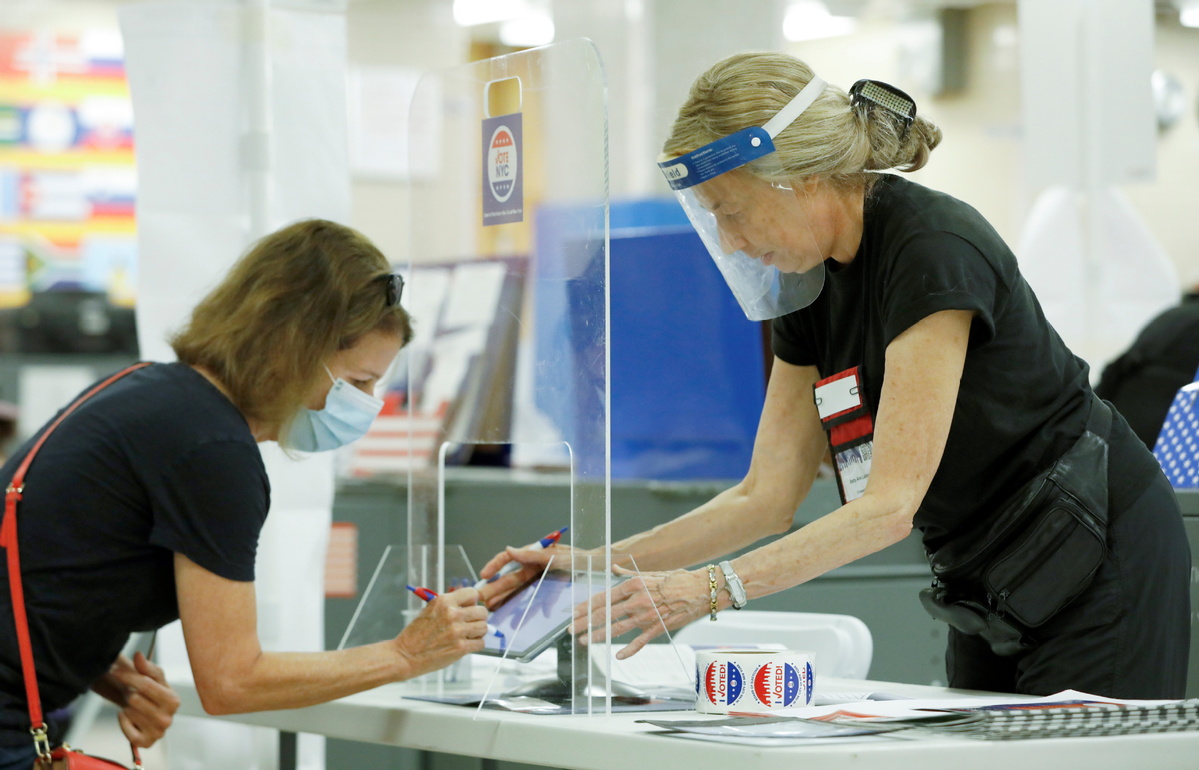 New York City voters went to the polls Tuesday in Democratic and Republican primaries to choose who will lead the nation's largest city, as a new voting procedure and a large number of absentee ballots mean it could be weeks before a winner is determined.
There are 13 Democratic candidates vying to succeed term-limited Mayor Bill de Blasio, who leaves office at the end of the year. Though all the candidates have made their pitch on how they would lead New York City in its economic recovery from the COVID-19 pandemic that killed more than 33,000 residents, polls show crime, policing and public safety have been the main issues among voters.
The Republican candidates are businessman Fernando Mateo and Guardian Angels founder Curtis Sliwa, but the winner of the Democratic race will likely be the victor in the general election in November as registered Democrats outnumber Republicans by roughly 6 to 1.
Despite that, the city had two Republican mayors, Rudy Giuliani and Michael Bloomberg, before de Blasio was first elected in 2013. In 2008, the City Council approved changes to a term-limits law, allowing Bloomberg to run for a third term.
For the first time, ranked-choice voting is being used, which lets voters list up to five candidates in order of preference, instead of picking just one candidate.
A candidate must get more than 50 percent support to win. If no one hits that level, the candidate with the fewest votes will be eliminated. The ousted candidate's votes get redistributed to the voters' second choices. That will continue until only two candidates remain.
The mayor hasn't endorsed a candidate, but in an interview with Politico published on Tuesday, de Blasio described the candidates as "petty"" and "lacking in a compelling vision".
Seven out of the eight major Democratic candidates said that they didn't want an endorsement from de Blasio, with Andrew Yang being the only one to indicate that he would accept the mayor's backing.
Eric Adams, the Brooklyn borough president and retired police captain, has led in polls. One released Monday by research and consulting firm Ipsos showed Adams was the top choice for 28 percent of city residents age 18 and older. He has made public safety his campaign's central message and called for boosting the number of police officers in high-crime areas.
Former presidential candidate Yang was in second with 20 percent, while former city sanitation commissioner Kathryn Garcia came in third with 15 percent, according to the poll.
After polls closed at 9 pm Tuesday, New York City's Board of Elections planned to release partial results of votes cast in person, but that initial picture could be misleading because it will include data only on who voters ranked as their first choice.
On June 29, the Board of Elections will count votes using the new system. It won't include any absentee ballots until July 6. More than 87,000 absentee ballots had been received by the city as of Monday, with more expected to arrive in the mail over the next few days.