BRI to overhaul Sri Lankan infrastructure, lift living standards: Sri Lankan expert
Share - WeChat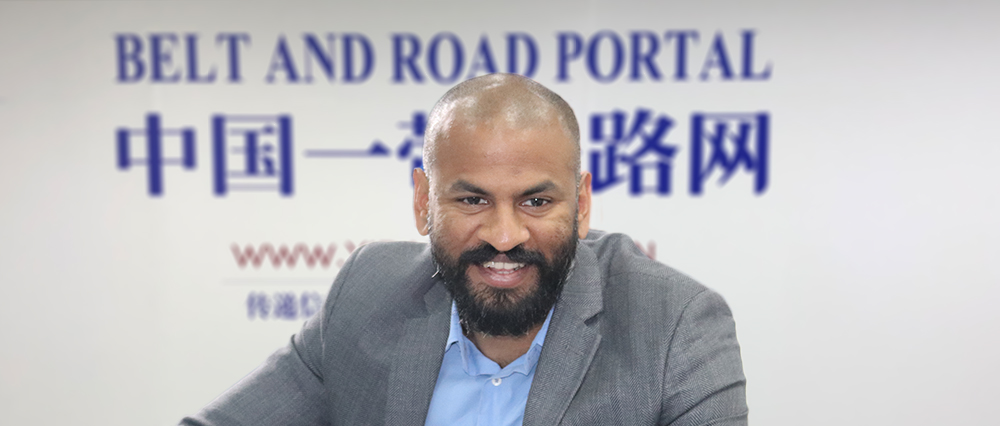 The Sri Lankan government has been fully supportive of the Belt and Road Initiative (BRI) since its inception, carrying out a series of practical and developmental projects in cooperation with China in recent years.
"The BRI projects have made a huge impact on Sri Lankan society, leading to a huge overhaul of Sri Lankan infrastructure," said Yasiru Ranaraja, co-founder of Belt and Road Initiative Sri Lanka (BRISL).
In a recent interview with the Belt and Road Portal (BRP), Yasiru told us about how he founded and organized BRISL, and shared his thoughts on the past achievements and future development of BRI cooperation between China and Sri Lanka.
BRP: Could you tell us what led to your interest in BRI?
Yasiru Ranaraja: My area of work included regulations in the shipping industry, where I got to learn about the lack of funding flowing to many developing and least developed countries. After the inception of the BRI, many countries got an alternative source of funding. This simple fact inspired me to research this China-proposed initiative more.
Moreover, I have lived in China for around 10 years in several cities both as a student and as a professional. During my stay in China, I was fortunate to talk to people with different social backgrounds, from professors and entrepreneurs to government officials. This exposure allowed me to develop a much more open-minded and clearer view of China.
However, through those years, whenever I posted things online, I got a very negative response. Normally, I would post about my experience in China, namely the trains, the road system, how convenient it is to use mobile payment. I felt that among my Sri Lankan friends I was the only one circulating such opinions because other people did not get to experience what I experienced. When the BRI came along, I thought it would be an important opportunity that could bring what I experienced in China to many other countries, including Sri Lanka, and it would definitely benefit a lot of people.
BRP: What drove you to set up BRISL?
Yasiru Ranaraja: The most important reason is that we want to bring together a new generation of people who are interested in China-Sri Lanka relation. There are professionals and business people who are interested in China but cannot get connected to Chinese industry. I have received many emails from big business in Sri Lanka who would like to go into China, meet Chinese investors, or invest in Chinese cities.
Actually, there are already several existing China-Sri Lanka organizations, including ones with government-level recognition that date back to the 1950s, but I feel many of those organizations are somehow outdated. The world has changed a lot in the past few decades. Nowadays, whatever you say, you need to go online, otherwise no matter how strong or true your opinion is, it hardly counts. So, I thought, why not set up an online platform where I could gather like-minded people and build our own network? That was the initial formation of BRISL.
Over the last few years, the organization has grown in influence among the Sri Lankan online community, maintaining its main aim of circulating news with correct information and striving to build a fact-based discourse on BRI in Sri Lanka.
BRP: How do you see the significance of the BRI?
Yasiru Ranaraja: Before the BRI was proposed, international funding operated in a rather simple way– the two main institutions of the World Bank and the IMF mostly controlled who gets funding and who does not. This could cause some developing countries to put off their infrastructure projects for generations.
If you build a road, you need funding, technology, and power to run all the machines. The BRI gives the whole package. Not only funding, but technology. Chinese companies go to the developing countries and they try to culturally bond with local communities, and the projects are done in very few years at very competitive cost. If you look at the BRI projects in Sri Lanka, most of the projects had been dragging for decades before getting support from the BRI.
BRP: In what ways is co-building the BRI important to Sri Lanka specifically?
Yasiru Ranaraja: The BRI has had a huge impact on Sri Lankan society in the last eight years. In partnership with the BRI, Sri Lanka commenced a series of developmental projects, leading to a huge overhaul of Sri Lankan infrastructure. The Initiative lifted living standards of many Sri Lankan people and boosted business in both direct and indirect ways.
There is a Chinese saying that goes: "If you want to be rich, you have to build roads." But in Sri Lanka, we did not have a road network for a very long time. One of the first BRI projects in Sri Lanka was the Colombo-Katunayake Expressway, which links the airport with the capital city.
Then we had the Southern Expressway, which goes to the southern part of the island. The southern part is the main region for tourism, and the completion of the expressway gave jobs to thousands, if not millions of people, including those selling coconuts and those working in transportation and tourism industries. Tourism arrivals to Sri Lanka soared from 500,000 in 2008 to up to 2.3 million in 2018.
Even locals would travel down south more. In the past, it was a 3-day trip – one day to go, one day to stay, and another day to come back. Now it's a one-hour trip in the morning, and you can come back in the night. So, if you look at the whole industry along the expressway, from the hotels to the food shops and restaurants, everything benefited from building the road.
If you take other projects such as Port City Colombo , reports show that around 10,000 jobs were created in the initial construction stage. Once the project is completed in 2040, around 200,000 jobs will be created. This is something any country would wish for. To create 200,000 jobs in a country is like a huge shift of its economy. It's definitely a big win.
BRP: Some have accused the BRI of setting "debt traps" to countries along the routes. What's your take on this?
Yasiru Ranaraja: The BRI is not a debt trap in any way. Sri Lanka's Hambantota port has been one of the targets of the accusation. First of all, the project was not planned by the BRI, it was there in Sri Lanka's development plan since the 1970s but was not able to be carried out because of the lack of funding. The proposal was submitted to China when the BRI came along, and China offered to grant a loan.
If you look at the basic fundamentals of granting a loan, the baseline is that you have to be able to repay it. During the period when Sri Lanka managed the port, they were unable to boost the operation of the port. That was when further negotiation was arranged and Chinese companies went in to operate the port. Media went viral at the time saying that China took over the port and was trying to "debt trap" Sri Lanka with the loan.
However, locals were not so scared at the time. The leasing agreement is a commercial one other than a diplomatic one. Leasing the port to China does not mean it is under Chinese control. The port is still under the control of the Sri Lankan government.
Besides, research data shows that China holds a very small percentage of Sri Lanka's external debt. You simply cannot debt trap a country by holding only around 10 percent of its debt.
BRP: In the future, how would you suggest the promotion of BRI cooperation between China and Sri Lanka be continued?
Yasiru Ranaraja: In my opinion, the next phase of the BRI needs to improve people-to-people bonds among countries along the routes and expand the initiative into other areas such as environment, health, digital, sports and culture. More specifically, there are several areas of green development cooperation that could be beneficial to Sri Lanka.
First is promoting cooperation in sustainable power generation. China is one of the leading countries when it comes to manufacturing power generation materials with technical and operational knowledge. For example, the city of Huainan in East China's Anhui Province build afloating solar farm with around 16,800 solar panels, which can power up to 17,200 homes each year. Sri Lanka, as an island country surrounded by the sea, can definitely implement such technologies to cut down its dependency on coal power.
Second, reforestation is a big issue for Sri Lanka, as its forest cover has been reduced to 29 percent at present from around 50 percent in the early 1900s. China has managed to successfully plan reforestation in several areas and the sharing of related knowledge would be helpful for Sri Lanka. For example, the greening project of the Kubuqi Desert in North China's Inner Mongolia autonomous region has not only reined in the relentless growth of China's seventh-largest desert, but also turned around one-third of it green.
Another important area where Sri Lanka needs much support and cooperation is on developing an electrified public transportation network, which will be an important touch to upgrade Sri Lanka's public transportation system. China runs functional electrified public bus and taxi networks in several cities, and all this knowhow will be very useful in strengthening the green development of BRI cooperation.

The article was first published on Belt and Road Portal on June 17, 2021.
Most Viewed in 24 Hours
China Views