First day sees 4,475 lots of crude options traded
Share - WeChat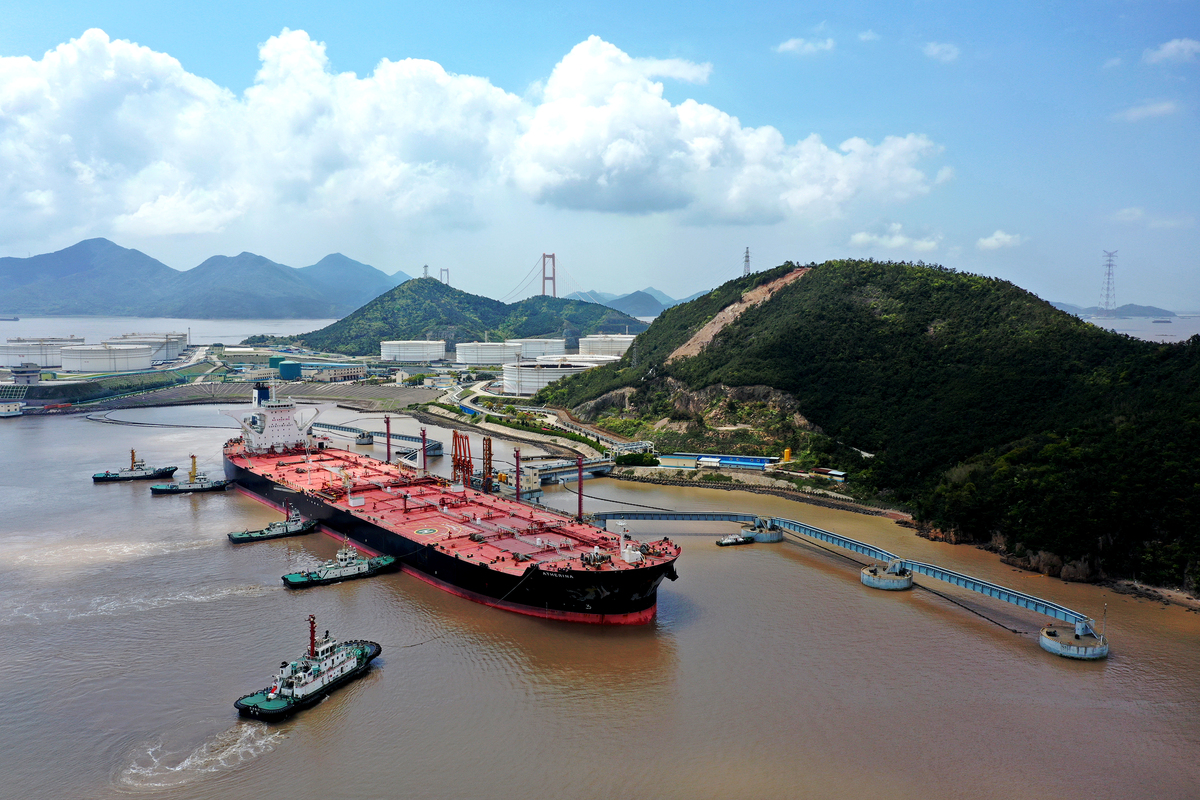 Crude oil options were introduced at the Shanghai International Energy Exchange on Monday, and 4,475 lots of crude oil options worth about 50.7 million yuan ($7.8 million) were traded.
Their introduction follows the success of the yuan-denominated crude oil futures launched three years ago.
Options, which are financial instruments that are derivatives based on the value of underlying securities, would enrich China's derivative product portfolio and provide overseas investors more access to the Chinese capital market, said experts.
The yuan-denominated crude oil futures launched at the INE in March 2018 are the underlying securities for the option products, which started trading on Monday.
Options are traded based on 96 crude oil futures contracts. Both institutions and individuals can participate in crude oil options trading after meeting certain eligibility requirements.
Jiang Yan, chairman of the Shanghai Futures Exchange, the INE's parent institution, said that China's oil companies have become more professional and precise when managing crude oil price risks.
The launch of the crude oil options will become an effective supplement to the futures market and help domestic companies perfect the risk management systems.
China is the world's second-largest consumer of aviation kerosene, consuming nearly 1 million barrels of the fuel every day in 2019, said Pan Yixin, executive vice-chairman of the China Air Transport Association.
As aviation kerosene, which is an important part of crude oil, takes up 30 percent of airlines' total cost, there is a strong need among airline companies to hedge and manage risks.
"The crude oil option will provide more risk management tools for companies, further elevating the competitiveness of China's air transport industry. The trading of the options can seek substantial development within the exchange as well as in the over-the-counter market," he said.
In recent times, China has progressed rapidly in its efforts to open up its derivative market to international investors. It launched its palm oil options on the Dalian Commodity Exchange on Friday, marking the first options contract accessible to overseas investors.
For its part, the INE launched bonded copper futures in November, which is its fourth international futures product. The yuan-denominated crude oil futures unveiled in 2018 was the exchange's first international product, with its trading volume topping over 41.5 million lots in 2020 and turnover reaching 11.96 trillion yuan.
Liu Yong, director of the futures and spot business planning center at Shandong-based Chambroad Petrochemicals, said that risk management on crude oil, which is a strategic product in international commodities trading, has become especially important in light of the increasingly complex global economic environment.
As the trading volume of yuan-denominated crude oil futures increases, there is rising demand for such options to manage crude oil prices in more dimensions, he said.
Ouyang Xiuzhang, CEO of Freepoint Commodities in Asia, pointed out that the launch of crude oil options is indispensable to make China's energy derivative system world-class.
The yuan-denominated crude oil futures trading in Shanghai has gained much attention globally after the drastic price fluctuations of crude oil in 2020. Therefore, it is just the right time to introduce crude oil options.
"For most overseas traders and institutions, crude oil options can effectively simplify the management of margins and positions. The costs will be lowered while hedging risks at the same time.
"More investment opportunities and trading strategies will be provided. Global investors will be thus further encouraged to focus on the Shanghai crude oil futures market and strengthen the futures market's function for discovering prices," Ouyang said.