Leaf art to link children worldwide
Share - WeChat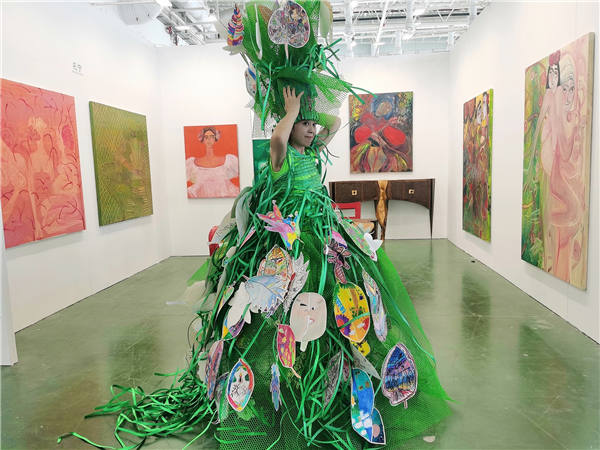 Beijing-based artist presents her leaf-themed garment and her expressive oil paintings during the Art Xiamen 2021, which opened in Xiamen city, Southeast China's Fujian province, on Thursday.
Hundred leaf paintings done by 100 children are attached to artist Kong Ning's green dress, adding vibrant colors to her creation. This is part of Kong's global program which aims to collect 100,000 children's leaf paintings to make a 100-meter-long large leaf, the world's 'biggest' one. So far, the program has collected nearly 20,000 leaf paintings by children worldwide in three years.
"I want to guide children to pay more attention to our environment, and become little artists who love life," Kong said.
According to Kong, the 100-meter-long leaf will be recycled to make papers for children's notebooks after the program.
Artist Kong is an environmentalist, who uses her many works to advocate people to protect our nature and earth.
The Art Xiamen this year with a theme of "Co-building an urban art ecosystem" has attracted nearly 100 art institutions and 1,000 artists.
Most Popular