E-commerce brings wealth to lily growers
Share - WeChat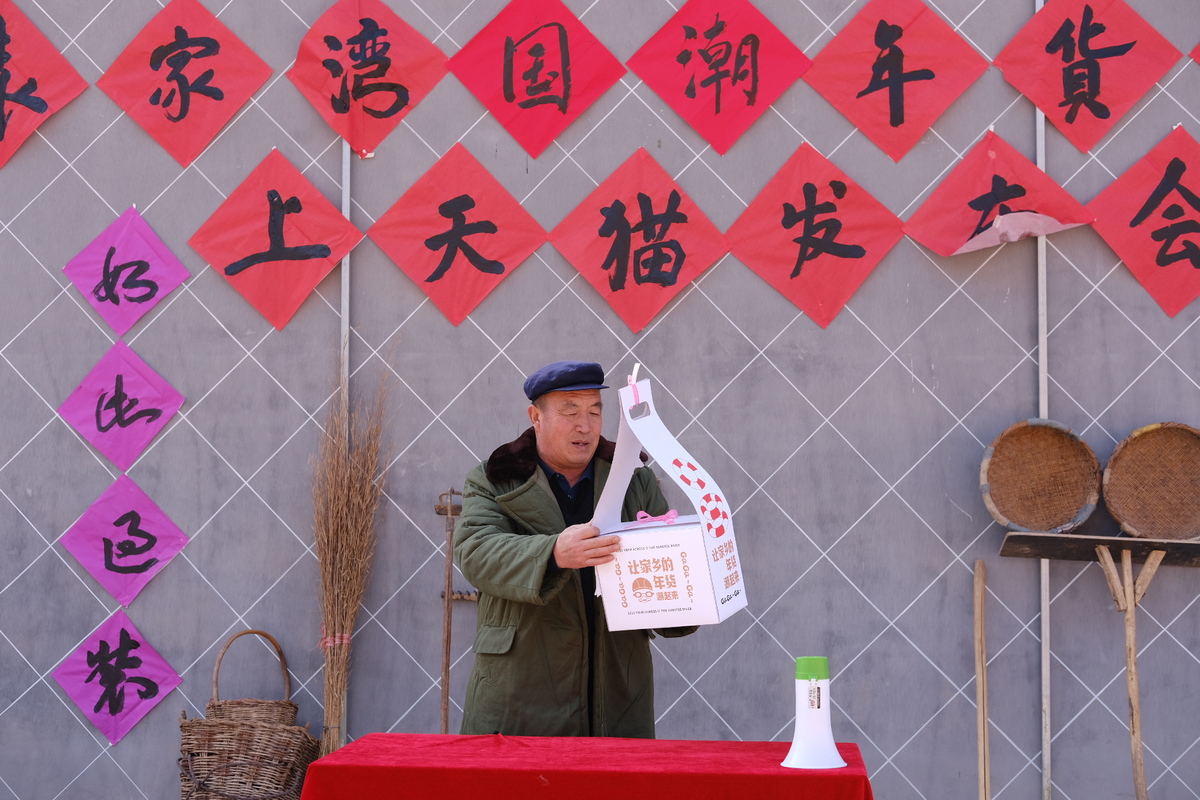 With daughter's help, village chief finds market for dwindling industry
The "blind box" is not just a marketing tool for piquing people's curiosity, it can also be a useful way of helping villagers make a better living.
In February, 60-year-old Gao Zuowang, who had just finished serving as Yuanjiawan's Party secretary, released a blind box of agricultural products and turned the northwest Gansu province backwater into a viral sensation.
"We are all farmers in the village and have been making our living planting Lanzhou lilies for generations. We live well as long as the lilies sell well," he said.
Borrowing the idea of the blind box-a random assortment of toys bought or given as gifts-Gao thrilled customers by filling his box with earth in which he hid vacuum-packed agricultural products such as the edible lilies, potatoes and pumpkins and included a small scoop for them to dig their purchases out of the box.
"We launched our blind box hoping that young people would get to know the lilies we grow, and fall in love with them," he said.
Selling produce in blind boxes was a new move for Gao, but not one that was surprising, as he has worked hard to help Yuanjiawan shake off poverty by developing its e-commerce in recent decades.
As someone who planted Lanzhou lilies for nearly 10 years after graduating from senior high school in 1979, Gao knows better than most the hard work of farming, especially delicate lilies, which require high-quality soil and take about nine years to produce their first real harvest.
In the 1980s, the crop didn't bring in much money, and villagers had to transport their produce by bicycle or mule early each morning to markets in Lanzhou, the province's capital, which is around 20 kilometers from Yuanjiawan.
In the late 1980s, the then village Party secretary, Zhang Zongzhong, encouraged villagers to expand their sales to Beijing, where the lilies could be sold for a price several times higher than what they fetched in Lanzhou. They were even sold for a while to southern cities in Guangdong province, including Guangzhou and Shenzhen.
This raised incomes, but the good times did not last long. Yuanjiawan lost some of its market and sales diminished when in 2000, nearby villagers also began planting the crop.
That was when Gao returned to Yuanjiawan, giving up his dried lily factory in Lanzhou in response to the problems the villagers were facing. Some had even stopped growing and found jobs in northern cities.
"It would be a pity to abandon lilies," he said when he became village Party secretary in 2002. He then set about finding ways to recapture the village's former share of the market.
He approached Lanzhou University for help to improve their lily-drying methods, which soon received a positive response from the market.
The real turnaround came in 2013 when Gao was on a business trip to Longnan city. He was amazed that the villagers there were selling their walnuts online, having already recognized the power of e-commerce.
"Bags of walnuts were transported from the village via an express station, and it was connected to the outside world by the network. I thought that our lilies could also sell well online," he said.
But Gao was very clear about the disadvantages of running an online store. "We are all just farmers. We know nothing but farming," he said. Then he thought of his daughter-then 26-year-old Gao Yanling, who was scheduled to graduate from Northwest Normal University that year.
He asked her to help run an online store in the village to sell lilies and other agricultural produce.
Gao Yanling said that it felt like her father was giving her an order rather than trying to persuade her. "He said that I would never do anything more successful in the outside world than selling lilies online in the village." Angered, she refused.
Their conversation was deadlocked for eight months, but eventually, she relented. "My parents needed me, so I had a duty."
Gao Yanling became the first college graduate to come back to Yuanjiawan to work. "I felt a sense of loss. It was like saying farewell to another life."
Her work was not easy at first. She had to reorganize the management and structure of the Sweet Lily Co, which had been set up by villagers in 2004.
She successfully replaced it with the Baiyu Flagship Store in the spring of 2014. Five young villagers joined the operation, selling fresh and dried lilies. They didn't receive a single order the first month and only sold a kilogram of fresh lilies the second.
She said business got better in the fall of that year, when they landed their then biggest customer, a company from Hong Kong.
"They were happy with our products, but their way of payment triggered a quarrel between myself and my father," she said. "The company planned to pay in three installments. I had a very serious talk with my father and finally convinced him, because the order was quite important to us."
The village opened its own online flagship store in 2018, launching a website for the first time. Just one year later, revenues reached 7 million yuan ($1.1 million). Now, there are 30-plus households in Yuanjiawan working in lily processing factories.
Gao Yanling has also reached a tacit understanding with her father, and has begun to appreciate his love of farmland and lilies. "He believes what he does is worthwhile, and his work in turn nurtures him spiritually, keeping him passionate and enthusiastic," she said.