US-EU trade strains await soft landing
Share - WeChat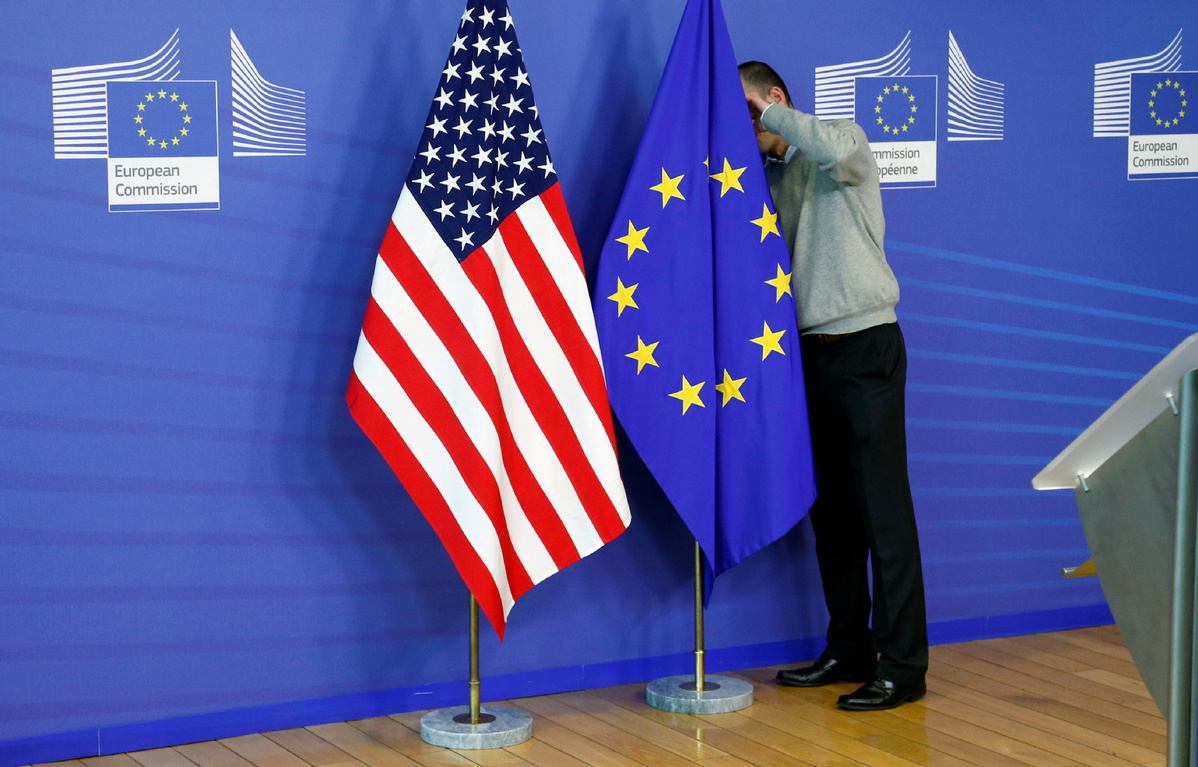 Despite deal on plane makers, progress elusive on other tariffs and digital taxes
The United States and the European Union failed to resolve the thorny issue of steel and aluminum tariffs on Tuesday, despite US President Joe Biden and EU leaders agreeing to a five-year truce in their trade dispute over subsidies to Airbus and Boeing.
European Commission Executive Vice-President Valdis Dombrovskis and US Trade Representative Katherine Tai earlier that day sealed the truce in the 17-year dispute involving the aircraft makers.
Both sides will now seek to overcome long-standing differences to avoid future litigation and preserve a level playing field between Boeing and Airbus, the European Commission said. They agreed to suspend the application of tariffs worth $11.5 billion for five years.
In a statement posted on the White House website, Biden called the progress "a major breakthrough". But he did not forget to take a jab at China, as he has done on every stop in a European tour that began last week.
"Significantly, we also agreed to work together to challenge and counter China's nonmarket practices in this sector that give China's companies an unfair advantage," Biden said.
The Airbus-Boeing dispute started in 2004 when the US filed a case with the World Trade Organization case against the EU for illegal subsidies to Airbus. The EU filed a similar case against the US in 2005 for its unlawful support to Boeing.
Following WTO rulings on the US case in 2019 and the EU case in 2020, both sides imposed punitive tariffs on each other's exports. As a result, EU and US businesses have had to pay over $3.3 billion in duties.
This week, the two sides agreed to launch an EU-US Trade and Technology Council to cooperate on high-tech matters such as semiconductors and artificial intelligence.
Working group
They also decided to establish a working group on the steel and aluminum dispute. The tariffs were first imposed by then-US president Donald Trump in 2018 under Section 232 of the US Trade Expansion Act of 1962.
"We have discussed it broadly, and I think there will be good work and progress with the aim to move forward in this difficult field within months," European Commission President Ursula von der Leyen told a news conference after the summit.
Digital taxes, global health and climate change were among other topics discussed at the summit.
Before the summit, the US had warned the EU against pursuing "protectionist" technology policies that exclusively target US companies as the European Parliament prepares to discuss the new tech regulations for the EU.
It was Biden's first visit to Brussels as the US president. The EU-US summit received much less attention during his tour compared with the G7 summit that concluded on Monday in the United Kingdom and a meeting with Russian President Vladimir Putin that was to take place in Geneva on Wednesday.
Von der Leyen said the two sides are still "long-standing friends and allies" and "share many, many same world views".
A joint statement of the summit posted on the White House website pointed the finger at China on issues from Tibet, Xinjiang and Hong Kong to Taiwan and the South China Sea.
China's Foreign Ministry spokesman Zhao Lijian said on Wednesday that Beijing deplores and rejects the China-related content in the statement, which unreasonably interferes in China's internal affairs as well as creates and spreads disinformation to tarnish China.
The statement goes far beyond the normal scope of developing bilateral relations, he told a daily news conference. "The US and the EU should reflect upon their own serious problems, and they are in no position to act as a lecturer of other countries," Zhao said.
China also rejects efforts by any country to form small cliques and pursue bloc politics against any third party or to divide the world with ideological lines, Zhao said.
He called on the US and the EU to practice true multilateralism, and make contributions to the international community's efforts to combat the COVID-19 pandemic and deal with other global challenges.
Zhou Jin in Beijing contributed to this story.