Domestic cosmetics looking pretty overseas
Share - WeChat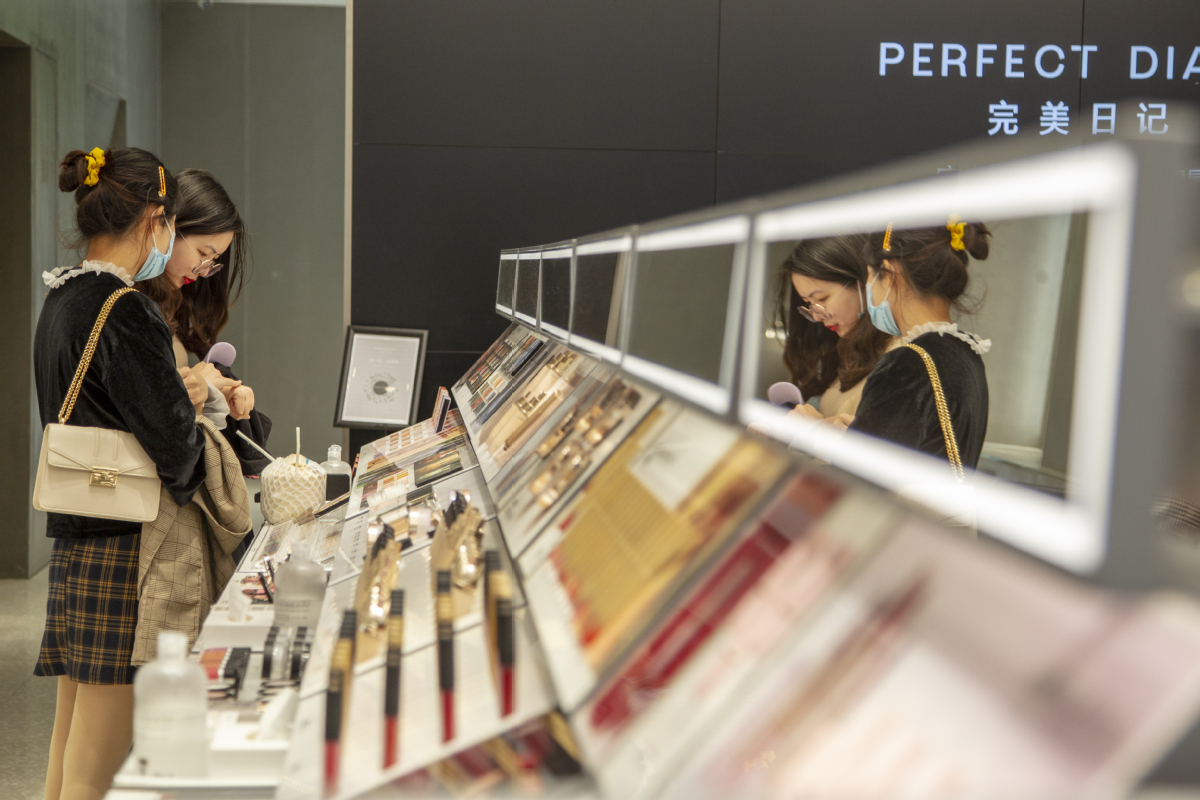 Improved quality, brand cachet, e-commerce all contributing to more global sales
For years, cosmetics brands from Europe, the United States and Japan have dominated the global market. But the growing cachet and volume of homegrown Chinese lipsticks, eyeliners and face blushes-becoming more popular among Chinese consumers-are also gaining momentum from consumers overseas, boosted by rising internet retailing and youth trends.
Data from the General Administration of Customs showed that in the first three quarters of last year, China exported $3.14 billion worth of cosmetics, far exceeding the export value of both 2018 and 2019, which was $2.5 billion and $2.77 billion, respectively.
According to a report jointly released by research firm CBNData and Alibaba's Tmall, during last year's Double Eleven shopping spree in November, Chinese cosmetics sold on Tmall's international platform surged over 10 fold year-on-year.
Wu Daiqi, CEO of Shenzhen, Guangdong province-based Keythink Culture Communication Co Ltd, said, "International consumers are now showing a growing interest in traditional Chinese culture, and Chinese cosmetics brands are set to leverage this interests."
In addition to cultural factors, China's homegrown cosmetics brands have formed relatively mature industrial chains and cultivated an increasing number of sector professionals, Wu said.
According to Shenzhen-based research firm AskCI Consulting, 2020 exports of China's cosmetics and toiletries totaled 999,019 metric tons, up 4.3 percent year-on-year, with an export value of $4.24 billion.
Among exported cosmetics, lipsticks, eye shadow and blushes were the bestsellers, while mascara and facial powder showed great sales potential, said the report from AskCI.
"In recent years, several local brands have emerged," said Wu Rong, a cosmetics expert at Chinese news portal Jiemian.
"The development of China's cross-border e-commerce and logistics sectors, as well as the fact that China has recovered relatively quickly from the COVID-19 pandemic, also put domestic cosmetics brands in an advantageous position in the global market," Wu said.
Chinese homegrown cosmetics brands have developed various overseas markets and set up preferential distribution channels, Wu added.
For example, Guangzhou-based cosmetics brand Perfect Diary is putting extra focus on the Southeast Asian market. In 2020, Perfect Diary teamed up with Sensient Technologies Corp-a provider of coloring products to the pharmaceutical, cosmetics and personal care industries-to establish a cosmetics laboratory in Singapore, and launched an overseas version of its official website.
Perfect Diary's business proved to be a success in Southeast Asia. In May, on Shopee, the largest e-commerce platform in Southeast Asia, it topped beauty product sales in Vietnam and cosmetics sales in both Singapore and Malaysia, and sales of its face powder ranked tops in the Philippines.
Meanwhile, Hangzhou, Zhejiang province-based Florasis chose Japan as its first overseas stop.
The company said that Japan and China both belong to the same Asian cultural community, and share strong cultural and aesthetic traits. Meanwhile, Japan encompasses both Eastern and Western culture, and the Japanese market can serve as a touchstone for the company to enter European and US markets.