NATO chiefs put Beijing in firing line
Share - WeChat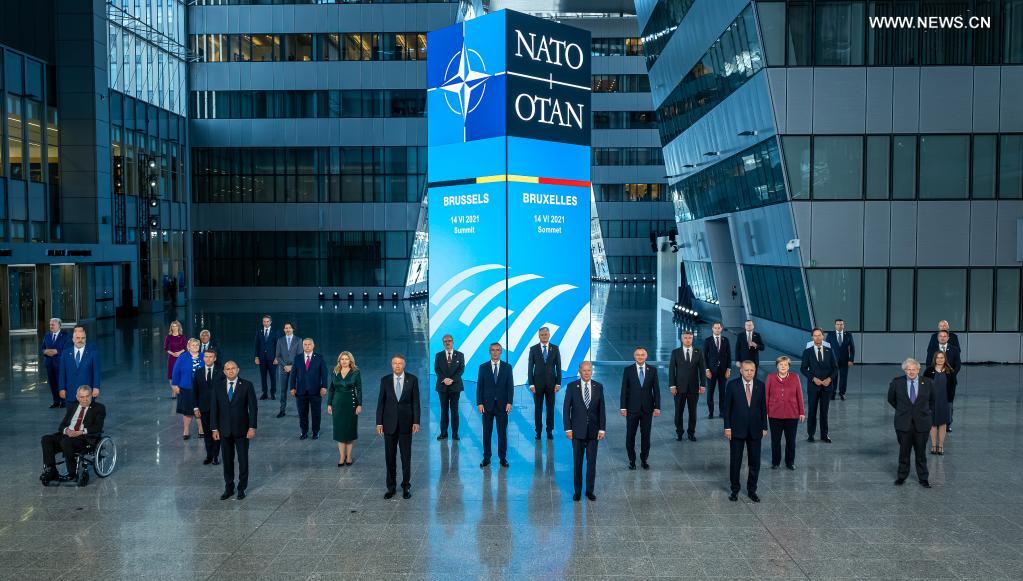 Rejecting 'systemic challenge' claim, China calls for end to 'threat' theories
NATO leaders wrapped up a summit in Brussels on Monday by pointing fingers at Russia and China while vowing to bolster their military capabilities with an ambitious NATO 2030 agenda.
A communique issued by leaders from the alliance's 30 members after the summit said that NATO countries and their citizens face multifaceted threats, systemic competition from assertive and authoritarian powers as well as growing security challenges from all strategic directions.
Its words on Russia are much harsher than those directed at China, which was never mentioned by NATO until 18 months ago.
NATO accused Russia of continuing to breach the values, principles, trust and commitments outlined in agreed documents that underpin the NATO-Russia relationship. But it also noted that NATO aspires to a constructive relationship with Russia when its actions make that possible.
On China, NATO Secretary-General Jens Stoltenberg said that the alliance does not view China as an adversary.
At the summit, NATO leaders agreed on the alliance's 2030 agenda with a number of concrete actions to ensure that it can face the challenges from today and tomorrow, clearly with China in mind, according to Stoltenberg.
Speaking before the summit, British Prime Minister Boris Johnson said: "China is a gigantic fact in our lives and a new strategic consideration for NATO which spent so much time in the last 72 years thinking about the former Soviet Union and various security threats posed from that area.
"But I think when it comes to China, I don't think anybody around the table today wants to descend to a new Cold War with China."
In a statement, a spokesman for the Chinese Mission to the EU said on Monday that NATO's depiction of China as posing a "systemic challenge" in its communique amounts to defamation of China's peaceful development and a misjudgment of the international situation and NATO's own role.
The spokesman said that China has firmly implemented a national defense policy that is defensive in nature. China's military modernization is reasonable, open and transparent. And China's defense budget in 2021 accounts for only 1.3 percent of the country's GDP, much lower than NATO's threshold of 2 percent for alliance members. China's nuclear arsenal is only a small fraction of the US stockpile, or 5 percent of NATO's total stockpile, the spokesman said. He urged NATO to rationally look at China's development and stop playing up various "China threat" theories.
China's Foreign Ministry spokesman Zhao Lijian said on Tuesday that there is only one system and one sort of order in the world, which is the international system with the United Nations as its core and the international order based on international law.
Zhao told a daily news conference that pursuing small cliques or bloc politics, forming groups on ideology lines, and forcing others to pick sides run counter to the trend of peace, development and cooperation, which is unpopular and will not succeed.
Cooperation urged
Shen Dingli, a professor and former executive dean of the Institute of International Studies of Fudan University, said that it is essential for the West to cooperate with China on regional and global issues, such as on climate change, the Iran nuclear deal, Afghanistan after the US troop withdrawal and Myanmar.
Alexander Stubb, a former Finnish prime minister, said that it's very important to try to find a balance when there is a lot of talk about the role of China.
"And in many ways, I want to see the role of Europe as being the great stabilizer, understanding we must have cooperation, we must find common solutions, but still being really strong and tough on democracy," he told Euronews on Monday, noting that he is from a country with a long border with Russia.
While NATO's European allies have expressed their concern over the speed of the US' withdrawal of troops from Afghanistan, the communique said the pullout does not mean an end to the alliance's relationship with the country.
According to the Costs of War project at Brown University, the 20-year war has killed more than 170,000 people in Afghanistan, including over 47,000 civilians.
Attending the NATO summit for the first time, US President Joe Biden said: "NATO is critically important for US interests in and of itself."
Zhou Jin in Beijing contributed to this story.