Joint efforts needed to tackle destructive pests
Share - WeChat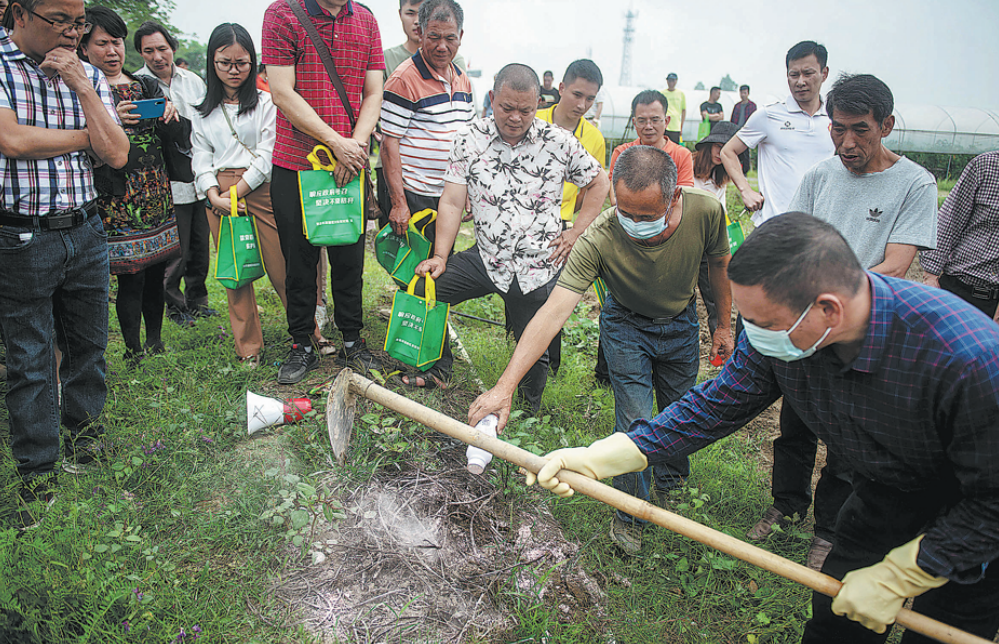 Spread of red fire ants can be slowed, experts say
The advance of invasive red fire ants in China, which can inflict painful bites and stings, can be slowed and made less hazardous through joint prevention efforts by government departments, according to experts.
The species, which is native to South America and arrived in China in 2004, will continue to spread to more areas of the country, however, and may not be eradicated anytime soon, they said.
As of April, the insects had been reported in 12 provinces and 448 counties, according to the Ministry of Agriculture and Rural Affairs. The number of counties in which the ants have been detected has doubled in five years, and they have been sighted in parks and farmland in urban areas.
Lu Yongyue, director of the red fire ants research center at South China Agricultural University in Guangzhou, capital of Guangdong province, said, "The ants' advance will be slowed, for example, from them reaching some 30 counties a year to just a dozen, reducing the risk of them causing serious harm."
When the ants were initially reported in China-in Wuchuan, Guangdong-Lu was among the first group of agronomists to handle samples of the insects.
In September 2004, an agricultural scientist from the Wuchuan agricultural bureau went to Guangzhou and returned with the samples to the research center, where Lu was working.
"The scientist told us an ant infestation had occurred in Wuchuan, and villagers were being bitten and stung. The situation was serious, but they had no idea what to do with the ants, which were thought to be a new species," Lu said.
The provincial agricultural department quickly sent experts to Wuchuan to carry out an investigation. In just one week, after extensive observation work and laboratory studies, the experts concluded the insects were red fire ants that had arrived in China from overseas.
"It was the first time these ants had been reported in China," Lu said.
Experts said the insects could have arrived in the country via imported waste. "According to inspection and quarantine bureau data, a large proportion of the ants intercepted were found on such waste," Lu said.
For the past 17 years, the destructive ants have spread to southern areas of China and also headed north and west, wreaking havoc on farms and in homes.
Production losses
The ants can damage crops by biting into their roots and leaves. "In the worst case scenario, an infestation of red fire ants could result in production of sweet potatoes falling by 30 percent," Lu said, adding that corn, soybeans and vegetables are at risk in areas in which the ants have been reported.
Luo Lizhi, a researcher at the Chinese Academy of Agricultural Sciences' Institute of Plant Protection, said the ants not only jeopardize crops and fruit, which leads to production losses, but also destroy bee hives and harm poultry and pets.
People bitten by the ants experience swellings, nausea and even shock, affecting their ability to work.
A red fire ant grips the skin with its powerful upper jaw before it starts to bite and inject venom. The wound usually leaves scars that last for several weeks or longer. Severe cases can result in chest pain, respiratory failure, anaphylaxis (a severe allergic reaction) and even death.
"Children and farmers have a higher risk of injuries. In some villages, more than 90 percent of the population has been bitten by red fire ants," Luo said. He added that in 2014, farmers in Huizhou, Guangdong, left nearly 100 hectares uncultivated due to an infestation of red fire ants.
One researcher on Lu's team was stung by red fire ants hundreds of times without showing any serious symptoms during his six-year field study, but later experienced semishock and was sent to the hospital after being bitten again.
"People can display no clear symptoms after being attacked by red fire ants, as this case shows. The researcher little expected to experience semi-shock after studying them for years," Lu said.
The ants can also gnaw through the wire of electronic devices, cutting the power and damaging communications equipment.