Chinese companies big players at Euros
Share - WeChat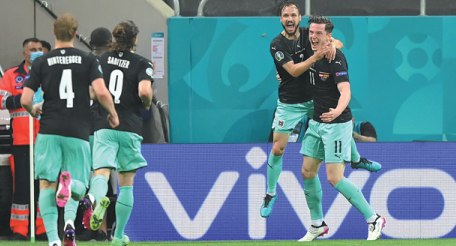 Chinese sponsors are scoring goals at the ongoing UEFA European Championship by accounting for one-third of the 12 top-tier sponsors of the major soccer event, a move that industry experts said fully demonstrates the rising competitiveness of Chinese brands and their determination in going global.
According to UEFA's official website, China has the largest number of sponsor companies at the major soccer championship-home appliance giant Hisense, payment platform Alipay, smartphone maker Vivo and short video application TikTok. The Netherlands followed with three of its companies supporting the tournament.
"Chinese companies are actively carrying out soccer marketing, which fully demonstrates their growing competitiveness and their strong desire to better serve the world," said Wang Peng, an associate professor at the Hillhouse Research Institute of Renmin University of China in Beijing.
"The sponsorship is also a barometer of the changes in the global industrial and economic situation. Japanese and South Korean companies used to be major sponsors of such international sports events, but their presence has decreased, and even disappeared, in recent years," Wang said.
According to the Economic Observer newspaper, Japan contributed at least three sponsors to every World Cup from 1992 to 2004. In the UEFA European Championship 2016, Japanese companies were absent from top-level sponsorship.
Hisense became a top sponsor of the UEFA European Championship in 2016, marking it the first Chinese company to endorse the 56-year-old tournament. In the 2018 World Cup in Russia, four Chinese companies were in the top two levels of sponsorship.
The UEFA European Championship, or Euro 2020, was postponed to this year due to the pandemic and kicked off on Friday night.
"Sports marketing, especially for world-class events, is an important method for brands from both home and abroad to expand their global influence," said Zhao He, senior vice-president of Social Touch, a Chinese marketing and branding firm.
According to UEFA's financial report for the Euro 2016 championship, it earned around 483 million euros ($570 million) from the sale of sponsorship rights. Some marketing consultancies predicted that this year's tournament will bring in similar or higher sales.
"Through our partnership with UEFA, we look to connect with and expand our widening user base of over 400 million people worldwide," said Spark Ni, senior vice-president of Vivo.
Vivo is the first-ever presenting partner of the Euro 2020 opening and closing ceremonies. It has also signed a four-year deal with UEFA under which the Chinese smartphone manufacturer will also become an official partner for the Euro 2024 championship.
"For Hisense, sponsoring the world's top sports events is not just an advertising and marketing activity. We hope to move the company into a higher level in terms of talents, research and development, manufacturing and management," Hisense President Jia Shaoqian said earlier in a speech.
Zhou Nan, secretary-general of the home appliances branch at the China Chamber of Commerce for Import and Export of Machinery and Electronic Products, said: "In order to seize changing opportunities in the post-pandemic era, Chinese home appliance companies need to deploy in the overseas market."