Prized encyclopedia to be studied at home and abroad
Share - WeChat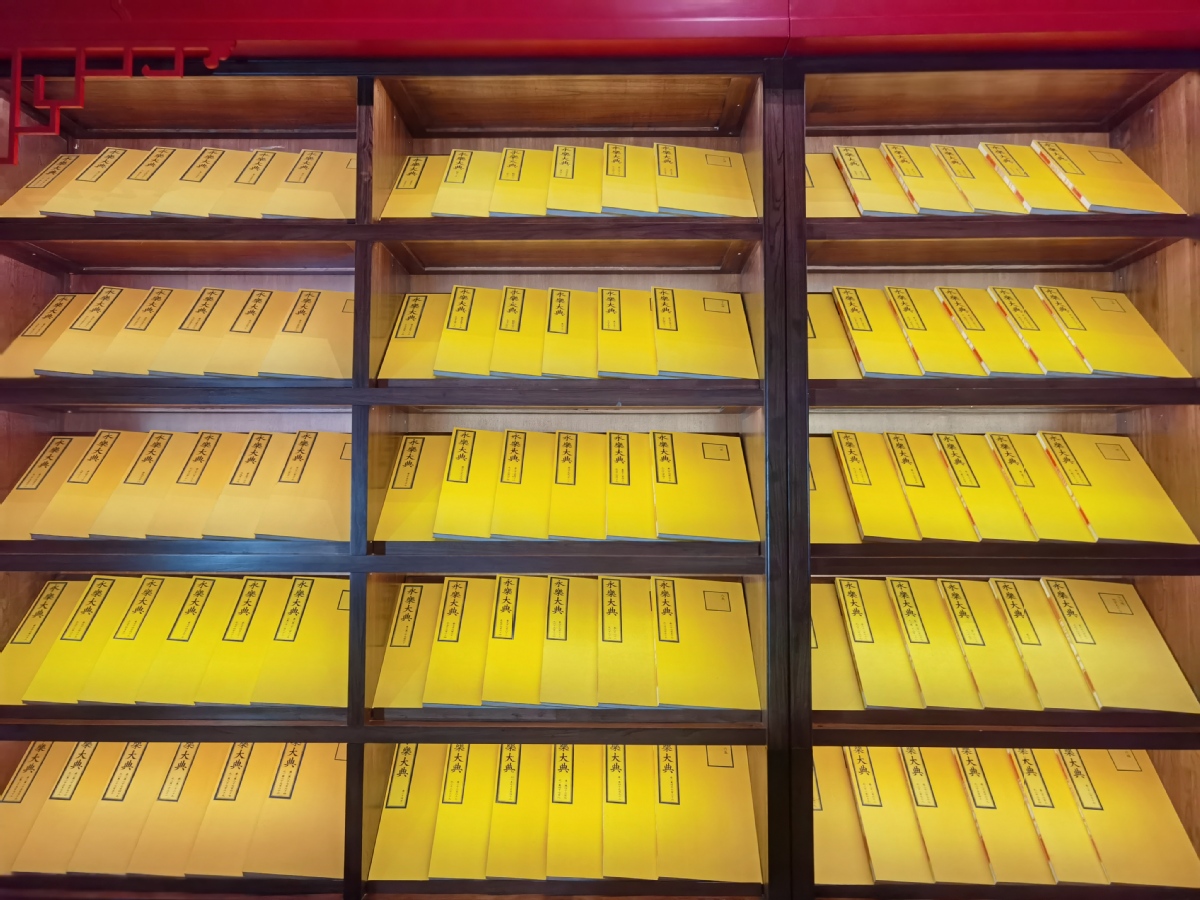 New research center to promote Ming Dynasty tome
Little remains of the original edition of Yongle Dadian, an encyclopedia completed in 1408 after being commissioned by Emperor Yongle during the Ming Dynasty (1368-1644).
However, from what is left of the handwritten tome, which is also known as the Yongle Encyclopedia, it is not difficult to imagine just how impressive it was.
The encyclopedia not only charts the emperor's ambitions, but acts as a reference work for culture and knowledge in China.
It is estimated that some 370 million Chinese characters were included in Yongle Dadian, which comprised 22,937 volumes in 11,095 copies. The catalogs and reading guide alone took up 60 volumes.
Time has taken its toll, and only about 400 copies of a duplicated edition, or just over 3.5 percent of the total, are known to exist.
On May 31, the National Library of China in Beijing announced that the Yongle Encyclopedia Research Center would be established on its premises. The center will promote comprehensive studies of the encyclopedia by teaming up with other institutions in China and overseas.
Zhang Zhiqing, deputy head of the National Center for Preservation and Conservation of Ancient Books, said, "Studies at a deeper level will help us understand the significance of Yongle Dadian in a modern and global context."
The new center will organize academic symposiums for professionals and support the conservation and restoration of the encyclopedia's pages, Zhang said. It will also showcase the work's cultural significance to the public through exhibitions, lectures and other educational programs.
Zhang said that although the work is generally referred to as an "encyclopedia" in the English-speaking world, Yongle Dadian is different from modern encyclopedias that provide summarized introductions of items.
It was known as leishu ("category book").In this type of reference work, lengthy citations or entire works, rather than excerpts, are often included and categorized based on themes and the pronunciation of key words.
More than 600 leishu works were compiled in ancient China, the oldest of them dating to the 3rd century. Some 200 survive either intact or partially. Yongle Dadian is the largest-scale leishu compiled, and is also generally considered one of the biggest paper-based reference books in history.
"It's more like an anthology of knowledge," Zhang said. "When the work was first compiled, it was planned to include everything, from the ancient Confucian classics to poetry, works on history, astrology, geography, medicine and many other topics."
Along with the announcement of the research center, a new gallery featuring Yongle Dadian opened to the public on June 1 at the NLC. Nine copies of the encyclopedia from the library's collection are on display, with a total of more than 40 other related ancient books, maps and cultural relics.
"Looking at the history of Yongle Dadian, we can see one mystery after another," Zhang said. "There are many puzzles for us to solve, so we expect the new center to harness our strengths and achieve breakthroughs."