G7 gathers to bolster ties, cooperation
Share - WeChat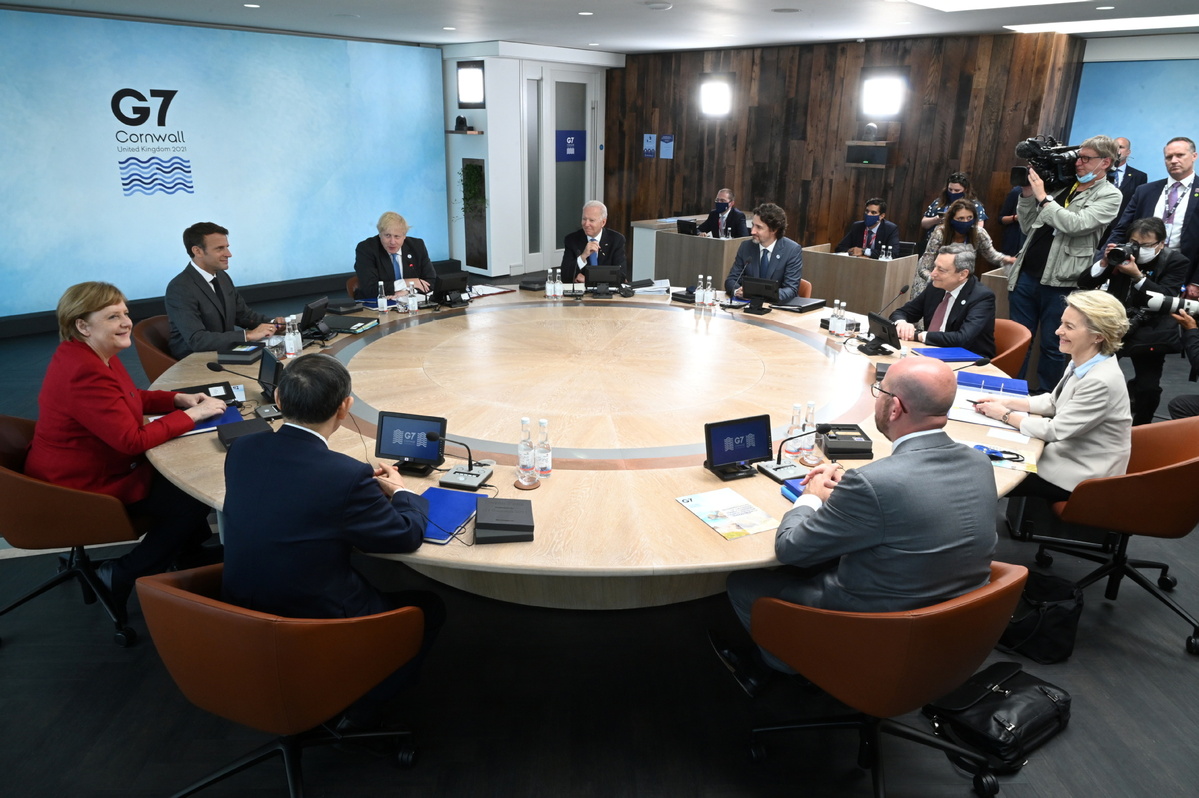 At summit, Biden expected to project a different image from predecessor Trump
A great deal of global attention will be focused on the British coastal resort of Cornwall this weekend as leaders of the world's seven most advanced economies, known as the G7, meet face-to-face for the first time in 18 months since the COVID-19 pandemic began.
Topics such as vaccinations, economic recovery, climate change, international trade and major country-to-country relations are likely to be on the agenda during the summit, which runs until Sunday.
In addition to the usual G7 nations in the United States, the United Kingdom, Germany, France, Italy, Canada and Japan; the leaders of Australia, South Korea, South Africa and India have also been invited to attend the summit as guests.
"The (summit's) main point will be to emit the message of optimism to the global public that normalcy is slowly returning," said Vuk Vuksanovic, a political analyst at the London School of Economics' foreign policy think tank known as LSE IDEAS.
The gathering marks the first international summit attended by US President Joe Biden after he defeated Donald Trump in last November's election. Hopes are high Biden will take this opportunity to assure allies the US is again backing international collaboration.
"From the G7 Summit in Cornwall, we will see the formal reversal of previous US policies for participating in international organizations and a realignment of US diplomacy with the EU diplomacy in many fronts, including defense, security and trade issues," said Christopher Bovis, a professor of international business law at the University of Hull.
"Biden will certainly try to project a different image and send a message of leadership from his administration and his country," Vuksanovic said. "In that context, the language he will use will be more multilateral, to make a clear distinction with Trump's unilateralism policies.
"While there will certainly be a warm, welcoming atmosphere over the fact that Trump is gone, there will have to be concrete actions, as the global challenges will not be resolved just with the change of US presidency," he added.
Analysts say the success of the summit is likely to be dependent on political will and sound negotiating strategies. But it will not be an easy task as countries with varying levels of market development will have their own agenda on global issues.
Not a panacea
George Skiadopoulos, a professor of finance in the School of Economics and Finance at Queen Mary University of London, said: "I am optimistic that sooner or later a new agreement which will improve on the 2015 Paris Agreement will be reached," he said. "This is a prerequisite for the tide to turn, but it's not a panacea to the problem."
Experts say China could also be on the agenda, as rivalry with China has become the dominant theme of US foreign policy.
"While many US allies also have some of their own concerns about the rise of China, the level and type of concern differ from country to country. Therefore, it will not be an easy task for the US to form a unified policy front on China," said Vuksanovic.
"China is the second-largest economy and its gravity cannot be ignored. The COVID-19 crisis has also demonstrated how heavily dependent on China Western economies are," Skiadopoulos said.
Stephen Perry, chairman of The 48 Group Club, an independent business network committed to promoting trade and cultural links between the UK and China, said:"When they talk about China and other nations, they are risking their own global credibility.
"Despite all the attacks on China, it is growing much faster than other nations and enjoys a good reputation outside the West," he said.