US said to buy 500m donor doses
Share - WeChat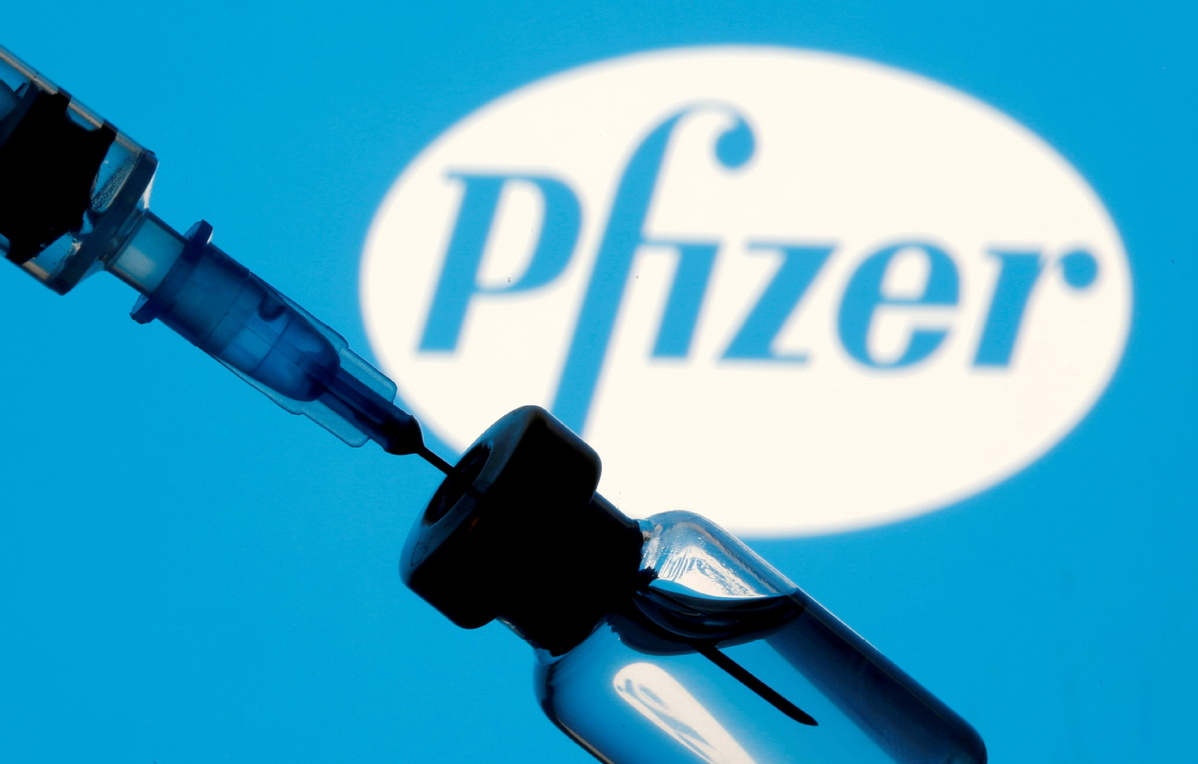 The Biden administration reportedly is buying 500 million more doses of the Pfizer COVID-19 vaccine to share globally.
Jake Sullivan, Biden's national security adviser, declined to elaborate on the plans Wednesday, telling reporters traveling aboard Air Force One with Biden to London that Biden would make the announcement on Thursday at the Group of Seven summit in the UK.
The administration expects 200 million of the Pfizer doses will go to other countries this year and 300 million across the first half of next year, according to reports on Wednesday in The Washington Post, The Wall Street Journal and The New York Times.
White House COVID-19 coordinator Jeff Zients and his team negotiated the deal to buy the doses from Pfizer over the past four weeks, according to the news reports.
Pfizer is offering the Biden administration a deal to buy even more doses at cost to be donated overseas. Albert Bourla, CEO of Pfizer, is expected to appear with the president when Biden makes his announcement. All the doses are being produced in the US at Pfizer's plant in Kalamazoo, Michigan.
The US has faced mounting pressure to outline its global vaccine-sharing plan. According to the World Health Organization (WHO), the US and other high-income countries have secured almost 90 percent of the available coronavirus vaccine supply.
Inequities in supply around the world have become more pronounced, and the demand for shots in the US — where nearly 64 percent of adults have received at least one dose — has dropped precipitously.
Congressional Democrats and some health advocates have been calling for the administration to do more. At the same time, Biden's decision to support a proposal to waive patent protections for coronavirus vaccines has faced strong pushback from the European Union.
A new study published from researchers in the scientific journal Nature shows that Johnson & Johnson's single dose COVID-19 vaccine triggers several immune responses that are effective in protecting people living in the United States along with South Africa and Brazil, where several variants are present.
The J&J vaccine also was found to be highly effective in preventing severe disease for people from many other global regions, regardless of variant.
Another coronavirus variant, this time one that was discovered in India, has made its way to the US, grabbing the attention of public health officials even as COVID-19 vaccinations continue to reduce new cases and deaths in the nation.
B.1.617.2, now known as "Delta", has been reported in about 60 countries, according to White House chief medical adviser Dr Anthony Fauci, and currently makes up more than 6 percent of the sequenced coronavirus cases in the US.
Emerging evidence from other countries, particularly the UK where it is rapidly becoming the dominant variant, shows Delta is more contagious, increases disease severity such as risks of hospitalization and is associated with a "modest" decrease in antibody activity in previously infected and vaccinated people compared to the Alpha variant, which used to be known as B.1.1.7 that first emerged from the UK.
It is "peaking" in people between 12 and 20 years old in the UK, Fauci said during a White House COVID-19 briefing on Tuesday. "We cannot let that happen in the United States," he added.
A Cleveland Clinic study showed natural immunity to COVID-19 may be as good as being vaccinated in some cases.
Researchers followed more than 52,000 Cleveland Clinic employees for five months. More than 1,300 of those employees already had a documented COVID infection and didn't get vaccinated.
The study found none of them were re-infected during the five months they were monitored. Researchers concluded those with laboratory confirmed symptomatic coronavirus infection are unlikely to benefit from vaccination, and vaccines can be safely prioritized to those who haven't been infected before.
"This study shows that subjects previously infected with SARS-CoV-2 (COVID-19) are unlikely to get COVID-19 reinfection whether or not they receive the vaccine," the study's authors wrote. "This finding calls into question the necessity to vaccinate those who have already had SARS-CoV-2 infection."
But a statement from the clinic said more research is needed and that the hospital system "recommends those who are eligible receive the COVID-19 vaccine".
One of the authors stressed the study wasn't meant to say people shouldn't get vaccinated if they've had the virus.
"What we don't know is what's the duration of that protection? And also remember our population of healthcare workers is younger in general, it's healthier. We're not saying don't get the vaccine," Dr Steve Gordon told the NBC television affiliate WKYC in Cleveland.
"It's important to remember that immune protection isn't always equal. Some people may have a stronger response than others,'' he said, adding that there is no antibody test currently that can accurately gauge the level of protection.