Tsai and her US bosses
Share - WeChat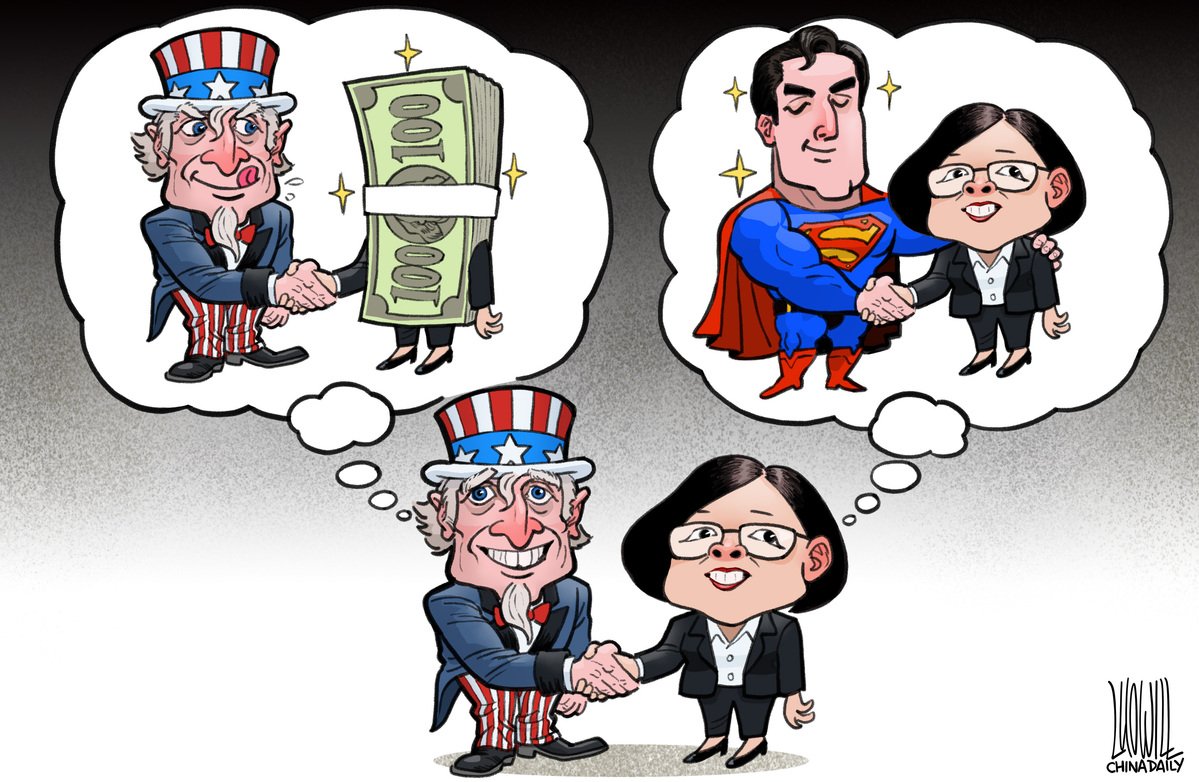 The photo of Taiwan's local leader Tsai Ing-wen meeting the three visiting US senators is very helpful in answering a long-asked question: Who is the boss behind Tsai?
Now we know the answer: US politicians. In the photo, Tsai stands solemnly facing the three US senators sitting comfortably to deliver her address. It would not be wrong if the caption read "The CEO reports to Board of Directors".
Some might argue that one of the three US senators has disability. Sure, to arrange a seat for her is a natural courtesy. However, that does not justify the arrangement of a chair for everybody else except Tsai. That shows the Taiwan authorities holding an inferior mentality to their US bosses for so long that they take such a treatment for their "president" for granted.
Some said Tsai did this to express gratitude for the 750,000 doses of COVID-19 vaccines sent by the US. Problem is, the Chinese mainland, which is homeland to the 23 million compatriots on the Taiwan island, had immediately expressed willingness to send vaccines to Taiwan as soon as a new wave of pandemic broke out in May. It was Tsai and her Democratic Progressive Party (DPP) that constantly prevented the vaccines from reaching Taiwan people's hands.
The US "diplomats" in Taiwan just stood there idle, saying "infection numbers remained quite low". Then Tsai and DPP had to finally beg some doses, but the lives lost cannot come back, and the 750,000 doses might be far from sufficient of vaccinating the 23 million people.
In one word, while kowtowing to her US bosses, Tsai takes a rather rigid approach to the Chinese mainland. Maybe she wants to avoid contact with her own motherland so as to delay the process of national reunification. Maybe she imagines there is a superior Western world on this planet and her group is part of that world.
The imagination will end soon, in one way or another.
Follow the writer on Twitter: @zzxang86
Most Viewed in 24 Hours
China Views