Tesla recalls 734 e-cars to fix brakes, tires
Share - WeChat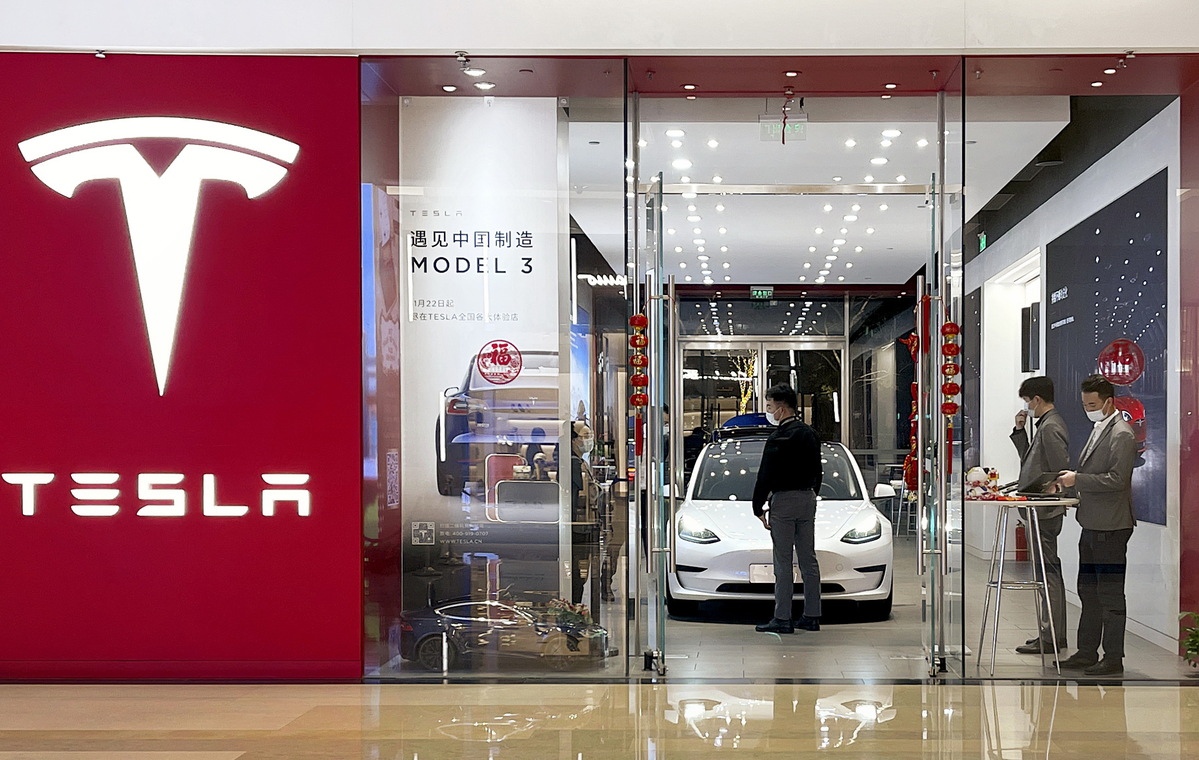 US electric carmaker Tesla Inc is recalling hundreds of vehicles that were imported to China due to potential safety risks posed by defective bolts, the country's top market regulator said on Thursday.
The move came as tens of thousands of cars have been recalled in the past few months in both China and the United States, and followed a consumer outcry on brake malfunction that strained the automaker's relationship with the world's top auto market.
The directive in China would affect 734 vehicles in two batches that were produced in 2019, the State Administration for Market Regulation said on its website, citing a recall plan Tesla has filed.
The first batch of the problematic Model 3, manufactured between Jan 12 and Nov 20, 2019, is reported to have a seat belt defect that could enhance the risk of passenger injury during a collision.
Issues of second batch of 423 cars are tied to a tire problem that might increase the chance of collision, the notice said.
Tesla will notify affected car owners, and promises to conduct tests on the recalled vehicles and replace defective parts free of charge, according to the statement.
The automaker also advises users to drive carefully before their cars are fixed.
In an almost parallel development, Tesla said it is recalling nearly 6,000 cars in the US on Thursday because of prospective loose brake caliper bolts that can potentially lead to a loss of tire pressure.
Earlier, batches of recalls since the beginning of this year have involved tens of thousands of cars from both China and the US.
The company was thrown into the spotlight in China last month, after a woman protested during an auto show in Shanghai against a brake malfunction issue that she claimed to have caused her car to crash.
The company later apologized to Chinese consumers for not addressing a customer's complaints in a timely way, and agreed to share vehicle data related to the accident.
In an official post on microblogging service Sina Weibo last month, Tesla said it has established a data center in China, with more to be built in the future, for local data storage, promising that all data of its vehicles sold on the Chinese mainland will be kept in the country.
Chen Quanshi, a professor of automotive engineering at Tsinghua University in Beijing, called for timely introduction of regulations on smart vehicles, especially those related to the data they generate.
"While connectivity is making cars easier to use, it poses risks as well. We should have introduced regulations earlier," he said.
Tesla's Shanghai factory commenced operations in 2019. It began delivering locally made Model 3 sedans last year and the compact SUV Model Ys made in China this year.
Despite its all-time popularity, the Model 3 is losing out to budget Wuling Honguang Mini EV in April in terms of sales, according to data from the China Passenger Car Association.