Recipe of success for leading executive
Share - WeChat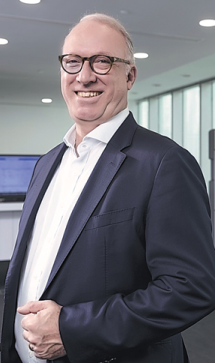 Sylvain Laurent had initially aspired to become a cook, but his father wanted him to become an engineer instead. As it turned out, following his father's advice has not been a bad move-the Frenchman is today the executive vice-president of French software corporation Dassault Systemes.
Laurent, who has been living in Shanghai for the past eight years, shared this anecdote and his thoughts about China's rise and capabilities in a short video produced by Shanghai-based Xinmin Evening News and the Shanghai Municipal Information Office.
The video is part of the Shanghai Through Our Eyes series which was launched on April 8 to mark the 100th anniversary of the founding of the Communist Party of China this year. The series shines the spotlight on 100 foreigners working in the city and paints a picture of China's development through their perspectives.
Besides cooking, which he still harbors a passion for, Laurent also shared that he enjoys observing the locals dancing in the streets and taking in the morning scenes of the city.
On the professional front, the Frenchman cited Shanghai's conducive business environment as the reason he moved the company's Asia Pacific headquarters from Tokyo, Japan, to the city.
"From a strategic overview, the dynamic of innovation, or the demands of the future, I believe China will be the center of this big area of the world," says Laurent in the video.
"And Shanghai represents, for the firm and me, the engine of the new innovation capacity."
As the world's largest industrial software provider, Dassault Systemes has participated in many key projects in China in recent years, including the high-speed railway from Beijing to Hebei province's Xiong'an, and even some related to COVID-19.
In March last year, the company announced that it was cooperating with the Central-South Architectural Design Institute, one of the most renowned architectural design institutes in China, to simulate virus dispersal within the Leishenshan Hospital in Wuhan.
"The motivation and ambition of the firm is to make sure that we continue to bring our knowledge, capacity with the simulation technology and solutions to China," he says.
During his time in Shanghai, Laurent has actively promoted cooperation between China and France in multiple fields like business, science and technology.
In 2019, Laurent was awarded the Magnolia Award for his contributions to fostering closer ties between the two countries. The annual award is one of the highest honors a foreigner can receive in the city.
caochen@chinadaily.com.cn
Most Popular