Peaks of civilization
Share - WeChat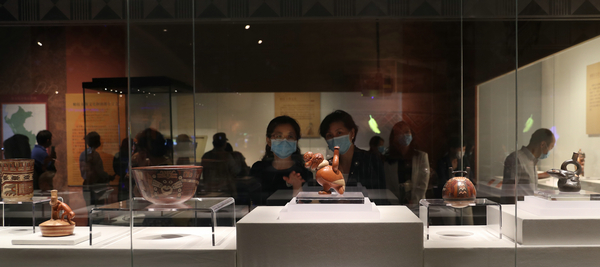 From the magnificent Nazca Lines spread across the Pampa Colorada to the mountainous city of Machu Picchu, the world-famous heritage sites in Peru have a lasting attraction for Chinese history buffs with an interest in ancient civilizations.
Though COVID-19 may have temporarily restricted curious Chinese travelers' ability to admire these wonders in person, a newly opened exhibition in Beijing enables them to view the cultural splendor of these historic sites from the other side of the world.
Perhaps, Wonders: the Ancient Andean Civilization in Peru, which is to run through Aug 22 at the Capital Museum in Beijing, is like a panoramic and vividly told story, reviewing the saga of Peruvian civilization that spans three millennia. It is also the first exhibition from abroad that is being held in the museum since the outbreak of the pandemic.
From the Cupisnique Culture dating back to about 1500 BC to the fall of the Inca Empire in the 16th century, 155 highlighted artifacts, including colorful pottery, gold decorations, fabrics and stone carvings, are presented for visitors to reflect the wide time span. They are on loan from 11 museums all over Peru.
According to Zhao Yazhuo, a curator of the exhibition from the Capital Museum, the artifacts cover 15 of the most important cultures throughout the history of ancient Peru.
Most Popular