Roaming elephants wreak havoc
Share - WeChat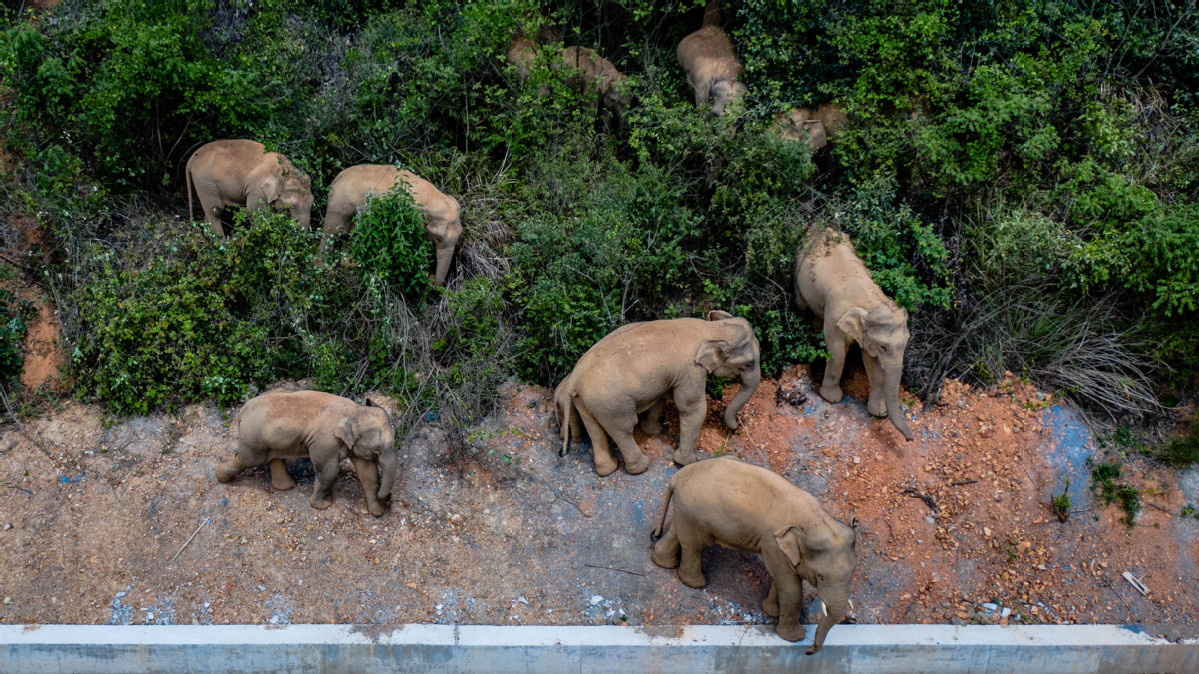 Alerts issued as animals make 400-km journey in Yunnan
Many people from Yunnan province often claim to have seen wild animals, including elephants, roaming local streets, as the province is known as the nation's "kingdom of wildlife".
However, such claims have recently been verified beyond a doubt.
Video footage taken on Thursday in the Eshan Yi autonomous county shows a herd of 15 wild Asian elephants roaming the streets in a downtown area at night after leaving their habitat in Xishuangbanna National Nature Reserve in the south of Yunnan last year.
The herd originally consisted of 17 elephants when it left the nature reserve, but two of the animals gained access to alcohol in a village and became inebriated, according to local officials. The pair was later reported to have returned to Pu'er, a city north of the Xishuangbanna Dai autonomous prefecture.
As the elephants made their 400-kilometer journey from Xishuangbanna to Eshan, they were monitored by forestry police, firefighters and public security workers using drones and cameras. Alerts were also sent to local residents to avoid injuries.
In urban areas, the roaming elephants attracted considerable attention from the media and locals. Photographs and video footage of the animals quickly went viral.
One video, which received more than 2.5 million views within five hours, shows the elephants walking along under dim street lighting, their huge bodies almost blocking a road.
Another video, recorded by a camera placed near a factory entrance, shows an elephant trying in vain to push away steel bars.
Footage taken by drones shows the herd eating vegetables and corn on farmland.
On Friday night, the elephants were seen moving toward Efeng Mountain Forest Park in Eshan county.
On Saturday, when the herd entered forests in the north of the county, it became difficult to observe the animals or follow their traces. Drones are being used to track the elephants.
As of Sunday morning, the 15 elephants were 50 km from Kunming's Jinning district and 100 km from the downtown area of the provincial capital.
Chen Shengyao, a forestry firefighter, said: "They've entered deep forest and it is hard for drones to record them. We are now monitoring them with infrared drones used by the military."
He added that nine members of his team are taking shifts to monitor the herd day and night and that roads entering the forest have been blocked for safety reasons.