40th birthday, new beginning
Share - WeChat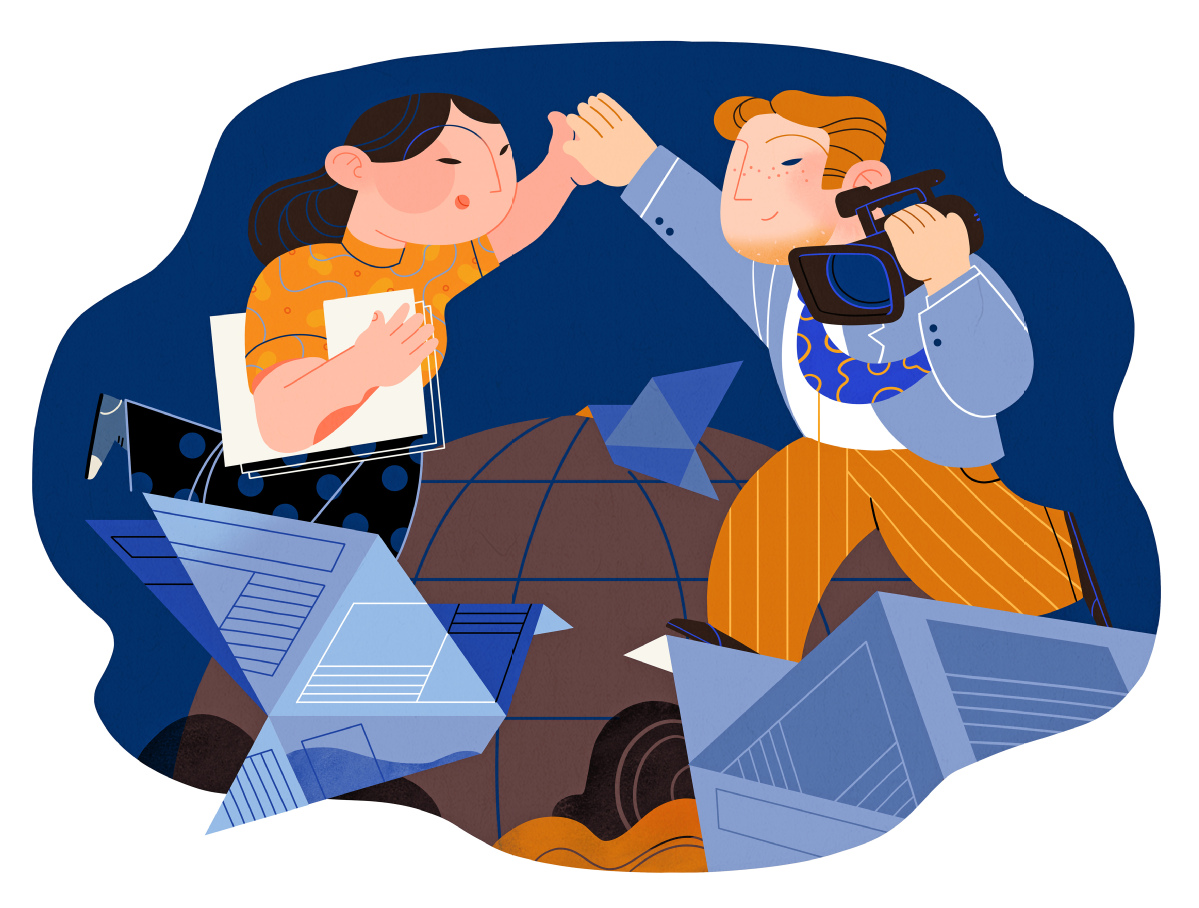 Editor's note: China Daily will celebrate its 40th anniversary on June 1. As an authoritative national English-language media organization bridging China and the rest of the world, it is committed to telling China's stories well and making China's voice heard. Experts and commentators from home and abroad share their views on how China Daily can further advance this cause. Excerpts follow:
Key platform for communication
In an era when the world is experiencing a once-in-a-century change, China, as a rising country, needs to tell the world diverse, real and multidimensional stories about the country through various media. China Daily has been a world-class media organization, sticking to objective and truthful reporting.
With its wide-ranging influence, continuous communication and long-accumulated professional standing and authority, China Daily has been playing an important role in international communication, and acting as a key platform for communication between China and the rest of the world to increase mutual understanding and build common ground.
Here's hoping China Daily continues publishing in-depth and comprehensive stories about China and improving the use of social media in future international communication to convey China's thoughts and let its voice be heard across the world.
China Daily should also make better use of its media think tank, strengthen research cooperation with other think tanks, and find links between the public opinions and innovative ideas to increase its global influence.
Wang Lili, deputy dean of the National Academy of Development and Strategy and a professor at the School of Journalism, Renmin University of China
Tells real stories about the country
China Daily is close to me. Physically, its office is about 10 minutes' walk from my home. More important, it is close to my heart. As a contributor to media organizations such as China-US Focus and the South China Morning Post in Hong Kong, I am an avid reader, and have found China Daily to be a very important source of information and inspiration.
It is quite unfortunate that the reporting on the fight against COVID-19 has been politicized. Being on the ground, China Daily takes it as its responsibility to get the facts straight so that the readers and viewers have a more balanced view.
In addition, China Daily's commentaries on the global fight against the pandemic are refreshing. I was encouraged by the call for global cooperation by Tom Frieden, former director of the US Centers for Disease Control and Prevention, who wrote that in the face of humankind's common enemy, everyone is concerned.
Indeed, China Daily and its Chinese peers have an important role to play in informing the world about what is actually happening in China and what the people in the rest of the world think of the developments in China. In its endeavor to nurture a shared future for all humankind, China needs to understand the rest of the world better.
Likewise, the rest of the world needs to know the truth about China and its people. After all, with more than one-fifth of the world's population and an economy accounting for about one-seventh of the global GDP, what China does, and thinks, matters. That is where China Daily and other Chinese media can help.
Zhou Xiaoming, former deputy permanent representative of China's Mission to the United Nations Office in Geneva
Helps world better understand China
China Daily should be commended for paving the way for Chinese commentators to communicate with the world. And the growing voices from China provide international readers with different perspectives about the country.
However, there is still a gap between the Chinese media and their counterparts in developed countries, with the latter greatly influencing their public's views about China. Also, some Chinese media outlets have been misunderstood. Against this backdrop, it is even more important for the Chinese media to tell China's stories well, and ensure the voice of China is heard.
We must always bear in mind that commentaries are equally or even more important than reports. News reports tell stories about China and the Chinese people. Commentaries can help the people in other countries better understand what is behind the news.
Ding Gang, a veteran Chinese journalist
Better reflects people's views
When China Daily was founded in 1981, I was a sophomore English major in Xi'an, Shaanxi province. I would read it in hard copy when I acted as a tour guide or an English interpreter at well-known tourist sites such as the Big Goose Pagoda or the Terracotta Warriors Museum during the summer vacation or on the weekend. I became aware of many stories about China's reform and opening-up throughout the 1980s by reading China Daily.
After I went to the US for my PhD in communications, I began to read some mainstream US newspapers such as The New York Times, The Washington Post and The Wall Street Journal as well as China Daily in the university library. The more I read them in comparison, the more I realized how significant a window on China for the world and vice-versa China Daily was.
At all the universities I have studied and taught in the US, I have got access to China Daily either in print or electronically. Librarians of all serious libraries unhesitatingly subscribe to China Daily as it is seen as an authoritative source of news in English about China and the world.
China Daily not only maintains its comprehensive coverage of news about China and the world with as much objectivity as possible, but also retains its moderation in opinions. I hope in the future, people in other countries can learn more about Chinese people's views through China Daily.
Jia Wenshan, a professor at the School of Communication at Chapman University
A messenger and an old friend
On the 40th anniversary of China Daily, I congratulate the great success and remarkable achievements of the newspaper. It has played an important role in building a communication bridge for international communities within China. Also, the publication is the witness and recorder of China's reform and development, a creditable messenger connecting China and the rest of the world.
For me, China Daily is an old friend that accompanies me every morning, along with my coffee. I wish China Daily success for the next 40 years, with continual growth and expanding influence. Let the world listen to the voice of China!
Ali Obaid Al Dhaheri, UAE ambassador to China
Bridge and ambassador between China and world
"You've come a long way baby" was the tagline of one of America's most famous advertising campaigns. China Daily, you truly have come a long, long way on your four-decade journey! You've mirrored and chronicled the dramatic and continuing rise of China, and you've served as both bridge and ambassador between China and the world.
Forty years on, the pioneers who launched the monochrome eight-page China Daily would not believe how the paper has grown and how, like vintage red wine from the Ningxia Hui autonomous region, it continues to mature and impress. This includes colorful international and multilingual editions, an online version, and even a fully equipped video studio.
My initial encounter with China Daily was in October 1988 on my first visit to China as a tourist. Back then, China Daily not only gave me a window on China, but a lifeline to major world events-it's still doing so today. Little did I know that decades later I'd have the privilege of writing as a freelancer for this fine international media organization.
On many occasions, former premier Zhou Enlai said that "the relationship of two countries cannot be linked merely through professional diplomats, but should rely more on people themselves directly". In this spirit, China Daily can shine even brighter by leveraging China's awesome technological prowess to enhance its role as global builder and facilitator of virtual and actual people-to-people bridges.
Harvey Dzodin, a senior researcher at the Center for China and Globalization
Honest and objective articles and opinions
As an expatriate who both reads and contributes to China Daily, I care about the integrity and clarity of my own writing, and delivering a meaningful and accurate understanding of China to the world. As I offer my congratulations to China Daily on its 40th anniversary, I am mindful of how it has helped me and other expats to deliver those messages both to China and the rest of the world.
There are many valuable, honest and objective articles, opinions and reports. I hope the newspaper will offer more and more content which analyzes from contrasting angles important issues in today's volatile world.
Mario Cavolo, an Italian-American writer living in China
Spreading the voice of rising China
China Daily is a source to know, understand and get familiar with China, and understand its development, its politics, its society, its culture and its people. Through responsible journalism, China Daily is spreading the voice of rising China among readers worldwide.
At the same time, the newspaper is inclusive in soliciting the voices of other countries and communities, regardless of their politics, ideology or geography. As a regular reader of China Daily, I commend the entire China Daily team for its dedication and hard work to make the paper a powerful voice of China.
The development of China Daily reflects China's rise and its growing voice in the global economy and international relations. Against this backdrop, the reports, editorials and commentaries published by China Daily are in line with the changing situations as they are in-depth, broader and thought-provoking.
Mahendra Subedi, a Nepal-based journalist
Interactive approach highlight of the paper
Rather than being a "lean back and let it wash over me", a newspaper is a "lean forward and participate" medium, acting as a platform for writers and readers to interact. In the modern era, newspapers engage with information. The media sector has become highly competitive and all media organizations are keen to draw global attention.
China Daily is one of the greatest competitive and interactive media outlets at the national and international level-with millions of followers on social media-due to a number of reasons.
It publishes objective reports, covering national and international events while following journalistic ethics and global principles. It looks at issues from a positive angle, and acts as an interaction platform for all, from grassroots people to writers, lecturers and entrepreneurs, to name but a few.
China Daily portrays the true picture of China and tells the stories of people from different layers of society.
To maintain its role as a vehicle for international communication, China Daily needs to extend its interactive platform for people from every corner of China and the rest of the world, and increase the level of cultural and political exchanges.
Hujjatullah Zia, a political analyst and senior writer with Daily Outlook Afghanistan
Big contribution to global understanding
For the past 40 years, China Daily has played an enormous and invaluable role as a global platform for disseminating the great nation's perspectives on the world and explaining the reasons for China's policies to the global audience. In doing so it has played-and continues to play-a crucial role for international understanding and world peace.
This institution also continues to serve as a platform for observers from around the world dedicated to the true principles of coexistence, increased genuine understanding and constructive cooperation between the nations of the world.
This institution's continuing contribution to the survival and success of a truly multipolar world and real-as opposed to fake-international dialogue and understanding cannot be overestimated.
Martin Sieff, a senior fellow at the American University in Moscow
CD can contribute to East Asia cooperation
China Daily is playing a more and more important role in helping the world know the truth about China and its people. It should not only shoulder the responsibility of a traditional media platform, but also urge the world to build a shared future for mankind. Under this circumstance, China Daily should attach great importance to highlighting the cooperation among China, Japan and the Republic of Korea, which have developed by leaps and bounds. The three countries should help drive the global economic development.
China Daily can continue the analyses and in-depth reports about the three countries' cooperation, because their development reflects the real meaning of the shared future of the world.
Woo Jin-Hoon, a guest professor at the International Business School, Beijing Foreign Studies University
Most Viewed in 24 Hours
China Views