Following in Edgar Snow's footsteps in Shaanxi
Share - WeChat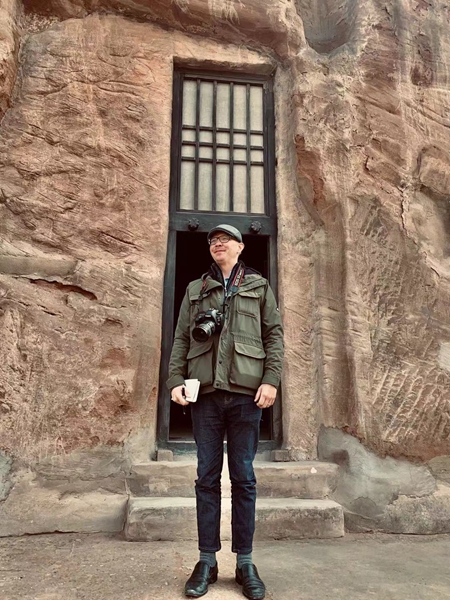 I recently spent 15 days traveling throughout Shaanxi province's Yan'an to retrace the steps of Edgar Snow, the first foreign journalist to enter the region after it became the Communist Party of China's revolutionary base in the 1930s, following the Long March.
But I didn't expect the sometimes-subtle ways in which my experiences somewhat echoed his so many decades later.
Snow's Red Star Over China was the first book I read after moving to Beijing in 2006. Reading about the deprivation in Yan'an during his time made me wonder what it's like in ours.
I discovered a modern city that's advancing education, environmental protection and poverty alleviation-dimensions of development whose origins the CPC initiated and Snow chronicled.
While I went to see the place and how it has transformed, I didn't anticipate several experiences that at least faintly resembled his.
That was as I reread Red Star on the trip and found it to be a different book than I'd first engaged.
The words were the same. But I've changed. That's because I've since spent 15 years traveling extensively through every province, exploring China's development, whereas I was introductorily encountering Beijing 15 years ago.
One such occurrence involves photos of people wearing swapped hats shot in front of cave dwellings in Bao'an, which was renamed after the revolutionary hero, Liu Zhidan-"China's Robin Hood"-after his death.
I visited Mao Zedong's cavern dwelling that served as the background of the chairman's most iconic portrait photo, which Snow took in 1936. I'd seen the actual hat in a Beijing museum around 2006.
Snow thought Mao's hair was too long. So, he put his own Red Army cap on the chairman before snapping the legendary shot, which I first saw in the first pages of Red Star.
I took a photo with a local leader in the same county, with whom I'd visited Mao's cave, in front of the grottoes that pock the Yongning mountain fortress, an ancient stronghold and early CPC base.
He took my hat and placed it on his head, saying it made me "look too old". (My wife calls it my "old-man hat".)
We spontaneously snapped the shot while both holding a copy he'd requested of my new book, Closer to Heaven: A Global Nomad's Journey Through China's Poverty Alleviation.
I've been surprised by how many readers online and at live events have called Closer to Heaven the "new Red Star" and me the "Edgar Snow of the 21st century", or, amusingly, "Erik Snow".
In Zhidan, I was also treated to freshly ground coffee, which reminded me of Snow's delight at being offered an unexpected cuppa in Wuqi county, given the extreme difficulty of procuring the beverage then. The man who treated me suspects his coffee machine, which he bought three years ago, was the county's first.
Also, like Snow, I was unexpectedly asked to give a lecture. His was to the Red Army about US and British views of the Chinese revolution. Mine was an English class for middle school students about their aspirations it enabled.
The parallels of our experiences in Yan'an and beyond are far from perfect reflections. Yet some similarities seem uncanny.
We're both US journalists who traveled to places foreigners had rarely or never tread.
Snow encountered far greater dangers. He had to be smuggled into red China in the first place!
He explored the country and Yan'an during a time of manifold wars. I explored them during a time of peace, ultimately brought about by the hardships he documented.
The greatest dangers I've faced during my journalistic explorations of China are earthquakes, landslides and once getting a knife pulled on me.
I've covered the fruits of the struggle Snow documented, around 80 years later, as China and Yan'an have risen from dire privation to reach the first centenary goal of achieving xiaokang, or a "moderately prosperous society all in respects".
And we've both devoted ourselves and our writings to chronicling stories not only about China but ultimately about hope come true.
That's perhaps where our stories-individual and shared, personal and published-intersect beyond time but not space.