Nankai University holds VR experience activity for International Museum Day
Share - WeChat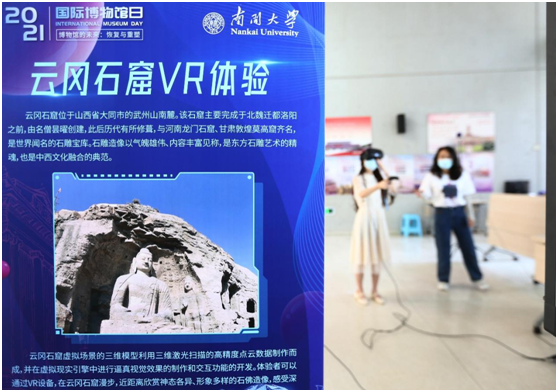 Nankai University Museum held a VR experience activity on May 17 to mark the 45th International Museum Day, which fell on the next day."It's amazing! I can clearly see every detail of the Buddha statue," said Hu Xinya, a student who had just experienced the Yungang Grottoes by VR experience. By using VR technology, visitors can access the interior of the grotto and see the Buddha statue, sculpted reliefs and murals from any position.
"I hold the handle that accidentally touched the Buddha statue in VR, and can even see dust and small particles fall from the statue. It rouses the awareness of preservation of cultural relics in my mind," Hu added.
This VR experience is also available in the Hall of Supreme Harmony of the Forbidden City and the Tomb of the Nanyue King in the Western Han Dynasty (BC 202-AD 8) in Guangzhou. Visitors can use a handle to select different visual angles to access different areas of the Hall of Supreme Harmony and closely examine the interior details of the hall; they also can observe the complicated structure of the Tomb of the Nanyue King and observe cultural relics.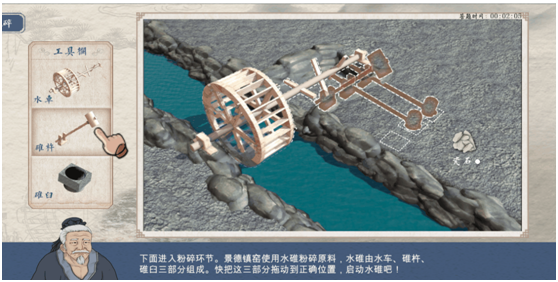 The most attractive VR experience item is the experience of porcelain making and identification independently developed by Nankai University. Visitors can observe the full process of porcelain making by VR experience to learn the excellence of the ancient Chinese craft.
Zheng Jian, a student of Nankai University, wore VR glasses to visit National SouthWest Associated University(NSAU), a coalition between Nankai University in Tianjin and Peking and Tsinghua universities in Beijing during the Chinese People's War of Resistance against Japanese Aggression.
"I just control the handle to access the classrooms and dormitories of NSAU which allows me to experience the kinds of environment and situations the masters and students of those years lived in," Zheng said.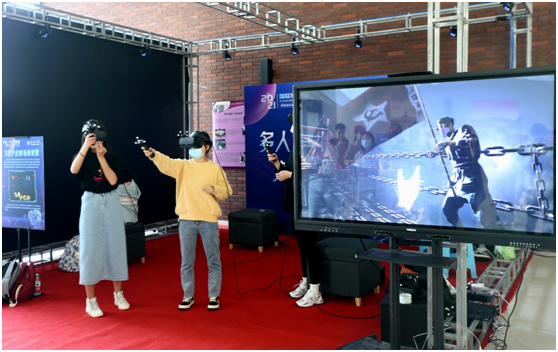 Students also experienced battle at Luding Bridge, a major campaign of the long march of the Red Army. By wearing VR glasses, they experienced climbing by ropes in a hail of bullets.
"This year marks the 100th anniversary of the founding of the Communist Party of China (CPC). This VR technology greatly assists Party history education, as we can have an immersive experience of the cruelty of war and learn the greatness of the CPC's centenary struggle," said a responsible person.
A museum, as a public cultural service institution, should be people oriented and concerned with the needs of visitors at different levels. In the digital economy era, museum design and development should also innovatively adopt digitization to preserve traditional culture.