Real, digital businesses integrate with telecom
Share - WeChat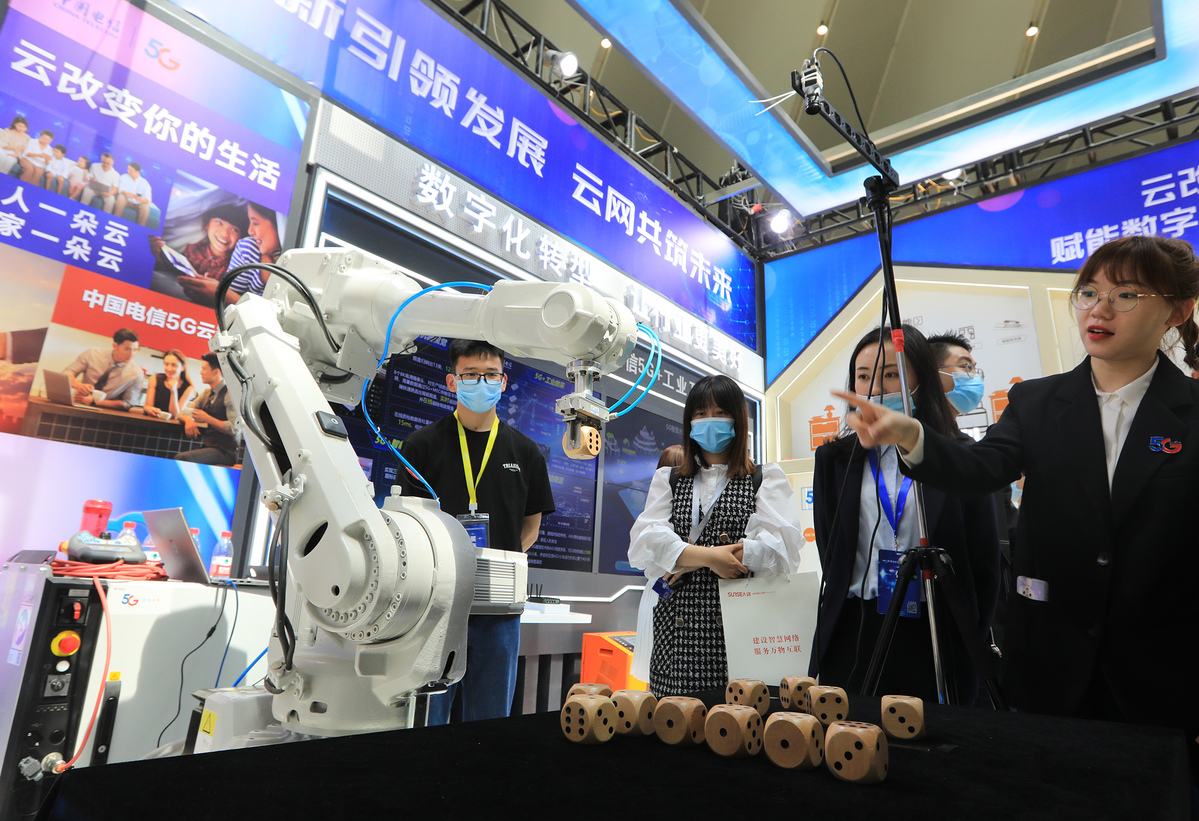 China's notable progress in telecommunications network infrastructure construction has laid down a sound foundation for the integration of digital and real economies, experts said.
The comments came after the Ministry of Industry and Information Technology said on Monday that China has to date built 819,000 5G base stations across the nation, accounting for about 70 percent of the world's total.
Moreover, within just two years after the nation kicked off the commercialization of 5G services, China now has 280 million 5G smartphone users, accounting for more than 80 percent of global 5G mobile subscribers.
Wu Jichuan, previous head of the former Ministry of Posts and Telecommunications, a ministry in charge of postal and telecom industries from 1954 to 1998, said one of the biggest contributions of China's telecom industry is that it lays down a sound digital infrastructure for companies and consumers to access fast internet networks at affordable prices.
The sector laid the foundation for China's kaleidoscope of mobile applications and its thriving digital economy. More importantly, sector players can help fuel the integration of digital and real economies in the 5G era to inject new vitality into China's economy, Wu said.
The Global System for Mobile Communication Association said Chinese mobile telecommunication users spend $5.94 on average per month for the service, lower than the global average of $11.36.
In addition to more affordable services, China has further narrowed the urban-rural digital divide. More than 99 percent of administrative villages in China have access to optical fiber and 4G networks, with rural and urban areas enjoying equally fast internet, said Liu Liehong, vice-minister of industry and information technology.
Liu cited data from an international speed test agency showing that China ranked fourth globally in terms of mobile network speed in March, with its fixed broadband speed in 16th place.
As Chinese telecom companies make strides in research and development, they became the leading contributors of patents essential to global 5G standards, Liu added.
The latest report from German patent analytics company IPlytics showed that Chinese telecom gear maker Huawei accounted for 15.39 percent of global 5G patent families-collections of patent applications covering the same or similar technical content-as of Feb 1, which was the world's highest amount. Chinese telecom equipment maker ZTE ranked third, with 9.81 percent, and smartphone vendor Oppo was ninth at 3.47 percent.
According to the latest Government Work Report that outlined priority tasks for 2021, China will step up the development of 5G networks and extend application to more settings.
In the meantime, as part of efforts to further energize market entities, China aims to lower average rates for broadband and dedicated internet access services for small and medium-sized enterprises by another 10 percent this year.
Denis Depoux, global managing director at Roland Berger, a management consultancy, said one of the difficulties in promoting 5G among businesses is that each company's or sector's specific needs require 5G customization to demonstrate the technology's value.
Technology meets actual people's needs in different sectors-that is what is necessary to determine their needs in the context of their business models-so that traditional industries can improve what they are doing, boost efficiency or cut costs, Depoux said.
Market consultancy International Data Corp predicted that superfast 5G technology will be a new engine of the digital economy over the next few years. It predicted that over the next five years, China is expected to invest 650 billion yuan ($101 billion) in constructing 5G network infrastructure and will have 4.5 million 5G base stations by 2025.
On top of accelerating 5G rollout, China is also working hard to reduce the digital divide between urban and rural areas by encouraging telecom companies to build base stations and optical networks in relatively poor areas.