New York lifts mask mandate
Share - WeChat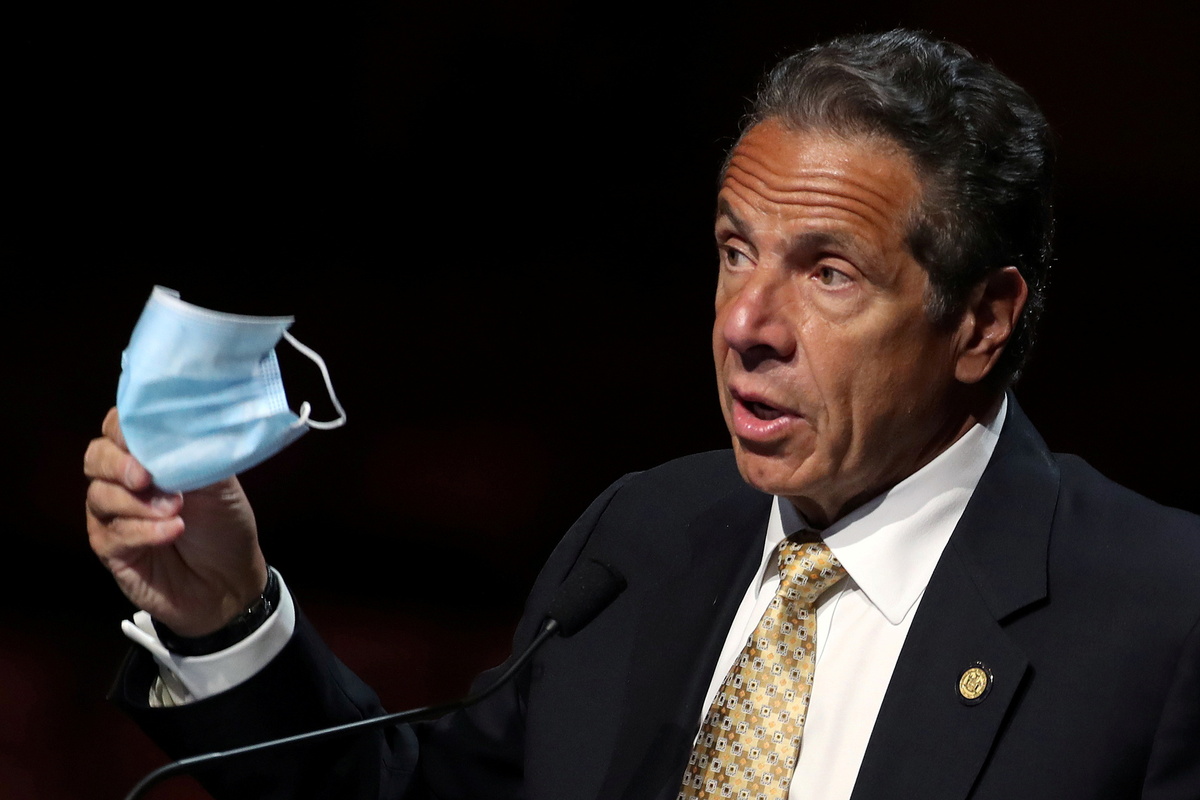 New York Governor Andrew Cuomo, saying, "we have to get back to life and living'', announced Monday that the state will accept guidance from the US Centers for Disease Control and Prevention and will lift its mask mandate for vaccinated people on Wednesday.
"We have to reopen. We have to reopen smart, with a cautious eye," the governor said. "Unvaccinated people should continue to wear a mask and social distance, but if you are vaccinated you are safe — no masks, no social distancing," he said during a media briefing.
New York's move comes after several states changed their mask mandates last week to align with new guidance issued May 13 by the Centers for Disease Control and Prevention (CDC). The CDC said that fully vaccinated individuals don't need a mask outdoors or in most indoor spaces in most spaces. But states and businesses can decide their own rules on mask-wearing.
"The whole point of the CDC's change, the whole point of our change is to say to people, there are benefits to being vaccinated," Cuomo said.
People can go mask-free indoors but should still wear face-coverings in some crowded settings and on mass transit. Masks also must be worn in schools, hospitals, prisons, nursing homes and homeless shelters. Cuomo said that stores and other companies are welcome to keep mask mandates if they like.
The mask shift will come the same day that a majority of COVID-19 capacity limits are scrapped in the state, including curfews for bars and restaurants, as it takes a major step toward returning to normal, Cuomo said Monday.
Early Monday, the city's subway system returned to full round-the-clock service after more than a year of overnight closings during the coronavirus pandemic to provide more time to clean and disinfect trains, stations and equipment.
It was the longest planned shutdown since the subway opened in 1904, according to the Metropolitan Transit Authority, which operates the system. Average weekday ridership is currently about 2.17 million riders, compared with around 5.49 million riders before the pandemic, the MTA said.
Cuomo also announced that the New York City Marathon will return in November with a field of runners reduced from 55,000 to about 33,000. The 26.2-mile race will take place on its usual date, the first Sunday in November.
"It's the North Star," Ted Metellus, the race director, said of the marathon's return. "It's the thing that says we're back."
New York was one of the first to issue a broad mask mandate in April 2020 when it was facing one of the worst coronavirus outbreaks in the world. The executive order issued at the height of the pandemic required anyone venturing out in public to wear some sort of covering over their nose and mouth whenever social distancing wasn't possible.
New York is seeing the lowest number of hospitalizations and lowest number of patients in the intensive care unit since November. The state on Monday also reported its lowest number for single-day deaths (11) since Oct 11. Cuomo announced Saturday that more than half of New York adults have been vaccinated for COVID-19.
Cuomo noted that 52.2 percent of New York adults are fully vaccinated and 61.8 percent have received at least one dose of a coronavirus vaccine. More than 17.6 million vaccine doses have been administered in the state so far.