At this stage, macro policies need to be precise, meticulous
Share - WeChat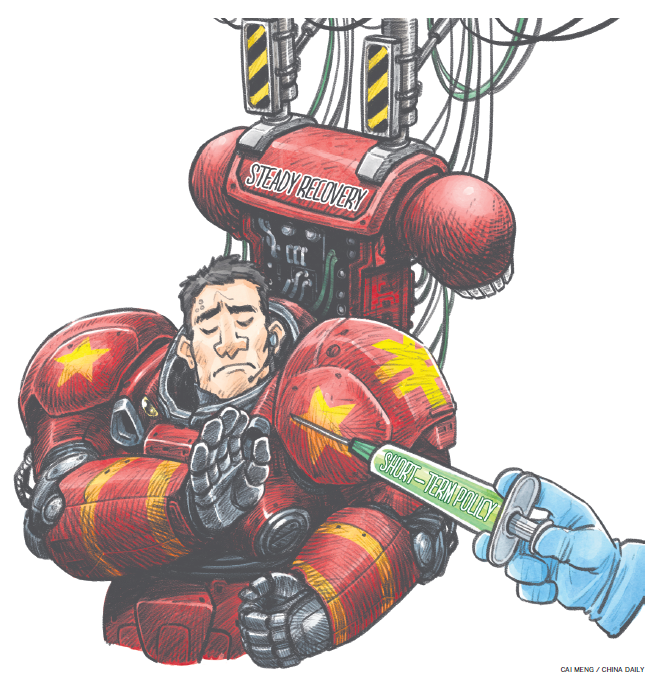 China can expect economic growth in the second quarter with improvement in major measurements such as imports and exports and companies' profitability. Therefore, short-term policies should not be overly stressed to stimulate consumption.
This year marks the beginning of the 14th Five-Year Plan (2021-25).Major projects and major plans must be fully clarified this year. First-quarter data show that Chinese people's income increased and companies' profitability improved, which were both better than expected.
There will also be a process of recovery in investment despite significant structural changes in this aspect. Consumption will continue to improve in the second quarter.
Exports will continue to improve in China. The recurrence of epidemic in Europe, India and Brazil has disrupted the pace of their recovery. Meanwhile, the recovery of the US economy depends on China, which supplies many products, and there is no substitute yet. Therefore, imports and exports will remain relatively strong, which should lead to a quarterly growth rate.
But the economic growth rate in the second quarter will have a noticeable downward trend. A very important reason for that is the base number. It was-6.8 percent in the first quarter of last year and 3.2 percent in the second quarter; the base factor can reach about 10 points. Therefore, the year-on-year growth rate in the second quarter of this year will definitely fall back to single-digit level such as 9 percent.
Data released by the National Bureau of Statistics showed that China's first-quarter GDP growth rate was 18.3 percent on a yearly basis and 0.6 percent on a quarterly basis.
First of all, 0.6 percent is still slightly lower than the previous quarterly growth rate after seasonal adjustments, which shows that China's economic growth has not really reached the normal level if you take into consideration the strong base effect of last year.
Second, China's GDP growth in the past few quarters shows that it is still in a state of recovery and has not returned to normal. We do not have to over-interpret such data, for there will be great uncertainty in economic fluctuations due to the impact of the epidemic. The 0.6 percent quarterly growth rate may not have accurately shown the whole picture, as some seasonally adjusted model parameters may have some variation due to the epidemic.
To better understand the current economic recovery, it is better to first look at companies' profitability, people's income and government revenue, especially from the improvement shown in their balance sheet. The second criteria is the business activity of small and micro enterprises.
PMI readings from Chinese small and medium-sized enterprises have stood above the benchmark reading of 50 since February. This has indicated that the recovery has begun to be fully transmitted to the smaller entities in the market, showing the beginning of endogenous recovery.
The foundation for the recovery of SMEs should be further consolidated. There should be more favorable policies regarding tax reduction, fee reduction, inclusive finance, and supply chain construction.
It should also be noted that the investment confidence of private business owners has not fully returned. Therefore, there should be more policies aimed to stimulate the confidence of these company owners.
China's consumption has been recovering at a faster pace, which is proved by the sound quarterly growth rate in sectors that were hit hard by the epidemic. The year-on-year growth rate of restaurants was about 75 percent in the first quarter, which has almost reached the level in 2019.
But consumption has not been fully normalized. The revitalization of consumption cannot be solved simply by relying on short-term policies. It requires strategic tasks and measures based on the expansion of domestic demand during the 14th Five-Year Plan period. Related mechanisms, medium-term policy arrangements, and even short-term consumption stimulus policies should also be in place.
It is believed by some that interest rates should be lowered to boost consumption. But I do not find it necessary. The change in interest rates does not have much impact on the national economic savings rate, and it is short-term. It is normal for people's savings to rebound under the impact of such a major crisis and epidemic.
In this regard, we may need to follow the logic of consumption recovery rather than excessively using short-term policies to stimulate consumption, for excessive stimulus is likely to result in distortion of consumption and even waste.
Therefore, consumption stimulus packages should be associated with the entire mechanism, the country's strategies, and mid-term policies. Prudent saving should be lowered to boost consumption, while prudent saving depends on the construction of a social safety net and the provision of public services, rather than on the adjustment of short-term benefits.
The monetary policy's support for economic recovery is appropriate at this time. Instead of making more adjustments, monetary policy's continuity and sustainability are more important.
China's exports will remain strong. It will be difficult for some countries to rebuild their exports even after the epidemic. While some governments want to intervene in the global supply chain, they have limited ability. Although the global supply chain and industrial chain will become shorter and wider, and the phenomenon of deglobalization will rise, these will exert no practical impact on China's exports this year.
But for the mid-term, it will be difficult for China to keep its competitiveness in exports and global economic cooperation if the country cannot fully upgrade its technologies with the help of the domestic circulation.
Therefore, China should truly realize innovation-driven growth to enhance its export competitiveness. On the other hand, there should be breakthroughs in key technologies and core technologies.
There are three major concerns about China's economy and trade expressed in the market.
First is the limited supply and the soaring price of raw materials.
Second is the shortage of ships and containers, combined with the rising freight rate, which has already risen sharply of late.
Third is the exchange rate appreciation, which hurts export profits.
The current increase in commodity prices has led to an increase in the production costs of raw materials for some upstream companies, which is inevitable at the moment.
The prices of commodities have fallen too much during the epidemic, and there are some so-called retaliatory increases. In fact, the overall price rise has not yet reached the market expectations.
The oil price, for example, has already seen a correction when it touched $65 per barrel. At present, the rise in commodity prices is a phased phenomenon, which is difficult to sustain.
The relatively quicker recovery of some energy-intensive industries has led to the rapid price increases of certain commodities. But it is also temporary.
In fact, what has a greater impact on our next step is carbon peaking. Some cost issues caused by carbon peaking need to be taken seriously. Therefore, many industries are currently facing cost shocks on the supply side on the one hand, and insufficient demand on the demand side on the other.
In this situation, policies need to be precise and meticulous. It is wrong to adjust interest rate to hedge against inflation only because of the rising PPI readings.
The article is a comment of Liu Yuanchun published by CMF.
The writer is vice-president of the Renmin University of China in Beijing.
The views don't necessarily reflect those of China Daily.