UK eases restrictions despite variant surge
Share - WeChat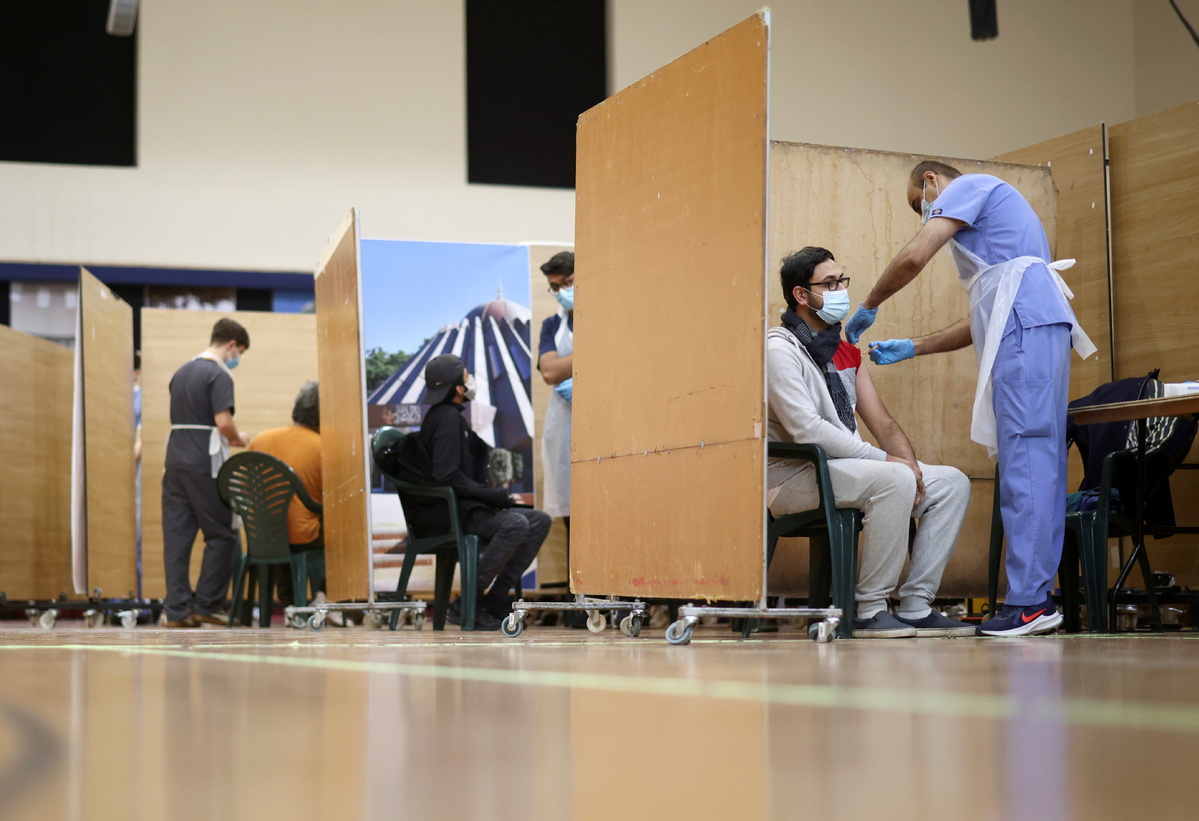 The United Kingdom government is sticking with its plan to ease restrictions on Monday, despite a surge in cases of a novel coronavirus variant first discovered in India that is now spreading quickly in some parts of the country, and warnings from health experts.
Public Health England said on Saturday there were now 1,313 cases of the variant in the UK, which it said is almost three times the number of the previous week.
Prime Minister Boris Johnson faced pressure to reconsider Monday's relaxation of COVID-19 rules in England because of the threat posed by the variant, reported Sky News.
The easing of rules mean people can mix indoors in homes, pubs and restaurants, and will allow physical contact between households for the first time in more than a year.
Johnson had warned on Friday the variant could cause "serious disruption" to plans to ease the lockdown and may even delay the planned ending of all legal restrictions on June 21, ITV News noted.
The BBC said that by April 5, India was reporting more than 100,000 cases a day, but was not added to the UK's travel red list until April 23.

The Sunday Times reported that at least 20,000 passengers who could have been infected with the virulent strain were allowed to enter Britain before this date.
A spokesman for the government defended its decision not to ban travel from India sooner. The spokesman told the BBC: "We took precautionary action to ban travel from India on 23 April, six days before this variant was put under investigation and two weeks before it was labelled as of concern.
"Prior to India being placed on the red list in April anyone coming to the UK had to test negative and quarantine for 10 days."
Experts fear the variant may be more than 50 percent more transmissible than the one first identified in Kent, England, The Sunday Times report said, adding that the government's Scientific Advisory Group for Emergencies, also known as SAGE, had concluded that if higher transmissibility is confirmed, easing restrictions could "lead to a substantial resurgence of hospitalizations" that is "similar to, or larger than, previous peaks".
SAGE expert Susan Michie, of University College London, told the newspaper: "If we are following data not dates, it is surprising that the road map is going ahead without adjustment.
"Opening indoor hospitality venues has the potential to increase COVID-19 transmission."
The British Medical Association, or BMA, raised concerns about Monday's relaxation in a statement on Saturday, with one of its top experts urging the public to take a "cautious approach" to social and physical contact.
Richard Jarvis, the BMA's public health medicine committee co-chairman, said: "With key segments of the population still not vaccinated and clusters of variants, including the rapidly-increasing Indian variant, becoming a growing concern, we must approach this next stage of easing lockdown with the utmost caution.
"It is a real worry that when further measures lift on May 17, the majority of younger people, who are often highly socially mobile and could therefore be most at risk of a more infectious strain, are not yet vaccinated."
Speaking on the BBC's Andrew Marr Show on Sunday, Health Secretary Matt Hancock said it was "quite likely" that the variant would become the dominant strain in the UK. He said the UK would accelerate its COVID-19 vaccination program to try to contain the strain.
He said: "What that reinforces is the importance of people coming forward for testing and being careful because this isn't over yet.
"But the good news is because we have increasing confidence that the vaccine works against the variant, the strategy is on track — it's just the virus has gained a bit of pace and we've therefore all got to be that bit more careful and cautious."
Hancock also confirmed that a decision on whether all legal restrictions could be ended next month would be made on June 14.