A golden friendship blooms
Share - WeChat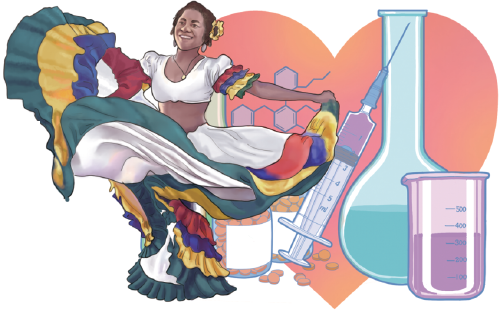 China and Mauritius's joint fight against the pandemic exemplifies efforts to build a global community of health for all
The Chinese government extended humanitarian aid to Mauritius when a flight loaded with the first batch of COVID-19 vaccines landed at the Sir Seewoosagur Ramgoolam Airport in Mauritius on the night of April 13.
At the handover ceremony, Alan Ganoo, Minister of Foreign Affairs, Regional Integration and International Trade of Mauritius, and Kailesh Jagutpal, Minister of Health and Wellness, expressed their gratitude to China for the assistance.
At the opening of the 73rd session of the World Health Assembly via video link in May 2020, President Xi Jinping announced that China will make its COVID-19 vaccines global public goods. Having made the promise, China has delivered on it.
As a second wave of COVID-19 hit Mauritius in March, confirmed cases rose rapidly.
China came to Mauritius' aid by announcing it would send Chinese Sinopharm vaccines on March 12 as a "special gift" for Mauritius' national day, marking a new stage of anti-pandemic cooperation between the two countries.
After the arrival of the Chinese vaccines, Mauritian President Prithvirajsing Roopun said that the Chinese government had provided valuable support when Mauritius was experiencing a hard time.
He said the Mauritian government and people are deeply grateful and felt the fraternal friendship of the two countries as they shared weal and woe. He said that China's vaccines will play an important role in helping Mauritius realize mass immunization, and so normalize its economy and social life.
The arrival of Chinese vaccines has brought not only hope, but also bolstered the public's confidence in Mauritius.
China's anti-pandemic assistance received extensive coverage in Mauritius' mainstream media. Many local people sent letters and emails to the Chinese embassy, expressing their gratitude.
Some netizens posted on Twitter and Facebook: "A friend in need is a friend indeed. China is a staunch friend!""China's timely vaccine assistance has met the pressing needs of Mauritius!""Long live the friendship between China and Mauritius!"
Since the outbreak of the pandemic, China and Mauritius have promoted anti-virus cooperation, and supported and helped each other, setting a good example of joining hands in the fight against the pandemic in the African continent and the Indian Ocean.
In the toughest moment of China's fight against the pandemic, Mauritian Prime Minister Pravind Jugnauth wrote in a letter to President Xi that his country stands firmly with China.
All walks of life in Mauritius showed their support and sympathy through donations and videos. After the virus spread to Mauritius in March last year, the Chinese side extended a helping hand by providing personal protection equipment and medical materials.
In the two countries' joint fight against the pandemic, many ordinary people and their extraordinary stories are also worth mentioning. Among them is that of Suma Hosseini, a Mauritian woman who came to study medicine in China 12 years ago, and then worked in Wenzhou Panhealth Medical Center in Zhejiang province. In February last year, when the novel coronavirus broke out in China, she and her husband, who is also a doctor, chose to join in China's anti-virus fight instead of evacuating from China. Working as a volunteer, she screened passengers for abnormal body temperature in thousands of vehicles driving in and out of a highway toll station leading to Wenzhou every day and popularized pandemic prevention knowledge for 22 days. Asked why she chose to stay on in China, Suma said, "I want to play my part, no matter how tiny it is."
When the virus broke out in Mauritius, Suma began posting self-made videos on social networking sites and giving interviews to Mauritius-based news organizations to popularize the virus prevention and control work of China.
In the videos, she explained how the virus is transmitted and urged people to wear masks and gloves and stressed the safety and effectiveness of Chinese COVID-19 vaccines. Her videos have been widely shared on several social networking sites in Mauritius. People such as Suma have helped boost China-Mauritius ties.
The pandemic might have hit personnel exchanges between China and Mauritius, but cooperation in various fields continues.
The China-Mauritius Free Trade Agreement came into effect at the beginning of this year. This is the first FTA document signed between China and an African country and it will inject new vitality into economic and trade cooperation between the two sides in the post-pandemic era.
As long as the pandemic is raging, anti-pandemic cooperation between the two countries will not stop. Recently, the Mauritian side started a vaccination campaign with the help of China's Sinopharm COVID-19 vaccine, and Mauritian people have enthusiastically signed up for vaccination demonstrating the safety and effectiveness of Chinese vaccine have been highly recognized by the Mauritian people.
Both China and Mauritius have included their citizens in their vaccination programs. Mauritius will support China in implementing its Spring Vaccination Program by offering Chinese nationals free COVID-19 vaccines and the Chinese government will also facilitate Mauritius's commercial procurement of vaccines from China.
Vaccine cooperation between the two countries has taken the cooperation between the two countries to a new level, injecting new impetus into the China-Mauritius friendship. China and Mauritius' joint anti-virus efforts are examples of the continuous development of friendship and cooperation between the two countries.
In the face of the pandemic, the governments and people of China and Mauritius are overcoming the difficulties and vividly demonstrating the concept of building a China-Africa community with a shared future and a global community of health for all.
This year marks the start of China's 14th Five-Year Plan (2021-25), and next year will mark the 50th anniversary of the establishment of diplomatic relations between the two countries. Standing at a new historical starting point, China-Mauritius ties will usher in new and important opportunities.
The author is the charge d'affaires ad interim of the Chinese embassy to Mauritius. The author contributed this article to China Watch, a think tank powered by China Daily.The views do not necessarily reflect those of China Daily.
Most Viewed in 24 Hours
China Views