Ambition firmly in the driving seat
Share - WeChat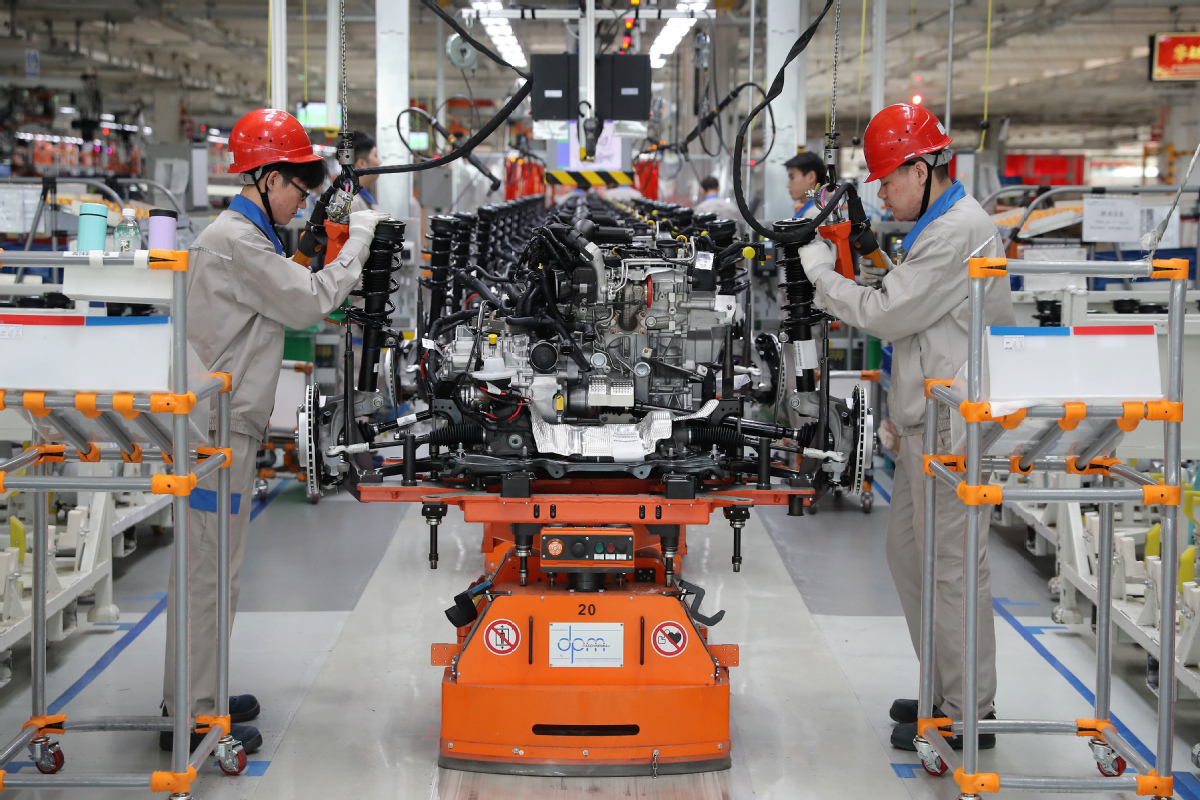 Transportation sector provides great growth impetus for automotive, railway and satellite manufacturers in Northeast China
Changchun, capital of Northeast China's Jilin province, is dubbed "the cradle of the automobile industry" because the country's first cargo truck, first high-end Hongqi car, first subway passenger car and first off-road vehicle were all manufactured in the city.
During New China's early days, one of the big questions was when Chinese people would be able to drive cars developed in their homeland. At that time, establishing a heavy industry sector was a major task for the country.
In 1953, after releasing a guideline on building an automobile plant within three years, the central government started establishing the First Automobile Works, or FAW, in Changchun. That marked the first step for New China's automotive industry.
When FAW was finally up and running, large numbers of skilled technicians from State-owned enterprises in Shanghai, Beijing and Tianjin were assigned to Changchun to aid development of the automobile sector, according to a report by Xinhua News Agency in April.
In 1954, the Changchun government invested 84 percent of its municipal construction budget to help build a manufacturing plant for FAW, Xinhua said.
On July 13, 1956, New China's first domestically produced vehicle, the Jiefang heavy truck, rolled off the assembly line in Changchun, marking a breakthrough in the development of the automobile sector.
In 2005, Changchun set up an economic development zone for the industry. In recent years, it has developed into a home for automobile research, vehicle parts manufacturing and companies involved in logistics, trade and services.
The zone has become a platform for the complete automobile industry development chain and low-cost operations for new-style industrialization. It aims to help Changchun become a modern international automobile city, the zone's committee said.
The provincial government intends to build Changchun into an international automobile city with high-end, advanced automotive supply and industry chains.
This year, China FAW Group, FAW's successor, is set to manufacture its 8 millionth Jiefang truck. After more than half a century, the brand has been upgraded to its seventh generation, while Changchun has witnessed tremendous changes in China's auto industry, Xinhua reported.
Last year, the company sold 3.7 million vehicles, up from 3.1 million in 2016, with revenue reaching 696 billion yuan ($107 billion) compared with 430 billion yuan in 2016, the company said.
Meanwhile, production of the company's self-developed brands keeps rising. For example, production of the Hongqi luxury sedan rose from 4,702 vehicles in 2017 to 200,000 last year, the company said.
"Hongqi and Jiefang have always maintained top positions in terms of brand value in China's passenger car and commercial truck markets respectively," it noted. "The Hongqi L series limousine has been chosen as the official car for China's major celebrations and events. Medium- and heavy-duty Jiefang trucks also lead in terms of their share of China's commercial truck market."
By 2025, it estimates that it will realize sales of more than 6 million vehicles, generating income of more than 1 trillion yuan.
This year, Xu Liuping, FAW Group's chairman, told the company's annual news conference that the Chinese automobile industry has seized the opportunity to catch up and even become an important player in the global market, and also in terms of consumption, technology and industrial models. The key lies with China's auto manufacturers.
"With the support of municipal and provincial governments, we will strive to understand the rules of transformation, grasp the nature of the industry, seize the greatest-ever opportunities and focus on self-developed core technologies such as new energy and intelligent network connection," Xu said.
"We aim to make the leap in growth of our self-developed brands, see high-quality development of new businesses while controlling risks and strive to move forward to become a world-class enterprise."