Daxing airport maturing quickly as hub
Share - WeChat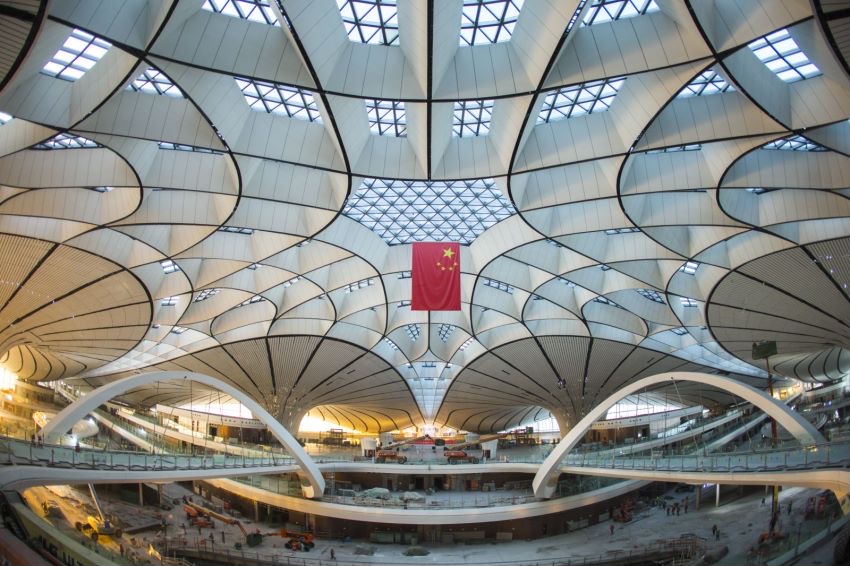 Beijing Daxing International Airport, one of the nation's major construction projects in recent years, has joined the global air transportation network and will continue to boost regional economic growth as its advantages gradually begin to show.
The airport, with an investment of around 80 billion yuan ($12.3 billion), began operating in September 2019 after four years of construction.
In 2020, the first full operational year, its annual passenger throughput surpassed 16 million. Altogether, around 130,000 flights and 77,000 metric tons of goods entered and left the airport.
"I have witnessed the changes at the Daxing International Airport," said Wang Lingling, a resident who lives nearby. "It has reflected the rapid development of the city. When I visited the new airport after it was completed, I was surprised by the unique design and shining facilities in the terminal. There were cafes, restaurants and shops. I recently found a big library in the airport with themed book shows, which made me feel great."
As the facilities at the Daxing airport mature and the number of flights increases, more passengers are likely to choose the new airport for trips. It is expected to become an air travel hub in North China, as it is situated on the boundary of Beijing and Langfang, Hebei province. It is 46 kilometers from Tian'anmen Square, 26 km from downtown Langfang, 55 km from Xiongan New Area and 67 km from Beijing Capital International Airport.
Given the strong regional transportation network between Beijing, Tianjin and Hebei, travelers landing at the new airport will be able to reach downtown Beijing, as well as Xiongan New Area and the city's government subcenter in Tongzhou district within half an hour. They can also reach nearby cities including Shijiazhuang, Tangshan and Baoding in Hebei, as well as Tianjin, within an hour of landing, according to the new airport's managers.
The airport will not only contribute to air transportation but also to the regional economy.
Cai Qi, Beijing's Party chief, visited Daxing International Airport Economic Zone in November last year and said the zone is an important area for the opening-up of the national service industry and Beijing's free trade zone.
"Multiple tasks are assigned to the zone, which will bring great opportunities. It will be built into a new platform for the capital's reform and opening-up and contribute to the city's development," Cai said.
In mid-April this year, Daxing International Airport Economic Zone announced 30 policies to support industries, including healthcare, aviation services, information technology and smart equipment, in a bid to promote the clustering of international high-end industries in the zone.
Financial support is available for major projects of important industries, innovative applications of enterprises and international organizations that establish operations in the zone.
As of the end of April, 1,239 enterprises had registered as new entities in the area. Among those were 11 foreign companies, covering industries of biomedicine, aviation, technology, trade, investment and human resources, according to the administrative committee of the zone.