Clothing firms looking to put best foot forward
Share - WeChat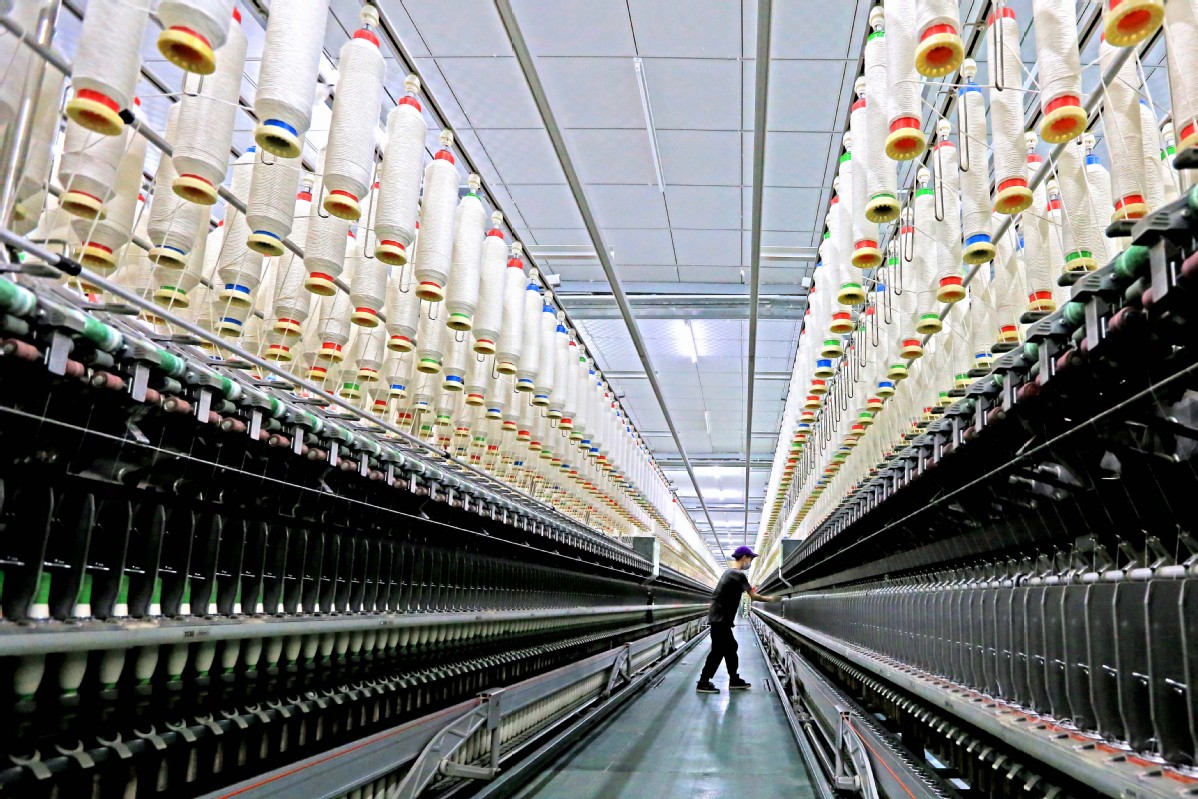 Domestic brands growing in favor among consumers
China's textile and apparel companies are set to embrace new growth opportunities as domestic consumers increasingly favor homegrown brands, said industry experts.
They said Chinese enterprises are poised to do well in part because of their relatively high production efficiency and manufacturing skills, and it's time for the country to move on to the next step in upgrading industries and developing strong homegrown brands capable of competing on the global stage.
The comments came amid claims by major global retail giants including H&M and Nike that they have chosen to not source cotton from the Xinjiang Uygur autonomous region due to alleged uses of "forced labor"-claims that have provoked outrage among the Chinese people.
Chinese public support for Xinjiang cotton sent shares of textile and apparel companies traded in Shanghai and Shenzhen significantly higher during the past month, according to Shanghai-based information provider Wind Info.
Shares of Chinese mainland sportswear brands saw sharp surges on the Hong Kong bourse over the past month. Li-Ning jumped more than 5 percent on April 7, while Anta surged nearly 5 percent on April 28.
Citing the recent popularity of domestic sportswear products, Tang Xiaotang, a clothing and fashion industry analyst, said patriotism among consumers has played a significant role in facilitating the recent sales of domestic brands, especially those firms that have expressed their support for domestic cotton.
Over the long run, domestic sportswear brands-which have already grown rapidly in recent years-are expected to continue their momentum in the Chinese market, fueled by more consumers who have preferences for domestic brands and rising interest in healthy and casual wear for their sportswear products, Tang said.
Growing demand for domestic names has sent prices of some homegrown brands' limited-edition sneakers soaring on online platforms. On the popular secondhand sneaker platform Dewu, the price for a pair of limited-edition Li-Ning sneakers hit a high of 48,889 yuan ($7,548), 31 times higher than the official market price of 1,499 yuan.
Experts said speculation in the athletic footwear market, and the ensuing price volatility, will only hit consumers' confidence in the local brands and cripple their brands upgrades, saying the homegrown brands need to take action to protect their reputation and take the opportunity to win over local consumers with a wide range of high-quality offering at reasonable prices.
Kong Xiangzhi, a professor at the School of Agricultural Economics and Rural Development of Renmin University of China, said that while public support for local brands has led to a domestic shopping surge over the short term, it's too early to say whether domestic brands will occupy a lion's share of the market and long-term sustainable brand development still depends on quality, style and cultural innovations.
In recent years, with improved living standards, the apparel and footwear industry in China has been flourishing and evolving significantly due to growing demand for high-quality and high-end lifestyles.
According to a new report by Qianzhan Industry Research Institute, China's apparel and footwear market size reached $376.8 billion in 2019, accounting for 21.28 percent of the global scale. By 2020, despite the coronavirus impact, China's apparel and footwear market size occupied 23.72 percent of worldwide total.
Last year, Nike and Adidas accounted for 2.4 percent and 2.1 percent of the apparel and footwear market in China, respectively, remaining the top two apparel and footwear brands in the country. Some domestic companies including Anta and Lining made their name among the top 10 apparel and footwear brands in China.
"We need to face up to the fact that Chinese shoes and apparel brands still lag behind global retail giants in terms of design, promotion, manufacturing skills, sales channels and fashion," Huang Ye, director of the general manager office of internet custom-tailored apparel leader Ybren.com. "In the next step, we should make a big push to develop strong and original brands and design style with improved creativity and innovations."
In fact, the growing scale of the consumer market in China is propelling domestic brands to shift the focus to boosting creativity and innovation.
Although dominated by international sportswear players Nike and Adidas in recent years, the China market also sports domestic powerhouses like Li-Ning and Anta. The two local brands' revenue grew 4.2 percent and 4.7 percent year-on-year, respectively, during coronavirus-stricken 2020.
For instance, Anta, a mid-range sportswear brand developed in Fujian province, has continuously increased its investment in recent years in technology and research and development to uplift its brand recognition and quality reputation among local consumers.
Last year, based on research of core technologies for shoes, Anta created a series of technologies and launched shoes which helped runners to achieve greater speeds, which has made breakthroughs in high-priced products, according to the company.
Heavy input in digital transformation has also been a pillar in helping Anta get closer to Chinese consumers amid fierce competition with international sportswear rivals.
Anta group last year established a big data department and has launched a digital smart factory to improve production efficiency.
With continued efforts in industrial upgrading and innovations, industry experts believe domestic brands will gradually gain the upper hand in the market over time.
"China is a country with a long history and rich culture, and the design elements are unlimited, so it is not hard for Chinese designers to make innovations," Kong added. "Domestic enterprises need to seize the opportunity to improve product quality and do something innovative at a brand fashion level."
"It will take a long time to build strong homegrown brands, and the key is to better cater to consumer needs," said Yang Shu, associate professor at China Agricultural University. "More efforts should be made to further boost innovation and improve product quality."
"While China is a big textile producer in the world, it has failed to enter the center of the industry to have a say," Yang added.
Facing a complicated international situation, she said China needs to work harder to have a far greater say in the cotton textile industry, strive to gain more pricing power in the cotton market, diversify the layout of domestic industrial chains and improve its ability to defend risks.
"Taking this opportunity, we need to further integrate ourselves into the international business rules system to protect our rights through commercial and legal means. And we also need to gear up to have a far greater say in the field of international standards and establish our own certification and standards system."
Actually, China is set to release its own version of Better Cotton Initiative standards soon, as it ramps up efforts to build its own version of cotton brand to promote a comprehensive set of principles and criteria for offering high-quality cotton products.
Through Zhongnong Guoji, a cotton vertical services provider based in Beijing, the future cotton program is set to build China's own national standards in a bid to foster high-quality development and promote digitalization of the entire cotton industry, said Luo Yan, secretary-general of the Zhongnong Guoji-backed Xinjiang Digital Cotton Research Center.
Luo said the proposed cotton program mainly focuses on setting up procedural standards, with a key focus on improving production efficiency through digitalization, full ability to trace cotton production, low carbonization and high quality of cotton farming.
"The 'ban' on Xinjiang cotton is aimed at halting exports of Chinese-made textiles and footwear, leading to the shifting of manufacturing chains from China," said Mei Xinyu, a researcher at the Chinese Academy of International Trade and Economic Cooperation. "It is time for China to set up its own standards rather than living with the current BCI standards."
Founded in Switzerland in 2009, BCI sets the global standard for cotton industries and certifies cotton farms worldwide, representing around 22 percent of global cotton production in 2019. And the companies that issued statements regarding a halt to sourcing cotton from Xinjiang are all members of the BCi.
On March 30 last year, the BCI announced that it would suspend cooperation with licensed farmers in Xinjiang during the 2020-21 cotton season over allegations of "forced labor" in the region.
However, that statement has now been removed from the organization's website as Chinese public backlash grew over international attempts to boycott Xinjiang cotton. In early March, the BCI's office in Shanghai issued a statement in response to inquiries about the situation in the region, saying that not a single case of "forced labor" had been found in Xinjiang.
China is the world's second-largest cotton producer after India, and Xinjiang is the largest cotton-producing area in the country, data from China Grain Reserves Group showed.
The General Administration of Customs said China's 2020 textile and apparel exports increased 9.5 percent year-on-year to $291.22 billion, making it the world's largest textile and apparel exporter. Those products are mainly exported to Europe, the US and Southeast Asia.
Liu Jie, a senior cotton market analyst at Sublime China Information, took a rosy view of the future development of the Chinese textile and apparel sectors, saying that China should step up efforts to diversify the layout of the industrial chain, improve the ability to defend against risks, boost innovation and intensify its role in setting cotton prices in the market.
Xie Xiaowen, a research fellow at the E-Commerce Research Center, Internet Economy Institute, expects leading Chinese sportswear and apparel brands to move up the industrial chain away from its traditional reliance on mass production of low-end goods to offer high-end products. "It will help them win in local markets as well as expand overseas in the future."
Xie said domestic enterprises should improve their abilities in R&D, production, marketing and operations as well as offer high-quality products to better meet local needs. On the other hand, consumers should develop healthy and rational spending habits to support high-quality Chinese brands.
"Powered by the world's largest sportswear market and China's high production capabilities, Chinese brands are witnessing new growth opportunities ahead," Xie added.