Leopards' escape prompts security questions
Share - WeChat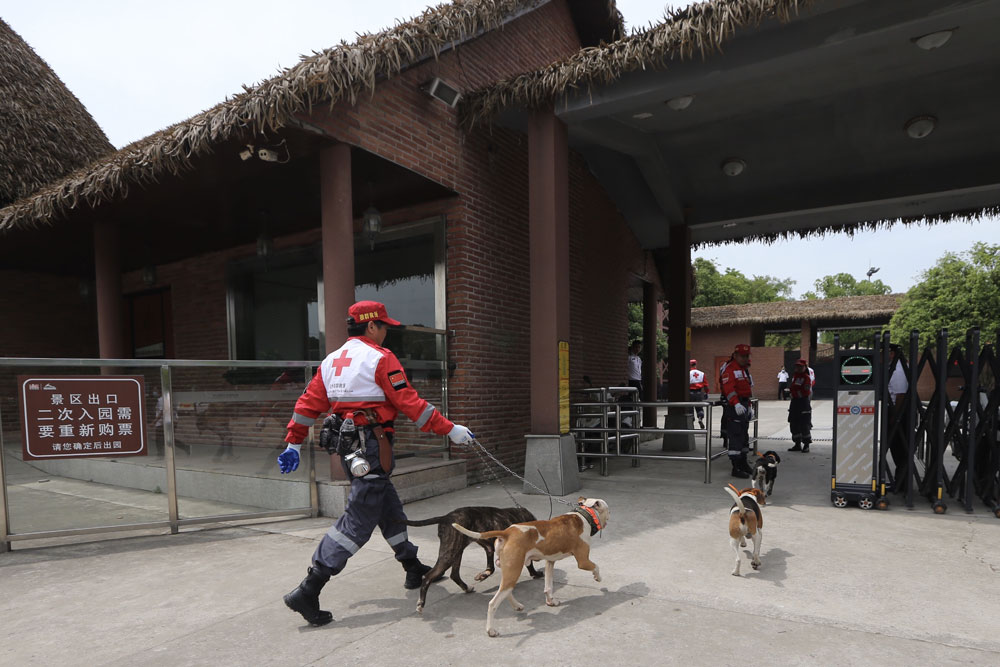 Second animal caught
Fuyang authorities said at about 5 pm on Saturday that a second leopard which escaped from the park had been tranquilized before being captured in a mountainside forest near the Yinhu community, where one of the animals was first sighted.
Shao Qi, a member of Wolves Rescue Team, a civil emergency organization in Fuyang, said: "About 40 of us rushed to the search area at around 10 am. We surrounded the animal with help from sniffer dogs at around 2 pm before tranquilizing it with anesthetic rifles. It was later taken back to the safari park."
Several sniffer dogs were bitten by the leopard during the search, Shao added.
More than 1,000 personnel were mobilized by Fuyang authorities on Saturday to patrol areas between mountains and villages.
The authorities allocated professional hunters, animal experts and emergency rescue teams, along with sniffer dogs and drones, to search areas around the safari park. The operation continued late into the night.
Ramunion International, another Hangzhou NGO, said it dispatched a G2 search and rescue helicopter equipped with thermal imaging cameras to patrol an area of more than 100 square kilometers in Fuyang and Xihu districts, but there was no sign of the third leopard. It said the search would continue on Sunday.
Footage of the leopards, which has gone viral, has revived childhood memories among netizens.
A China Daily reader said in a post, "The incident reminds me of the time in high school when we were required to recite New Concept English textbooks one by one at the beginning of the English class.
"I remember the first lesson titled 'A puma at Large', which stated: 'Pumas are large, catlike animals found in America. When reporters went to London Zoo and said a wild puma had been spotted 45 miles (72 km) south of London, they were not taken seriously.'"
The reader added, "This is the one piece that I still remember more than any other article in the book."
To prevent similar incidents, zoos and circuses throughout Zhejiang have adopted a series of measures to strengthen the security management of wild animals.
On Saturday, Longemont Animal World, a large safari park that is home to more than 10,000 animals in Changxing county, Huzhou city, held an emergency security meeting and launched screening measures and an investigation to eradicate potential safety loopholes.
The venue said it houses 36 leopards, and a check on Saturday afternoon found that these animals were accommodated in fully enclosed cages.