Zhang: Multilateralism key in changing world
Share - WeChat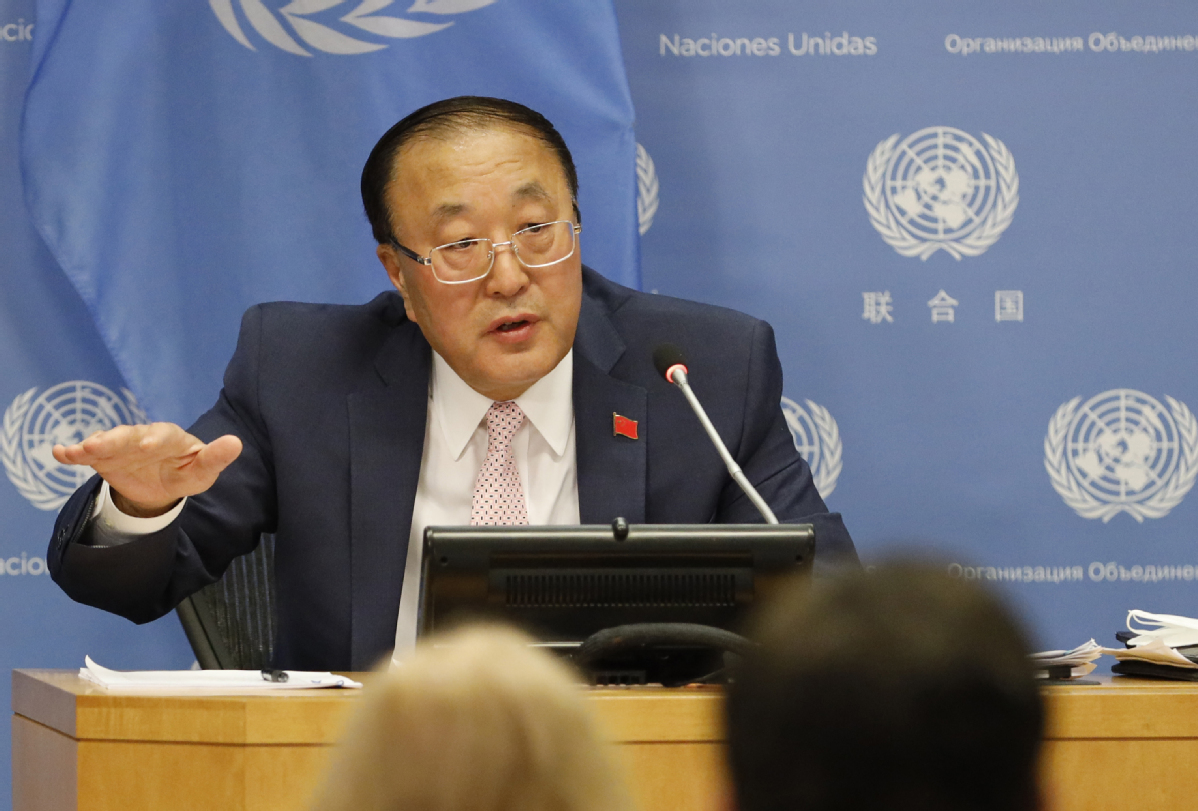 China's UN ambassador on Wednesday stressed that a recommitment to multilateralism is essential in confronting the various challenges arising in a changing world.
The Security Council is entrusted with the primary responsibility of maintaining peace, and its members fully understand the responsibilities that they shoulder, said Zhang Jun, China's permanent representative to the United Nations.
"The world is changing, and the Security Council should adapt to the new changes and work even harder in fulfilling our responsibilities. In this regard, the recommitment to multilateralism is more important than ever," Zhang said.
The ambassador spoke at the General Assembly's Interactive Dialogue to Commemorate and Promote the International Day of Multilateralism and Diplomacy for Peace.
He attended the event as the president of the Security Council for May, along with the presidents of the General Assembly, the Economic and Social Council and the International Court of Justice, and the secretary-general.
Today's world is very different from when the UN was created 75 years ago. The planet faces diverse global challenges such as the COVID-19 pandemic, climate change and rising humanitarian needs. Those challenges are interconnected and can only be addressed through reinvigorated multilateralism, Zhang said.
World leaders reaffirmed in the Declaration on the Commemoration of the 75th Anniversary of the United Nations that multilateralism is not an option but a necessity, he said.
The ambassador said the Security Council will firmly uphold the UN Charter, which is the cornerstone of multilateralism.
In supporting multilateralism, the Security Council will firmly defend the Charter, including the purposes and principles of the UN, and safeguard the international order based on international law, he added.
He said the Security Council should be better prepared so that it could adapt to the ever-changing situation and respond to security threats.
Peacekeeping operations and special political missions are important tools in maintaining international peace and security, Zhang said. The Security Council should enhance its working methods and improve the safety and security of peacekeepers as well as the performance of peacekeeping operations.
Building on the reforms undertaken by the secretary-general and the 2030 Agenda, the Security Council needs to promote and improve the peaceful resolution of conflicts, as well as help prevent them, and also work on peacebuilding and post-conflict recovery, he said.
The Security Council will continue to work with regional and subregional organizations to promote the agendas of Women, Peace and Security and Youth, Peace and Security, as well as engage with civil society to make sure they play an active and critical role in the decision-making process, Zhang said.
The UN General Assembly established the International Day of Multilateralism and Diplomacy for Peace on Dec 12, 2018, through resolution 73/127. The International Day, first observed on April 24, 2019, reaffirms the UN Charter and its principles of resolving disputes among countries through peaceful means.