Reputation of China's universities draws thousands of Indonesian students
Share - WeChat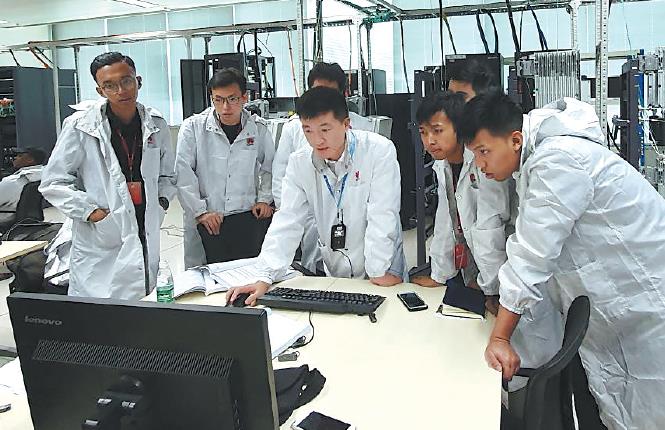 The older generation in Indonesia is mostly familiar with the saying "Seek knowledge, even if it takes you as far as China."
However, Henry Heru, 33, was not aware of it when he traveled to the country to spend two years studying Mandarin at Hebei Normal University in Shijiazhuang, Hebei province.
China is attracting rising numbers of overseas students to further their education in different fields of study.
The country's fast-growing economy had enabled its education system to become one of the world's best.
Heru said, "There were many Indonesian students in China, along with those from the United States, Mongolia, Russia, Kazakhstan, Korea, Japan and African and Middle Eastern countries."
After graduating from Hebei Normal University this year, Heru manages a textile and garment business established by his father in Jakarta. In China, he studied Mandarin and trading methods using advanced technologies.
Learning Mandarin in China is just one of the many fields of study chosen by foreign students.
Veronica S. Saraswati, a senior researcher at the Center for Strategic and International Studies in Jakarta, said that with its leading universities and colleges, China offers studies in science, technology, biology, artificial intelligence and high technology, among many other subjects.
"For China, education is the future-and it not only talks about this but also practices it," said Saraswati, who obtained her doctorate from the faculty of political philosophy at South China University of Technology in Guangzhou, capital of Guangdong province.
She added that academic research in China is playing a key supporting role in the country's poverty alleviation programs.
Devi, who uses a single name and graduated from Hebei Normal University, where he studied international economy and trade, said: "Rules, order and discipline were strictly upheld at my campus. We followed the examples of local students and our teachers, who were diligent, attentive and disciplined."
The former student now works at a manufacturing company in Jakarta.
The remarkable progress made by China in education prompted Dahlan Iskan, a former media conglomerate head and minister of state-owned enterprises, to launch a special foundation to send young Indonesians to Chinese universities and colleges.
From 2014 to last year, Yayasan Indonesia Tionghoa Culture Centre Surabaya, which was founded by Iskan, sent 2,000 students to study in China under its three-year scholarship programs. Iskan is well-known for his passion for harmony between Chinese Indonesians and native Indonesians.
Foundation director Lily Yoshica said from her office in Surabaya, East Java, "The students are from different ethnic and religious groups from across Indonesia." She added that the majority of the Indonesian students in China study medical science, technology, economics and business.
As the number of Chinese businesses in Indonesia continues to rise and trade relations between the two countries advance, having graduates from China has benefited Southeast Asia's largest economy. China is one of Indonesia's largest trading partners.
Mandarin is being taught increasingly in Indonesia, even at pesantrens, or Islamic boarding schools.
Some 15,000 Indonesians are studying in China. In 2018, Indonesians ranked 10th among foreign students in the country, with those from South Korea and the US taking the top two places.
China is among the five countries favored by Indonesians to further their education, along with Australia, the US, the United Kingdom and Singapore.
In recent years, Chinese students have been studying at Indonesian universities. Many of them have learned Indonesian and have become university teachers at home or work as editors in the Indonesian departments of Chinese media outlets.