Expressway leads to a big discovery: Prosperity
Share - WeChat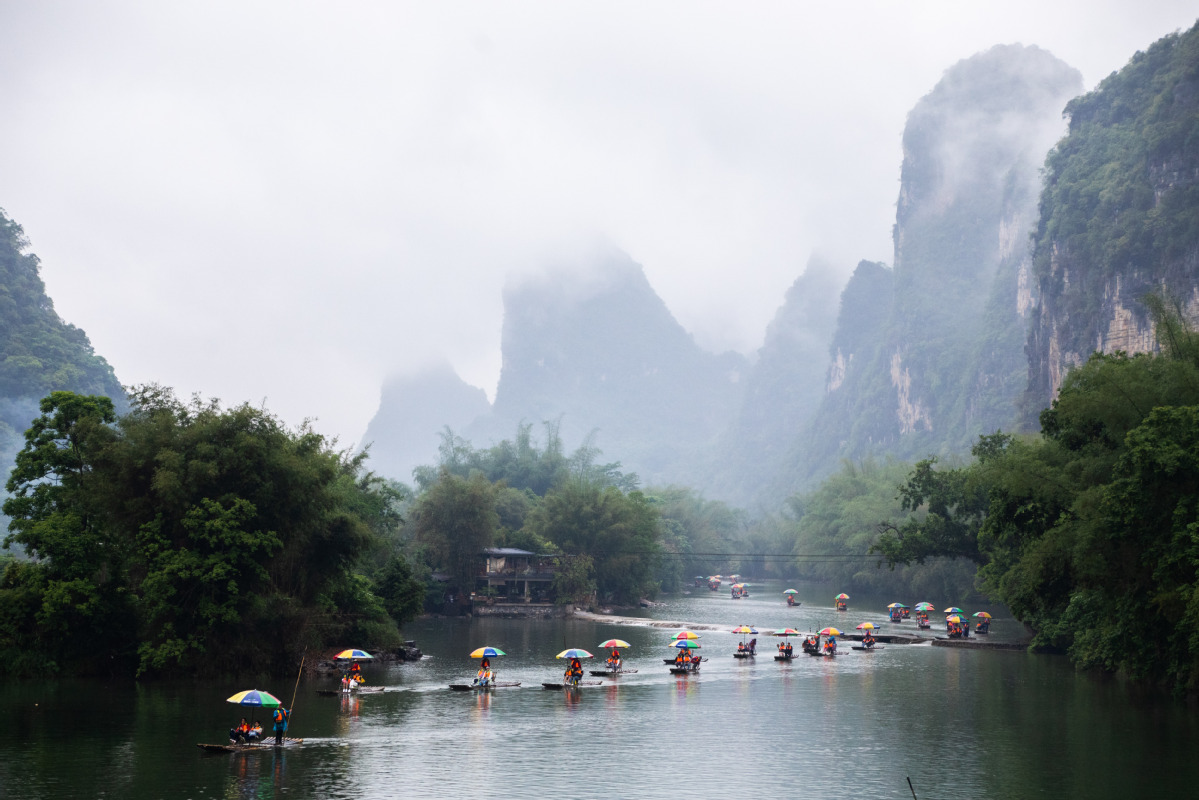 Mo Shuifeng moves swiftly and expertly between the vegetables she grows for guests in her garden in Hetang village, Zhongshan county, Hezhou of Guangxi Zhuang autonomous region.
She feels she is dreaming. Just five years ago she was living in poverty because of the financial burden of her children's school tuition.
With limited transport and a lack of arable land for farming, Hetang had been one of the poorest areas of the county. In 2015, severe poverty affected more than 33 percent of the population.
But the village had a secret asset that had never been tapped: It boasts 16 kilometers of picturesque karst landscape that few people have ever heard about.
In 2017, an expressway linked Baotou in the Inner Mongolia autonomous region with Maoming, Guangdong province. The expressway passes Guilin, Wuzhou and Hezhou in Guangxi.
Located just 11 km from the expressway entrance, the scenic landscape of Hetang village could not stay hidden and was soon discovered by the world.
In 2018, the local government decided to expand the 16 km landscape into a scenic spot characterized by idyllic scenery. The project called for an investment of 800 million yuan ($123 million).
"The updated scenic spot attracted visitors from different cities in the region and even from Guangdong province because of its proximity," said Yang Tingming, director of Zhongshan county's tourism administration.
So Mo remodeled her house, making it into a hotel to accommodate tourists.
"We can earn 800 yuan a day during peak season," said Mo, who shook off poverty through the new business after just one year. Other residents benefited from tourism in similar ways.
According to Zhong Yinsheng, the village head, the parking area alone brought in 80,000 yuan for the village in 2019. "With more visitors, residents can increase their incomes in a number of ways-for example, running a guesthouse or selling agricultural products or beverages," Zhong said.
The expressway also promoted the integration of tourism resources in Hezhou and Guilin. The latter is world-famous for karst landscape, and is just two hours away by car.
Last year, Guilin and Hezhou in Guangxi, and Zhaoqing in Guangdong, signed an agreement to accelerate the tourism integration of the three cities. The aim was to create a health resort drawing from development of the Guangdong-Hong Kong-Macao Greater Bay Area, since the three cities had been connected on land by the expressway and high-speed rail.
It is expected that the number of tourist visits to the three cities will surpass 358 million by 2025 and that tourism revenue will exceed 490 billion yuan.