Infections top 150m as 'breakthrough cases' hit US
Share - WeChat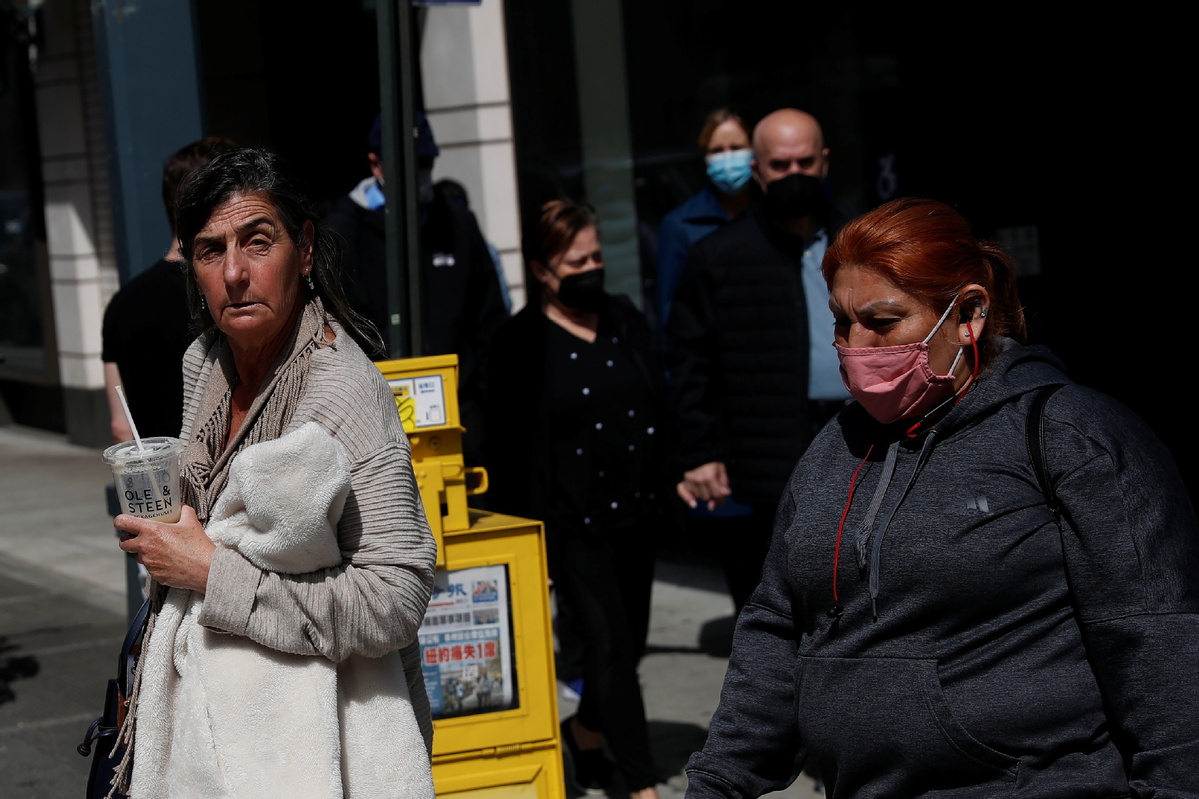 Global COVID-19 cases have topped 150 million on Friday as the pandemic accelerated.
The exact number stood at 150,530,783 as of early Friday. More than 3.16 million people have died of the disease, according to a tally kept by Johns Hopkins University.
It was the latest grim milestone since the novel coronavirus outbreak began, leaving billions more under crippling lockdowns and ravaging the world's economy.
The countries with the highest total number of cases are the United States, India and Brazil.
In the US, thousands of people who have received a COVID-19 vaccine have become infected with the coronavirus afterward in what are being called "breakthrough cases".
The Centers for Disease Control and Prevention, or CDC, reports that there have been 7,157 such cases in 45 states among the 87 million people who had been fully vaccinated as of April 20.
The CDC said while "COVID-19 vaccines authorized for use in the United States offer protection against most SARS-CoV-2", some variants can cause breakthrough cases.
"Vaccine breakthrough cases are expected. COVID-19 vaccines are effective and are a critical tool to bring the pandemic under control," the agency said. "However, no vaccines are 100 percent effective at preventing illness."
CDC figures showed 4,580 or 64 percent of the breakthrough cases were women, 3,265 or 46 percent of breakthrough cases were in people aged 60 or older. At least 2,078 or 31 percent had asymptomatic infections, 498 or 7 percent were hospitalized, and 88 or 1 percent died.
Ashley Allen, 31, of Brooklyn, New York, was surprised when she tested positive for coronavirus three weeks after receiving the Johnson & Johnson vaccine on March 10.
Allen said that after getting vaccinated she continued to take precautions. But she was "definitely very confused" when she tested positive, she said in a local television interview.
The CDC has created a database to monitor the breakthrough cases sent to them from state health departments nationwide. They identify clusters, demographics, geographic location, time since vaccination, vaccine type or lot number, and SARS-CoV-2 lineage.
None of the vaccines has reported 100 percent effectiveness. But the CDC said the jabs do offer protection three weeks after inoculation.
William Schaffner, professor of preventive medicine and infectious diseases at Vanderbilt University Medical Center in Nashville, Tennessee, said: "We don't know for how long even a pretty good vaccine will provide protection for how many."
A study from the University of California, San Francisco, that followed more than 30,000 healthcare workers showed an infection rate after vaccination of approximately 1 percent.
The country has reported 32,288,904 confirmed cases and 575,193 deaths as of early Friday. With a mass vaccination program, New York is preparing for a full reopening.
New York City, which was the epicenter in the US, will "fully reopen" for business on July 1, Mayor Bill de Blasio said on Thursday. The first shutdown of the city began in March 2020.
Ai Heping in New York and agencies contributed to this story.