Beijing office realty to see supply boom
Share - WeChat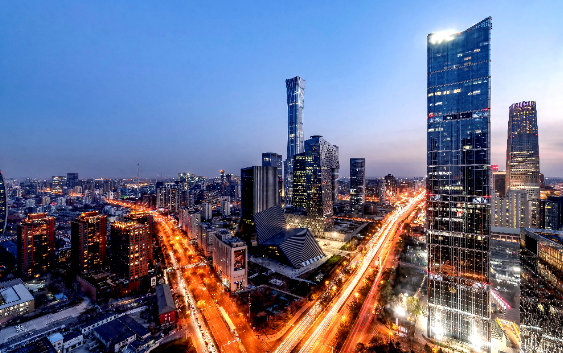 High-tech sector spurs leasing demand, while Q1 investment activity picks up
Beijing's office realty market will see a new supply peak driven by the thriving high-tech sector, property industry data showed.
According to a recent report issued by Cushman & Wakefield, a commercial real estate services provider, the Beijing office realty market will see about 3.46 million square meters of new supply from this year to 2025.
Some 1.4 million sq m, or 40.4 percent, of it will be made available this year.
A report from property agent Savills also predicted that there will be more than 1 million sq m of new supply in Beijing's office realty market this year.
"China's economy is on the right track of a solid recovery, and the existing policies will help the real estate sector to see a steady and healthy development. Therefore, the sector had a better-than-expected performance in the first quarter," said Anthony McQuade, managing director of Savills North China.
Savills data showed that 166,000 sq m of office realty was rented out in the first quarter, eightfold that in the same period last year.
According to McQuade, leasing demand started to pick up across sectors in the first few months of this year, sending a somewhat positive signal to the market in terms of demand recovery.
"The uptick in leasing demand that we saw in the quarter was welcomed by landlords, especially after such a challenging year. As more tenants were seen to be active in the market, a growing number of landlords became cautiously optimistic that market recovery would continue to improve over the coming months. As this happens, we can expect to see more pronounced shifts in leasing strategies starting to take hold in the market," said Michael Zhang, director of office leasing for JLL Beijing.
The increase in supply is buoyed by growing leasing demand, especially in the high-tech sector, said experts.
"Science and technology development is highlighted in this year's Government Work Report and the 14th Five-Year Plan (2021-25), which sends a strong signal that the high-tech sector will continue to be an important part in government's plan of development.
"As a national center of science and technology innovation, Beijing is set to welcome an influx of high-tech firms supported by favorable policies, which will create more office leasing demand," said Wei Dong, director of research at Cushman& Wakefield North China.
In the first quarter of this year, high-tech companies led the office realty market in Beijing, with new, relocated, and expanded leases of high-tech firms accounting for 34.2 percent of the total leased space in all sectors, according to the Cushman& Wakefield report.
A recent CBRE report also said that technology hubs recorded strong leasing and investment activity in the first quarter. It said the technology, media, and telecom (TMT) sector, and the finance and business service sector have driven up overall net absorption of office space, which increased 13 percent quarter-on-quarter to 166,100 sq m, the third consecutive quarterly gain. TMT accounted for 43 percent of total leasing volume.
Three new complexes in Olympic, Shijingshan and Xizhimen areas were completed in the first quarter, adding a combined 153,100 sq m to the market, according to the CBRE report.
The report said overall vacant properties fell by 0.4 percentage point to 17.5 percent, the first decline since the second quarter of 2018.
Investment activity also picked up over the first quarter, with Beijing emerging as China's most active real estate market. Ten deals worth a combined 20.9 billion yuan ($3.2 billion) were concluded in the first quarter, up 40 percent year-on-year, according to the CBRE report.
"Investors continued to pursue opportunities, with the sale of an office building in Zhongguancun, showcasing their continued confidence in the city's most popular tech hub," the JLL report said.
According to the CBRE report, several deals were concluded at tech center Zhongguancun, where an office submarket and neighboring business parks collectively account for 35 percent of total investment volume.
Technology firms have shown strong demand for offices for self-use, while other investors targeted office buildings at tech hubs, the report said.
Ten new projects, totaling 780,000 sq m in space, are due to come on stream over the next six months, and likely to push up vacancies.
However, the CBRE report said: "While new supply will exert more pressure on rents in the central business district and emerging areas in the short term, the development of high-tech industries and the digital economy during the 14th Five-Year Plan period will augment Beijing's medium-and long-term office market fundamentals."