Shanghai Spring Music Festival to honor CPC's centennial
Share - WeChat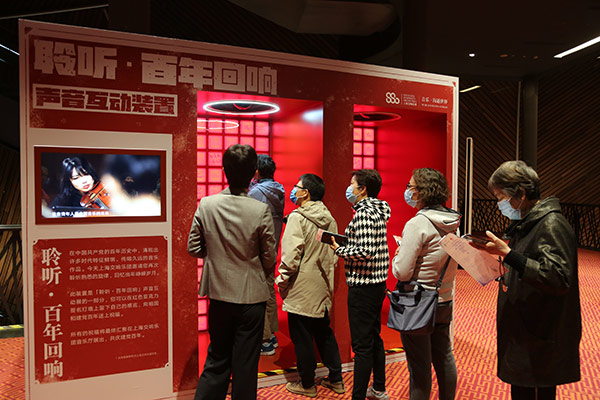 The centennial celebration for the founding of the Communist Party of China will be a major highlight at the 37th Shanghai Spring Music Festival, which will take place from April 28 to May 10.
Established in 1960, the festival is hosted by the municipal cultural and tourism administration. This year's edition will feature 26 concert productions and two dance shows, the majority of which will be presented by artists and groups from Shanghai.
The opening will take place at Shanghai Grand Theater on April 28. According to Zhang Songhua, director of the Shanghai Grand Theater Art Center, the opening celebration will last seven hours starting from 2 pm.
The event will commence with an outdoor performance on the stairs in front of the theater, where dozens of young violinists will play Sing A Song for the Party, composed by Zhu Jian'er in 1963. This will be followed by a series of workshops, dialogues with artists and video events.
The performance, as well as other activities of the day, will be livestreamed on more than 20 web platforms.
At the opening concert starting at 7:30 pm, leading performing art institutions in the city, such as the Shanghai Opera House, Shanghai Ballet, and the Shanghai Chinese Orchestra, will present a gala show. With the help of livestreaming and video-sharing technology, the Chinese music groups will collaborate with renowned overseas institutions such as the Orchestra de Paris in France, Opera Australia and the Israel Camerata Jerusalem.
Student music groups from three universities in Shanghai-Shanghai Conservatory of Music, Fudan University and Shanghai Jiao Tong University-will jointly present a large-scale concert production of the Suite of Songs for Long March at the opera house of the Shanghai Conservatory of Music on May 4.
According to Feng Lei, director of the Shanghai Conservatory of Music, the music school had, since last October, brought together all the departments and kicked off rehearsals for a new production of the suite, which consists of a series of chorus pieces created in 1965 depicting the Red Army's Long March in 1934-36.
The production subsequently embarked on a national tour in China. This year, the school will join hands with the 108-member chorus of Fudan University and the 113-piece student orchestra of Shanghai Jiao Tong University to create a larger and more spectacular edition of the suite.